Why remote Salesforce users love PSOhub's PSA Software
by Catherine Rozyczko on May 11, 2021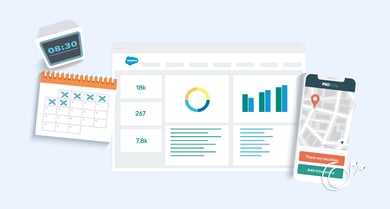 Working remotely?
Are you already using Salesforce and trying to figure out which project management software is the best choice for your business?
Salesforce pretty much dominates the CRM market, leveraged by all sorts of industries like software and marketing, and everything in between. Like many of us today, Salesforce users are working remotely, sometimes across the world.
While Salesforce is invaluable to gaining sales, it stops short by way of the project.
That's where PSOhub comes in. And it's making remote Salesforce users' lives even easier.
Check out the 7 reasons why this Salesforce-integrated project management platform is a huge win for people all over the world now working remotely.
1) Robust Salesforce integration
PSOhub features a robust Salesforce integration, so all that important data that's living in your CRM automatically migrates to the platform. Project management integration with Salesforce has quite a few advantages versus a non-integrated solution, including:
Less onboarding time: Without having to initiate a data migration, you'll spend less time onboarding your project management solution, as is the case with PSOhub.
Seamless sales-to-project handoff: Make things a breeze for both your sales and project teams. PSOhub's Salesforce integration means that everyone on the project side knows what's up in sales and vice versa.
Data integrity: All information related to your customers and your projects now lives under one digital roof, reducing errors and keeping your precious data secure.

2) Self-driving time tracking
For managers/owners and consultants alike, self-driving time tracking is one of the top reasons PSOhub for Salesforce rocks. The first of its kind, self-driving time tracking is exactly what it sounds like: AI tracks your time for you.
Time tracking errors are an insanely common problem, more-or-less across all industries, and self-driving time tracking can eliminate a lot of those errors.
When you're new to remote working (and I speak from experience), you're likely to screw up your time tracking, especially if you've never had to track time before. That's why self-driving time tracking is a win. It's a win for consultants like me, who become more billable by integrating their calendars with PSOhub and not thinking twice about it. You can level-up even more by using the GPS time tracker.
And finally, it's a win for managers and owners too, who can foster productivity and get a more solid handle on whose time is going where.
3) Powerful analytics and dashboards
Speaking of getting a handle on things, accurate and comprehensive analytics are part of what makes remote project management possible.
If you can't see what's happening with cold, hard numbers, how can you make important decisions?
Since team members and customers are scattered across the world, it's now more important than ever to have really good analytics that can connect what you're seeing in Salesforce to the numbers surrounding your projects.
It's also important that you can actually understand those numbers.
PSOhub offers powerful analytics and easy-to-use, customizable dashboards that help you get a handle on where your money and time is going. This way, you can easily see and understand your budgets vs actuals in real time, at all stages of your project cycle, including beforehand in Salesforce. Cool stuff.
Hallelujah! The bane for many creatives and remote consultants is invoicing. Using excel spreadsheets is not only time consuming, it's bound to create inaccuracies. On top of that, it comes off as unprofessional, something a colleague (who shall remain nameless) once told me.
4) Leave invoicing to PSOhub and never send an invoice again.
Invoicing is better left to the pros. PSOhub can handle all your Salesforce invoicing needs and everything on the project side too. Recurring payments, milestone payments, the gang's all here! Plus, you can customize your invoices any way you want. And if you go further, you can enable smart invoicing, so that you'll never have to deal with an invoice again if you don't want to.
Like time tracking, invoice errors are inevitably going to pop up with manual entry, especially for new remote workers. If you're using Salesforce and working remotely, do yourself a favor-- Stop creating and sending invoices yourself!
5) Predictive analysis
Projects can go off rail for a number of reasons which we won't get into. While there aren't currently any numbers on how many more or less projects have gone off rail after COVID-19, I'd be willing to bet it was more… at the beginning. For industries new to remote work, there obviously had to be a learning curve when it came to managing projects completely online.
But now, PSOhub can help remote Salesforce users stay more in control of their budgets and contracts with next-generation predictive analysis. For example, PSOhub will alert you in time to make the right adjustments and save your project from going over budget, based on the data. So, instead of factoring in everyone's time yourself, losing sleep over your budget, etc., you can rest easy knowing your wallet and your customers aren't in danger of getting disappointed.
6) Say goodbye to Asana.
Asana is great, and I myself still use it with a couple of clients. That said, if you are in the driver's seat to purchase a project management platform for Salesforce, you can choose PSOhub and say goodbye to Asana. All the task management functionality you need is built-in to the environment, meaning you'll waste less time bouncing back and forth between platforms. Kanban boards and all the things you're used to in Asana are at your fingertips in the same place that your other project components live. Save time, yes, but also money from ditching those Asana licenses you don't need anymore.
7) Save $$. Go travel! (If possible)
And finally, one of the best benefits of PSOhub for remote Salesforce users is the money it saves! Because PSOhub was designed as an all-in-one project management solution, you'll be able to keep more money in your pocket and see the world. Specifically, here are the ways that PSOhub saves Salesforce users money:
You can ditch other costly solutions like Asana and consolidate your tech stack.
You'll spend less time bouncing between platforms and more time earning.
You'll reduce multitasking with an easy-to-use environment, where all your Salesforce and project data live harmoniously together.
Spend less time with admin work by leveraging automation and self-driving features.
Get more billable with less time tracking and invoice errors.
Why not pocket some of that saved cash for a travel experience? After all, that's one of the best things about being able to work remotely. If travel isn't possible for you right now, do something else rewarding with the money that PSOhub saves you. Seize the day!