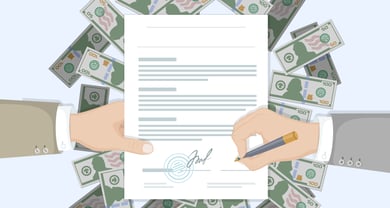 Thinking about integrating contract management with Salesforce?
If you're already using the platform and especially if you reuse similar contract types, this should be a no-brainer. (HINT: You're going to automate contract creation with templates, to start.)
According to Salesforce, the benefits of a contract management solution cannot be overstated, provided that the software you're using:
Reduces timeframes
Ensures accuracy
Leverages automation
Stores contract data
Enables digital signatures
Add the importance of reporting and visibility in a contract management platform, and you've got the whole piece of the pie...

The bottom line? While Salesforce provides the functionality you need by way of a CRM to manage your customers and deals, you need something that can keep track of all those contracts flying around.
You have to create your contract. You may have to negotiate terms, make amendments, and of course, keep an active eye on your time and expense to make sure your project doesn't go past the financial stipulations of the contract.
That said, small businesses aren't going to need the extreme level of functionality like a Fortune 500 company will when it comes to contract management. Luckily, there are a few affordable options out there for Salesforce users that integrate directly. That means you can hold on to all that data from your sales process that can then be put into a contract more seamlessly.
And the automated features that all the Salesforce contract management apps have on this list are going to make managing your contracts a lot less tedious. Here are the frontrunners for the best Salesforce contract management solutions (integrated with the platform) out there today.
PandaDoc
The aim behind PandaDoc is to simplify the contract management process, and the brand consistently receives glowing reviews for ease of use. Reporting and PandaDoc's pre-made templates continue to be two of their highest rated features. The PandaDoc platform also specializes in creating documentation as a whole, with custom branding available to create documents across many forms and channels. The solution leverages automation to make creating all kinds of documents-- especially contracts-- a breeze.
PSOhub
PSOhub provides an all-in-one project management solution, making it a top choice for small businesses who want less platforms that work more efficiently. With PSOhub, you can easily generate smart contracts from your Salesforce data and look at your reporting dashboard in the same place you're going to manage other facets of the project. For small businesses who want to work smarter, not harder, to do more with less, PSOhub will usually fit the bill.
HoneyBook
HoneyBook remains a favorite among small businesses who need contract management integrated with the Salesforce Sales Cloud. That's largely due to the easy-to-use interface and top-notch customer service. HoneyBook offers free contract templates as well as workflow management tools to help you stay on top of your contracts without adding more work to your plate.
Icertis
Like HoneyBook, Icertis is also known for its ease of use. The platform dials in on the integral aspects of CLM (Contract Lifecycle Management) and offers considerable value by way of functionality. Unlike some of the other options on this list, Icertis exclusively specializes in contract management and is not a more encompassing, project management-esque platform. Everything from automation to reporting and dashboards, Icertis covers the CLM gamut for Salesforce users.