5 Tips for a Successful Sales to Project Management Hand-Off
by René de Jong on March 30, 2020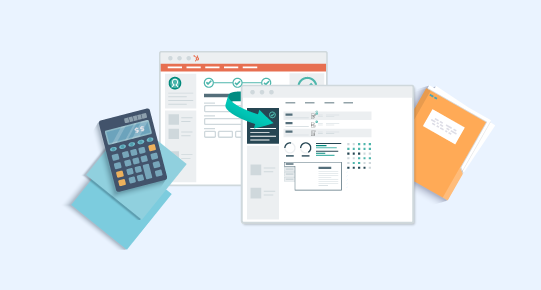 Updated on August 1, 2023
The transition between your sales department and your project management team can be a frustrating and tedious process. It can seem like no matter how organized your handover is in theory, when it comes time to pay the piper, things aren't as smooth as you planned.
The two sides of the team, even in the most positive company cultures, are known to be at each other's throats.
If you were to poll sales professionals about their top inter-organization complaints, you're sure to hear a mouthful about project managers.
And vice versa.
Oftentimes, in many organizations — particularly mid-sized digital agencies — lots of valuable information on the sales side is lost during the handover to project management.
And on the flip side, the project team often finds financials a hot mess, since sales usually won't have a sufficient overview of all the transactions done within a project's lifetime. This is particularly problematic because sales team members are usually unaware of problems with payment, budget, or even potential upsell alerts.
The best course of action when handing over your contract from sales to project management is to get organized, utilize the best tools at your disposal, and focus on clarity.
Check out our 5 tips to smooth your handover from HubSpot sales to your project management team. You'll find out how you can optimize this transition and make everyone's life a little easier.
Tip #1: Promote clear and open communication/collaboration on both sides.
The first and arguably most important step is to get everyone on both sides on the same page. If you're part of a larger organization, be sure to properly introduce team members and encourage internal communication between parties.
Another big key here is to get everyone literally on the same channel. However your team chooses to communicate - be it Slack, Skype, or Zoom - get everyone using the same channel to limit confusion and streamline how information is exchanged.
Now that everyone is communicating on the same channel, it's important that you keep collaboration tools the same for everyone as well. This will require integrations for cross-functional collaboration.
For example: Since sales uses a CRM like HubSpot or Salesforce and the project team uses project management software, these two solutions need to integrate with one another. This way, each side can clearly have access to the data they need.
Tip #2: Create a clear outline of what sales should always provide for project management.
Again, in the interest of clarity, be sure to provide the sales department with specific instructions on what to provide the project team. The more insight project management has into the nuances of the customer, the better they'll know what to expect.
You'll need to create standard protocols for what happens on the sales side after the project is sold. One effective strategy is to have sales team members communicate any potential risks they've encountered when dealing with customer contacts. Encourage them to do a bit of light vetting and give an honest opinion to the project team about how they think the customer will handle the project. Are there any red flags that could jeopardize completion?
At the end of the day, the better sales can collect and present appropriate data, the easier the transition will be. So in addition to communicating risks, you'll want to have a document drawn up with precise requirements for the sales side to better inform the next phase of the project cycle. You might consider including the following items:
All customer contact info
Chronological customer correspondence
Any documentation from previous projects or interactions with customer
Copy of the full scope of work for the project
Cite any issues or problems raised by the customer
Want a more detailed layout? Check out this example. Here are the data fields the Project Management team at Innovate requires from sales:
Project name
Client PO#
IR
LOI
Target
Quotas Details
Country
CPI
N size commissioned
Total N size for the project
Device compatibility
Miscellaneous notes
Programming/Hosting
Attachments
Field Start Date
Field End Date
The goal is to get across as much applicable information to project management without wasting too much time. The more you streamline the process with detailed documents/data fields, the easier and faster this part of the handover process will be.
To reiterate, be sure to integrate your project management software with your CRM. If your project management solution provides a comprehensive integration, importing this data should be super easy. Usually, just a few clicks is kind of easy.
Tip #3: Ensure that the customer knows what post-sales steps will be taken.
Echoing Tip #1, now it's time to clearly communicate what's happening with your customer. First, introduce them to any project team members that will be handling the contract and keep them abreast of the next steps in the process.
Often, customers may develop a comfortable rapport with a sales associate, and it should be your top priority to make sure they stay comfortable. Your project team may not have the same social skills, but you can do everything you can to reassure your customer that they're in good hands (with good people).
Tip #4: Introduce someone from the project side at the last sales meeting.
A practical and effective way to execute Tip #3 is to have your sales squad take at least one of your project managers or customer success representatives with him or her to their last meeting.
It's all about comfort and familiarity here— this way, your customer can get acquainted with the project team before the official handover. You can also show endearing signs of transparency for your organization right out of the gate.
Speaking of endearing, it's a good idea to send the more socially adept of your project team members on this assignment. Human connection is what ultimately builds trust, and it will go a long way if your client can meet someone from the project side personally.
Tip #5: Use an automation tool like PSOhub.
Finally, put technology to work for you during the handover with an automation solution for project management like PSOhub. Automation tools can help you save major time on the process and ultimately help bump up those project profit margins.
"In the PSOhub environment, a deal can be promoted to a project and you can automatically hand over all the deal information with just one click."
It's that easy. All the account info from the sales side (CRM data) including contact information will be transferred to PSOhub project management. Data handover complete.
Bridge the gap between sales and project management once and for all.
PSOhub was created to help Professional Services Organizations, especially HubSpot users, streamline their processes, automate their admin, effectively manage their projects, and increase their project profitability. FYI– PSOhub also provides seamless integration with Salesforce and Dynamics 365, but its interface and UX are based on the HubSpot ecosystem.
So how, specifically, does PSOhub help with the sales-to-project handover process?
It automatically generates projects based on your CRM sales data. The most important info is copied into PSOhub's project environment, which engages in two-way communication with the HubSpot environment.
All necessary information can be found in the HubSpot feed. Sales can therefore see whether or not all invoices have been paid,

if a project is going off the rail

, or if other upsell potential is relevant.
Simplify processes and increase productivity by having a single point of information. If you use the

PSOhub integration for HubSpot

, both sales and project team members have access to identical information and duplicates are prevented.
To conclude our discussion, the handoff from sales to project management no longer needs to be plagued by its historical problems. Now, automated project management tools like PSOhub can provide all you need for the transition.
As we've demonstrated, this transition can now be executed in just a couple of clicks. Both sales and project sides have access to any information they need to see at their fingertips. This is all made possible because the software each team is using anyway– CRM and project management software, respectively– are now seamlessly integrated.