Top PSA Salesforce Tools 2024: Pros, Cons, Review Consensus
by Juliette Lagerweij on November 14, 2023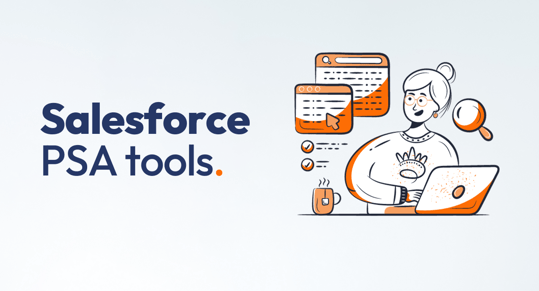 It's almost 2024, and professional service organizations all over the world are looking to capitalize on advances in AI and automation to supercharge their efficiency.
Salesforce users, in particular, can get in on these game-changing technologies like self-driving time tracking and predictive analysis to help them scale operations and better serve their customers.
For Salesforce firms, the doorway to this better tech and to more streamlined processes can be found in powerful tools– specifically, a PSA Salesforce tool.
Many professional service businesses use Salesforce as their CRM to capture leads, manage sales, and win deals that eventually become projects and hopefully, recurring clients.
What a PSA Salesforce tool does is bridge the gap between sales and projects and effectively automates wherever possible.
The benefits of adopting a PSA tool revolve around efficiency through said automation– aka you'll save time, energy, and money throughout the project lifecycle, even in certain areas where you didn't think it was possible.
We'll go through the top 5 PSA Salesforce tools for 2024, detailing pros & cons, pricing, major features, and verified review consensus, so you can get a good feel for what users are saying.
Let's begin!
Top 5 PSA Salesforce Tools 2024
First, What Is a PSA Salesforce tool?
A PSA Salesforce tool refers to professional services automation (PSA) software that provides a two-way integration with the Salesforce CRM. This integration means that data gets seamlessly exchanged between Salesforce (sales) and your Salesforce PSA tool (project management).
For example, when it's time to create a project in your PSA tool, you will not have to manually enter the data or take any migration steps. Instead, your PSA Salesforce tool will automatically fill in the relevant information from the CRM side.
A PSA Salesforce tool will offer a native integration with Salesforce. In other words, you will not need to go through a third party like Zapier to connect.
While it's possible to connect siloed PSAs through Zapier or another avenue, it's not recommended. A true Salesforce PSA will provide a two-way integration that offers superior functionality and a more seamless user experience.
That's because PSA tools with a native Salesforce integration will need more time spent by developers to perfect the environment. This makes it a better bet than going with a third-party connector.
You can find PSA Salesforce solutions on the Salesforce app exchange. Alternatively, you can check out the integrations page of the PSA software you're interested in to make sure that Salesforce is included on the list.
Like all PSA tools, Salesforce PSA targets the needs of service businesses, specifically, by way of all-in-one project management and automated features. These tools will help you automate many processes, including invoice management, time tracking, and much more.
In short, PSA Salesforce tools will:
Provide holistic project management
Provide two-way data sharing with your Salesforce CRM
Bridge the gap between sales and service
Automate many processes (contracts, billing, etc)
Top 5 PSA Salesforce Tools 2024
If you're using Salesforce, especially with remote teams, you can get a huge leg up on your project management by using an integrated PSA tool. Your teams get a more all-in-one environment, and the automated features can't be beaten.
The following contenders on our list provide native integrations with Salesforce and offer substantial value in that each can stay with you as you grow and scale.
1. Best Overall - Certinia PS Cloud (formerly FinancialForce)
For the smoothest Salesforce-esque experience, Certinia PS Cloud (formerly FinancialForce) takes the cake, as it was built on the Salesforce platform. Certinia provides superior visibility and functionality for businesses of all sizes, and it's a particular favorite in the IT services sector. Certinia prides itself on offering enterprise-level features that can help businesses promote sustainable growth. Organizations love that Salesforce-native Certinia acts as a single source of truth, uniting all departments and maximizing efficiency.
Pros:
Great for service businesses of all sizes
Built on the Salesforce platform
Awesome analytics by Salesforce Einstein
Cons:
Review Consensus: Salesforce users love that the Certinia PSA tool provides a similar Salesforce environment since it was built on the same platform. High-rated features include the real-time Gantt view, customer service attention, and out-of-box reporting. The biggest complaint is usually about a steep learning curve, as it can take time to get entire teams well-versed.
2. Most Affordable - PSOhub
PSOhub offers one of the most affordable PSA Salesforce tools available today, without sacrificing any functionality for service businesses. In fact, PSOhub's automated features represent the best on this list. This includes invoicing as well as time tracking. With PSOhub, an hour tracked is always an hour billed, which helps consulting firms in particular stay on top of their billable utilization like never before. Although PSOhub was initially designed with HubSpot users in mind, their two-way integration with Salesforce makes for a seamless experience that can help teams increase their productivity.
Pros:
Superior automation
Unique quotes feature
Starts at just $12.50 per month
Cons:
Originally designed for HubSpot users
Review Consensus: Salesforce users rave about PSOhub's self-driving time tracking that helps them better keep track of billable hours. Other praised features of this PSA Salesforce tool include the customer portal and automated invoicing.
3. Best Customer Support - Klient
Klient is a bit pricier than the over PSA Salesforce tools on this list, but the solution earns high marks for their top-notch customer service. Klient helps service organizations hone-in on profitability with their highly customizable, highly flexible software. Their support team is known to go out of their way to do more than just help you onboard the solution. Klient's customer service reps are full of good advice and creative tips on how to make everything from workflows to automations work exactly how you want them to.
Pros:
Partnership approach to customer support
Praised workflow automation
Works for all project types
Cons:
Review Consensus: Verified reviews mention the superb support from the team at Klient in almost every testimonial available. Complaints are minimal, don't fall into any particular category, and usually have to do with a specific customization issue.
4. Best Collaboration - Mission Control
Mission Control helps Salesforce service businesses improve collaboration organization-wide with their highly flexible PSA solution. With Mission Control, you can easily connect to all your custom Salesforce processes and objects. Next-level reporting and supreme visibility into the Salesforce environment help keep everyone on the same page with connected data. Keep all your project workflows highly organized and help improve your customer experience with easy-to-implement automation to save you major time.
Pros:
Easy to use
Regular upgrades & improvements
Effortless collaboration tools
Cons:
Review Consensus: Project tracking is one of the highest-rated features of Mission Control's PSA Salesforce tool. Gantt charts and tracking billable hours are remarkably easy with this flexible software.
5. Best for Creative Agencies - Precursive
Precursive is the dark horse of the group but still earns major points for its ability to up efficiency levels. IT service companies and consultancy firms are the top candidates for this PSA software built specifically for the Salesforce environment. In addition to its project management capabilities, Precursive provides customer onboarding that makes it a real win for digital service providers. Precursive users get truly all-in-one project management, complete with time tracking, billing, and extensive resource management functionality.
Pros:
Comprehensive resource management
High-rated task management
Award-winning customer onboarding
Cons:
Review Consensus: Verified reviews for Precursive's PSA Salesforce tool praise its task management, especially the easy-to-digest OBX boards. However, multiple testimonials speak to the solution being clunky and requiring significant workarounds to nail needed customization.
Final Review Breakdown
PSA Salesforce tools– aka PSA software with native Salesforce integration– help service businesses streamline their processes and bridge the gap between sales and service. Automation is a big part of what PSAs do, with features like automated invoicing and automatic quoting that you can't get from basic project management solutions.
Salesforce users can find these PSA tools for the Salesforce environment on the Salesforce AppExchange or by simply checking the integrations page of the desired PSA solution.
While there are various Salesforce PSAs to choose from, we narrowed it down to the top 5 based on value and functionality:
Certinia (which used to be FinancialForce) is considered the best overall, as they are the OG in the space with their PSA built directly on the Salesforce platform.
PSOhub is the most affordable option, starting at just $12.50 pu/pm for unique, AI-driven features.
Klient comes in at #3 because of their amazing customer support to help small businesses customize the solution.
Mission Control has next-level collaboration features that are highly rated by users to help bring remote teams together on projects.
Precursive is a great PSA Salesforce tool for creative agencies that helps businesses organize workflows and dial-in their task management.
For more information on PSA Salesforce, check out this handy guide to help answer any further questions you might have.