Time Tracking for Salesforce: Your Top Options
by Julie Bennett on April 8, 2021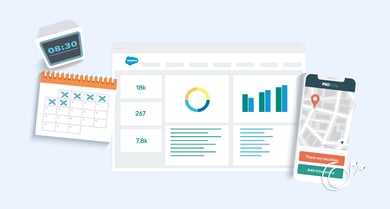 Time tracking is a critical piece of project management. Using inefficient solutions-- or worse yet, none at all-- can burn you in quite a few ways.
For one, you'll never have a good handle on where your project actually stands in real time. People will overbook. People will underbook. The most recent time tracking stats support this:
"80% of US employee timesheets need correction, the overriding reason being that people can't remember their hours..."
That's an outright extreme number and should be enough to jolt you into getting better at tracking your time!
Optimizing your time tracking is an excellent way to get your team more billable and increase everyone's productivity levels.
If you're using Salesforce to manage your CRM, you have a few solid time tracking solutions to choose from. These intelligent platforms will integrate with the Salesforce ecosystem seamlessly, so you can waste less time jumping from solution to solution.
Here are a few viable time tracking solutions for Salesforce that are affordable, easy to use, and equipped with features perfect for small-to-medium-sized businesses.
PSOhub
While the other time tracking solutions for Salesforce on this list specialize in time management, PSOhub is a more holistic solution to manage all facets of your projects. That said, the platform's time tracking features that integrate with Salesforce offer a lot by way of efficiency and ease of use.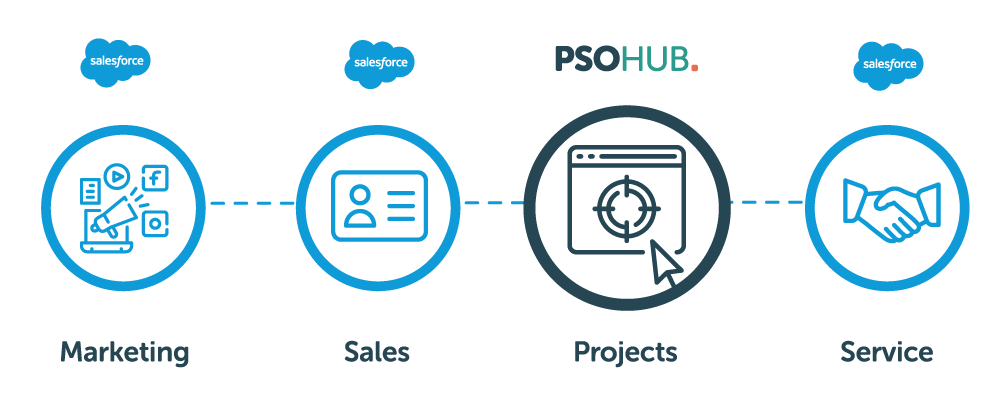 To track time in PSOhub, you can use the mobile app or browser extension. PSOhub will give you analytics in easy-to-read reports that can help you quickly see where your team and your projects stand on a time and expense basis. The best thing about using PSOhub to track your time in Salesforce is the self-driving time tracking feature. If you use this feature, you basically don't ever have to enter time manually, as it will sync with your calendar and even your GPS location. From there, PSOhub can automatically generate a smart invoice, saving major admin time and keeping team members happy and productive.
How much does PSOhub for Salesforce cost? PSOhub gives you a free 60-day trial. After that, plans range from $12.50-$20.50 per user per month to facilitate everything you need software-wise for project management.
TMetric
TMetric provides a ridiculously easy and cheap way to track your time in Salesforce. Teams of 5 or less can use the solution for free, but with limited features. With TMetric, there's literally no manual input required; everything happens with just one click. The timer button in the solution is automatically integrated with each of your tasks in Salesforce, and you don't need to do anything when you switch tasks. With comprehensive reporting, a browser extension, and a setup that takes just 3 minutes, TMetric is one of the easiest time trackers for Salesforce and a favorite among freelancers and smaller teams.
How much does TMetric for Salesforce cost? Teams of 5 or less can work free, but you'll only get basic features. From there, depending on which level you get (there are 2), the price is $5 or $7 per person per month.
Clockify
Clockify is a free time tracking solution for Salesforce that like TMetric, makes everything happen in one click. All you need to do to use Clockify is to sign up for your free account and download the browser extension, available for Chrome or Firefox. From there, the Clockify timer button will automatically show up in your Salesforce environment: accounts, contacts, leads, etc. Clockify runs time reports for you and can divide up time based on project, but it's not overloaded with smart features. If you're looking for a super simplistic time tracker for Salesforce without the bells and whistles, this is it. Note that the Clockify integration works most efficiently with Salesforce Lightning, so keep this in mind…
How much does Clockify for Salesforce cost? Clockify is free! Not the ultimate choice by way of features, but definitely does right by your budget.
Time Doctor
Time Doctor tracks your team's time in Salesforce and also provides a little extra to manage productivity. The Time Doctor button will automatically show up in Salesforce in all your tabs, just like Clockify. Plus, Time Doctor offers a browser, desktop, and mobile app to make time tracking easy on your team, wherever they may be. Time Doctor also offers payroll and integrates with common collaboration solutions like Slack and Asana, so you can really make sure all your team's activities are accurately accounted for. With in-depth reports, you can easily see where time is going based on each project or even each individual team member. And because Time Doctor will also account for time spent on other sites-- i.e. browsing, etc.-- you can zero in on productivity and give a nudge to the people that need it. To get started with Time Doctor, simply create an account (free trial) and install the Chrome extension.
How much does Time Doctor for Salesforce cost? Time Doctor gives you a 2-week free trial. After that, you'll pay $10 per user per month.
Which Salesforce time tracker is best for your business?
The answer depends largely on your team size and budget, as well as how in-depth you want to get when it comes to time management. Clockify is obviously the most affordable choice (it's free), but won't give you the smart features of a solution like Time Doctor or PSOhub. TMetric is the dark horse of the group, as it's not as popular, but offers decent functionality at a low price point. If you cannot decide, get your feet wet with the free trials and see which Salesforce time tracking solution you like best!