What is PSA Software?
Your guide to professional services automation (PSA) solutions.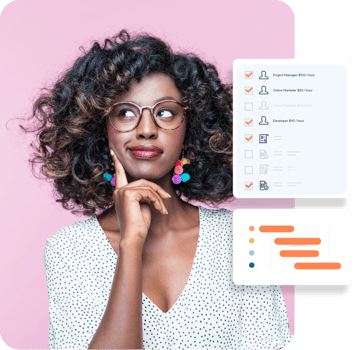 What are professional services?
The term "professional services" doesn't have a single definition, but can generally be understood to mean occupations which require special knowledge or training (and in some cases, professional licenses) to.
In other words, professional services organizations don't sell products— they sell their knowledge, time, and labor.
Almost every business uses some professional services, either for specific projects or to support general operations as they scale. Not everything can be handled in-house, so they hire organizations or individuals to perform professional services.
Examples include:
Accountants
Advertising agencies
Business coaching agencies
Consultants


Engineers
Financial advisors
Graphic designers
IT firms
Lawyers
Marketing agencies
Project managers
Recruiting agencies


What is PSA technology?
The PSA in PSA technology stands for "professional services automation." This technology helps professional services organizations handle time tracking, contracts, project management, invoicing and billing, and more.
Migrating from manual processes to automated workflows has allowed professional services organizations — including small ones — to experience greater overall efficiency, lower overhead costs, and faster growth.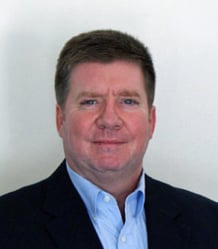 "Everything is information-driven, so if you don't have the information infrastructure, you're never going to be able to be successful."
Dave Hofferberth, Managing Director, Service Performance Insight
Rather than using separate platforms for each process, your professional services organization can leverage PSA software that streamlines workflows via integrations and automation. With the right platform, you can break down silos, boost visibility, and supercharge productivity.
Big-picture benefits of PSA software
With PSA software, your organization can automate all kinds of workflows. And if you choose a comprehensive, integrated solution, you can link these workflows together for true hands-off operations.
No more spreadsheets or point solutions for project management, time tracking, contract management, and invoicing — just one seamless experience for the entire customer lifecycle.
Less admin, more billable hours
Massive revenue growth
Businesses using PSA software have experienced YoY revenue growth of more than 143%.
Improved customer satisfaction
PSA software enables close collaboration between sales and project teams and improves the client experience.
Now that you understand the big picture, let's explore some of the more specific processes that can benefit from PSA software.
PSA software for project management
Project management is one of the biggest challenges for professional services organizations. Closing a deal is one thing. Getting the work done on time, within budget, and in alignment with project scope is another.
Across industries, project managers have one thing in common — they have a lot of responsibilities (defining deliverables; setting goals; creating schedules, budgets, and timelines; and allocating resources, to name a few).
Unfortunately, without the right tools, project managers often end up spending more time and energy on managing their project management processes than they spend on...well...actual project management. Every moment spent switching between platforms, building spreadsheets, manually entering information, and fixing errors is time that would be better spent on client work.
In order to keep things on track, project managers also need visibility into every aspect of the process. How much money has been spent? How much is left? Are deadlines being met? Does some aspect of the project need to be reevaluated? How does progress on this project compare to other projects?
In an ideal world, answering these questions would be easy. But sifting through spreadsheets and parsing together reporting from multiple platforms takes time and effort — and in the end, the answers still might not be clear.
Look for these project management features in a PSA platform:
Automated project setup
A self-driving project setup system saves time and reduces repetitive work so your team can get started on client work right away.
Project planning
A good PSA platform will enable you to plan projects — using Gantt charts, checklists, and more — directly from your CRM ecosystem, closing the gap between sales and service.
Project status tracking and alerts
Progress tracking for all your accounts gives you better visibility, and automatic alerts let you know if any projects are getting off track.
Dashboards and reporting
Reporting features give you the opportunity to learn from completed projects so you can optimize your project management strategy.
PSA software for time tracking
Professional services work (and project-based work in particular) requires accurate time tracking methods. The reasoning here is obvious — for many companies, hours worked on a project determines how much to bill the client. If you can't bill accurately, you could be losing money.
However, timekeeping isn't just about billing. It's also a key component of project management that can help keep your team from going over budget and overservicing clients.
A 2019 survey conducted by Ginger Research found that 90% of PR agencies overservice accounts. Similarly, a report by the Society of Digital Agencies found that 49% of creative agencies reported a profit loss of 11% or more due to overservicing, with 57% citing lack of visibility into overservicing as a reason for profit loss.
Timekeeping errors (28%) and timekeeping delays (27%) — which can often contribute to overservicing — were also cited.
Talk to professionals from other service industries — like accounting, engineering, and IT — and you'll likely hear similar stories.
90% of PR agencies overservice accounts.
86% of staff at PR agencies have worked unpaid overtime due to overservicing.
49% of creative agencies have experienced a profit loss of 11% or more due to overservicing
57% of creative agencies cite lack of visibility into overservicing as a key reason for profit loss.
It's clear that overserviced projects are a huge problem for services companies. Luckily, the right time tracking solution can help put the brakes on overservicing.
There are a variety of time tracking platforms available online, and many of them are free. It's important to keep in mind that they all have their own pros and cons, and some might even create more work for your team, so automation is highly valuable.
Unlike stand-alone time tracking solutions, comprehensive PSA software can use your timesheets as a key source of project information.
Here are some key time tracking features to look for in a PSA platform:
Automatic alerts
When too many (or too few) hours are logged to a project, an immediate alert lets you know that things are in danger of getting off-track — so you can make adjustments and stop overservicing before it starts.
CRM integration
Viewing time logs directly from your CRM eliminates extra steps and saves time.
Custom rolesCustom roles and hourly rates
Good PSA software will enable you to assign multiple roles to each team member, letting them track time with different billable rates based on the job they're currently performing.
Self-driving features
Calendar integrations and GPS functionality make time tracking a breeze for team members, and can reduce time tracking errors.
PSA software for invoicing and billing
No matter your industry, you share at least one common goal with other professional services organizations: getting cash in hand as soon as possible.
But without an optimized invoicing and billing system, that goal can be nearly impossible to achieve.
Even if you're happy with your current invoicing and billing platform, integrating it with PSA software can help you get more from it.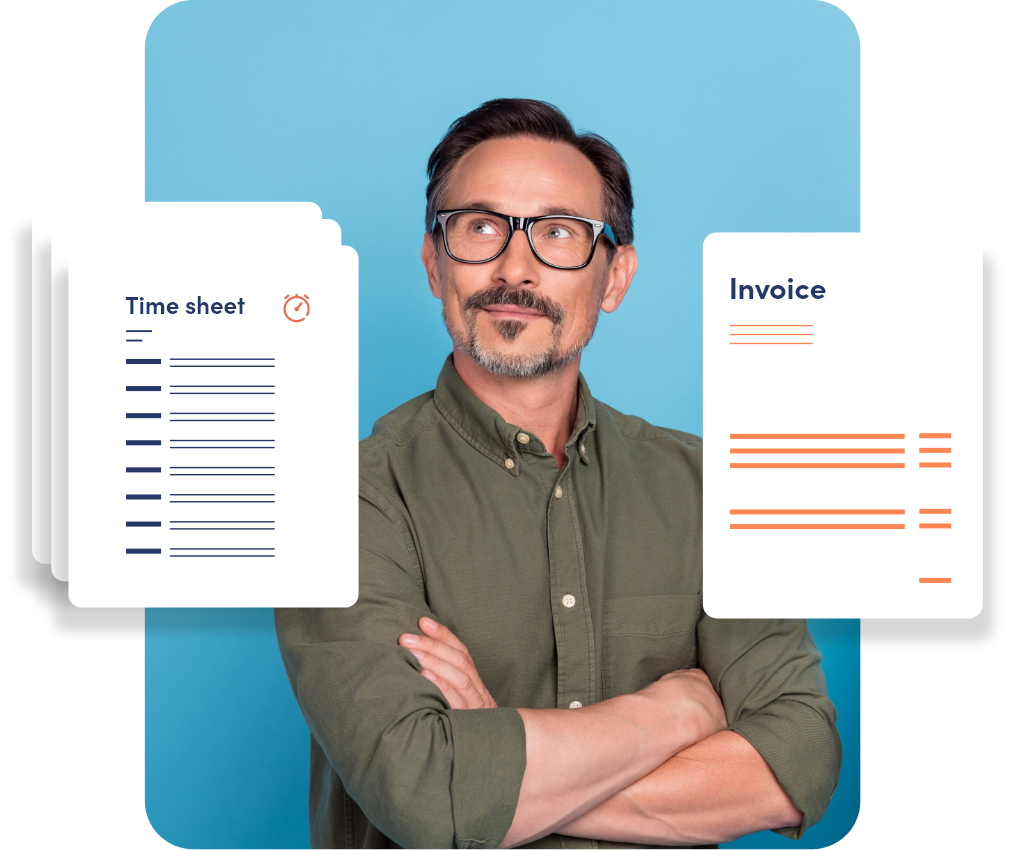 Automated invoicing and billing options can significantly reduce manual work so invoicing doesn't become a post-project chore.
But not every engagement or project looks exactly the same, especially when it comes to billing, so automation without custom options won't necessarily help.
Time and material, recurring, milestone, installment-based — a good PSA solution will make it easy to generate and send any kind of invoice, whether you choose to send them manually or based on triggers from your project management workflows.
Here are some key time tracking features to look for in a PSA platform:
Invoicing automation
Automatic invoice generation (e.g. when a certain number of billable hours are logged or when a particular milestone is reached) reduces manual work for your team and helps you get paid faster.
Accounting software integrations
Bring the benefits of automation into your existing processes. If your current invoicing/billing platform is working well for your organization, choose a PSA platform that integrates with it.
Custom invoice approval options
Recurring and installment invoices don't always need manual approval, while complex projects might need extra review. A good PSA platform will allow you to customize your settings and select manual or automatic approval for each project.
Integrated invoice tracking
You should be able to quickly identify which clients have or haven't paid up. And when your team can view invoice status right from your CRM, it keeps everyone on the same page.
PSA software for operations
Project management, time tracking, and invoicing are all part of your organization's internal operations, so increasing efficiency for each component also increases overall operational efficiency. This increase can be even more dramatic with PSA software that closes the gaps between each component.
On a day-to-day level, PSA software can streamline workflows in all the ways we've already discussed. It can also boost visibility across departments, highlighting opportunities for operational improvement.
With a birds-eye view of workforce capacity, project data, margins, and client satisfaction metrics, you can:
Keep track of the admin hours required to close a deal and factor that into your costs
Pinpoint and address recurring issues like scope creep
Forecast profitability and plan resources

more accurately
Strategically target satisfied clients for up-selling and cross-selling
Track your best-performing and worst-performing accounts
Identify your best-performing team members
In other words, a great PSA platform is a data goldmine that helps inform decision making around operational efficiency — which is why PSA software is particularly valuable for operations managers, managing partners, and business owners who are calling the shots.
When is the best time to invest in PSA software?
"We only need a few platforms" is a common sentiment, especially among smaller organizations — if you're only using three or four platforms to run your business, consolidation and integration may not seem necessary.
As your organization grows, however, you'll likely take on larger and more complex projects, and you may need to expand your tech stack's capabilities to keep up. At that point, it's tempting to add more and more point solutions (especially if your team members are very comfortable with your existing platforms). But that can be expensive, slow down operations, and cause major frustration.
Investing in PSA software early can help unify your tech stack, guide growth, and avoid costly inefficiency at scale.
Price
There's a myriad of free PSA software available online, and some of them are great (especially for smaller companies). If you need to add a large number of users or gain access to more advanced features, you may need to explore paid options.
Features
Consider the tools that would be most helpful to your organization. Refer to the useful features we listed for project management, time tracking, and invoicing, and create your own list of must-haves. Pay particular attention to automated and self-driving features; they're the key to improving efficiency.
Integrations
Unless you're willing to start from scratch, you'll want to choose a platform that integrates seamlessly with your existing technology (and, ideally, technology you might need in the future). With powerful PSA software integrations, you won't need to completely overhaul your workflows.
Scalability
Frequently switching platforms is costly and stalls progress. Don't just look at the software you need right now — think about where your organization will be next year (and in five years). Does the software in question leave room for adding more users or features? The right PSA software will grow with your organization and help you scale.
Ease of use
Bells and whistles don't mean anything unless your team uses them. Consider how quickly and easily your team can adopt the new platform, and how much training wiIl be required. Integrations with your existing platforms and processes are important here, too — you want maximum value for minimal effort.
Investing in PSA software can be a game-changer for your business. You just have to find the right platform — with the right features and integrations — to boost efficiency and transform your operations for the better.
Where should you start your search? We humbly recommend taking a look at PSOhub. You can try it out for 30-days!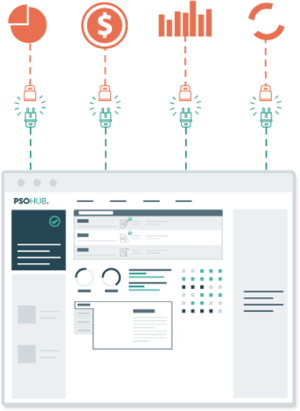 PSOhub: PSA software with CRM integrations
Looking for software to automate your service company? PSOhub natively integrates with HubSpot, Salesforce and Microsoft Dynamics 365!