What You Need to Know
Salesforce Project Management
What is project management?
Salesforce remains the most dominant CRM in the world. But managing your customer relationship and managing the full scope of your projects are not the same thing. After the deal is closed, Salesforce falls short by way of providing the best tools to get your projects rolling.

For small businesses using Salesforce, there's a more robust, more affordable option to improve the sales-to-service handoff and ongoing project management.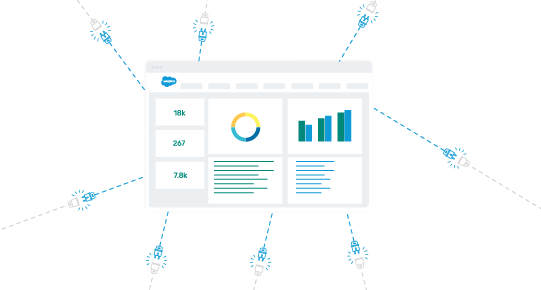 If you're already using Salesforce, look into a project management solution that integrates with the CRM. We'll show you how integrating Salesforce with a PSA tool like PSOhub can enable effective project management in small and medium-sized businesses. Hint – you'll save time and money!
What is the best Salesforce project management tool?
Since Salesforce primarily exists for use as a CRM, most small businesses are unable to use the software for project management. Like HubSpot, the platform pretty much calls it quits once the deal is closed.
You can manage some basic aspects of your projects with native Salesforce features, but there are significant limitations. If you want to learn how to manage projects in Salesforce this way, you need to set everything up yourself with what's available.

And using Salesforce Chatter, Salesforce Process Builder, and more to manage projects and workflows within the platform isn't exactly intuitive. Thankfully, there's a better way...

The easier and more affordable path is to adopt an integrated Salesforce project management tool. More specifically: Salesforce PSA software.
What is Salesforce PSA software?
Professional services automation (PSA) software provides a project management solution tailored to the professional services industry. In this case, we're talking about Salesforce companies, be they marketing agencies, engineers, accounting firms, or other professional services SMBs.

PSA software leverages automation to bring all the moving parts of project management into one digital hub. In short, you can circumvent the limitations of using native Salesforce apps and/or external solutions with a PSA tool like PSOhub.

PSOhub is an integrated PSA software built for SMBs who want more out of their Salesforce ecosystem. It's the missing link that picks up where Salesforces leaves off.

We'll go through the Salesforce project management process using PSOhub's PSA software, so you can see exactly how you can save time and actually save money by leveraging an all-in-one project management solution.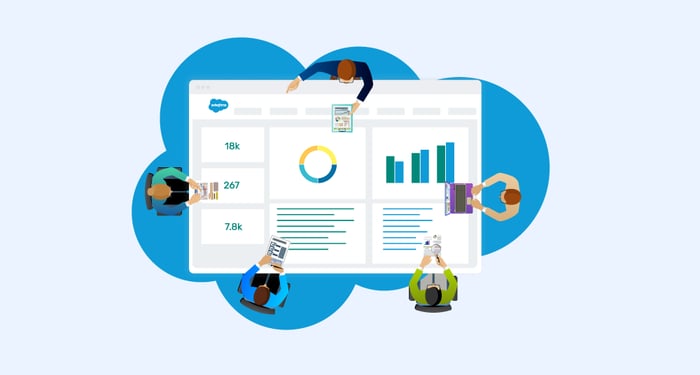 How to manage projects in Salesforce
You can run more successful projects when you have full visibility into project success. A big part of that is keeping all the moving parts in one place. With an all-in-one solution like PSOhub, you can manage your contracts, track your time, and more.

Another big win with Salesforce PSA software is the consolidation of the tech stack. A robust Salesforce project management solution like PSOhub will help you eliminate monthly costs on unintegrated solutions for things like task management and time tracking.

So, say goodbye to figuring this out yourself in the Salesforce ecosystem! It's too time-consuming and way more inefficient than employing integrated PSA software.

Using PSOhub's seamless Salesforce integration, you can break down silos and consolidate your tech stack. You'll save money on all those monthly licenses and keep your team more productive by eliminating the switch cost (the amount of time and energy it takes to switch between different platforms).

Here's how to make it happen with Salesforce project management from PSOhub:
Optimize the sales-to-project handoff
The project management handoff has proved historically rocky. But it's a thing of the past thanks to integration and automation. Once the deal is closed in Salesforce, PSOhub automatically pulls that data into the project.

All the info you need can be seen in your Salesforce feed, so sales know if invoices have been paid, if a project is in danger of going over budget, or any other relevant upsell information.

Plus, you can start billing and start planning earlier, before the project officially begins. By using the PSOhub integration for Salesforce, both the project side and the sales side have access to the same data, preventing errors and duplications.
Learn more: 5 Tips for a Successful Sales to Project Management Hand-Off
Start resource planning from the get-go
Resource planning and workflow management shouldn't begin after your project has started. With Salesforce PSA software, you can properly manage resource allocation at the outset. You'll get a jump on efficient capacity planning and importantly, keep all that relevant information in one safe, secure place.
PSOhub happens to offer the most versatile capacity planning for Salesforce project management. You can choose between task-based capacity planning or hours-based capacity planning, depending on the needs and scope of your project. For the ultimate control, you can enable both to get the most out of your resource planning.
Maintain project transparency
Transparency with project management software is the name of the game. From the start, both the sales team and project management team members know what to expect. PSOhub's PSA software for Salesforce then continues to deliver the height of project management transparency.

Here are a couple of examples of helpful features:
Client Portal
SMBs love this feature! Depending on the project, it may make sense to give clients a certain amount of access to your project data. With PSOhub, you select which information they can see at different points within the project cycle. Providing their own login and access to the project they're paying for can earn immense trust that ropes them in as a customer for life.
Predictive Analysis
Here's where smart PSA Salesforce software is worth its weight in gold. Using machine learning (aka AI), an integrated Salesforce project management solution lets you know about present threats to project success. Whether it's going overtime or over budget, predictive analysis helps you prevent fires from ever forming.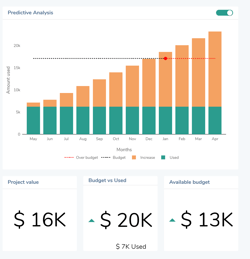 What is predictive analysis? Predictive analysis, also known as predictive analytics, uses data, algorithms, and machine learning to identify the likelihood of future outcomes based on historical data. Predictive analysis helps empower decisions about what will happen in the future based on the knowledge of what has already happened.
Increase profitability and productivity
These next two elements can make or break your cash flow.
That's why it's ever-important to leverage invoice management and self-driving time tracking. As far as the former, automated alerts and scheduling from PSOhub's Salesforce project management tool will ensure every invoice is paid on time. Every time. And if you want, you can automate the process so that you'll never have to manually send an invoice again.
As far as time tracking goes, the best PSA software for Salesforce will provide these five key features:
Self-driving time tracking
Self-driving time tracking
GPS time tracking
GPS time tracking
Browser extension
Browser extension

Dashboards and reporting
Dashboards and reporting
All these features at your team's fingertips mean less time spent on time monitoring and more on the activities that matter. Plus, when PSOhub's invoicing and time-tracking features work in unison, you can import timesheets right into your invoices so you get paid faster.
Since many of us are working with team members scattered all around the world, the last thing we need is a hapless invoicing process and a shoddy, unintegrated Salesforce time tracker. It's time to level up.
Control project success
While the project moves along, it's important to stay in control; and you can only do that with a solid grasp of your time and your financials.
After you've closed the deal in Salesforce, as an owner or project manager, you can easily see what's happening with intuitive dashboards in PSOhub. And as we mentioned earlier, you can even share this information via the client portal for those customers who like to be more involved in the process.
The bottom line: Reporting and dashboards offer full visibility into project success, and managing projects in Salesforce means you need an integrated solution like PSA software.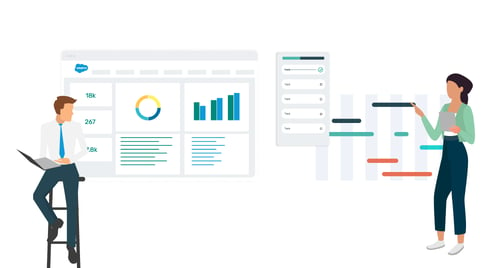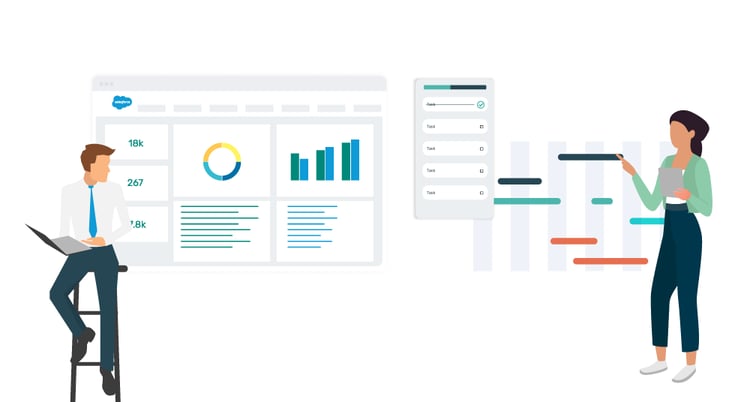 Contract management in Salesforce
Contracts are time-intensive to create from scratch since they define every facet of a business engagement. Want to be more efficient? Stop drawing up brand new contracts and use contract templates in your Salesforce project management tool to repurpose versions from past projects.

Contract templates offer a list of benefits over manual creation and recreation of Salesforce contracts. To start, contract templates reduce errors and empower other teams to take initiative. They can even improve your close rate, as you'll be able to make decisions based on data from predictive analytics. It's much more difficult to aggregate data with all those hand-written contracts floating around.

Another key element of contract management with Salesforce is checking the dashboard. Smart contract management software – in this case, within a Salesforce project management tool or PSA solution – is only as good as its reporting and dashboards. Dashboards give a bird's-eye view of contract status, so you know which deals are active or profitable.

Finally, the best way to get a handle on your Salesforce contracts is to leverage automation. For one, you can make overservicing a thing of the past! Automated alerts allow you to keep tabs on time and budget spend. And because PSOhub uses predictive analysis, these alerts can also warn you of impending doom based on data. The result is increased efficiency and less stress for project managers and small business owners.

The best contract management software for Salesforce will provide:
Contract templates
All contract types
Rate and budget management
Dashboards and reporting
Task management in Salesforce
Task management is often marketed as project management by platforms like Asana. But the two are not the same thing.
Task management is the control and execution of all tasks related to project completion. It includes dividing up tasks, assigning them, and keeping track of task status throughout the workflow.
Task management is not project management; it's just a piece of the project management pie.

While project management encompasses all moving parts necessary for project success, task management is focused on sharing information around the tasks needed to complete the project. Regardless, you need an awesome task management tool as part of your project management stack.

Not all project management solutions have a Salesforce task management feature, which means in these cases, you'd be using and paying for another siloed solution.

Luckily, PSOhub's PSA software for Salesforce comes equipped with task management tools to ensure project success. Here's what you can expect and what you can do to win at task management with Salesforce:
Keep your promises and deliver projects on time. Prioritize or delegate tasks that are time-critical to keep projects running smoothly.
Control on-budget project delivery. When using Salesforce for project management, you need your task management and time tracking to 'talk' to one another. It's the easiest, cheapest way to stay in control of both your Salesforce time tracking and the status of deliverables.
Control on-budget project delivery. When using Salesforce for project management, you need your task management and time tracking to 'talk' to one another. It's the easiest, cheapest way to stay in control of both your Salesforce time tracking and the status of deliverables.
Make things easier on remote workers. Task and time-tracking tools are a boon for remote Salesforce workers who may find it difficult to stay on task.
Make things easier on remote workers. Task and time-tracking tools are a boon for remote Salesforce workers who may find it difficult to stay on task.
How to integrate Salesforce with PSOhub
Get the best of both your Salesforce CRM and PSOhub's robust project management tools. It's easy! You can seamlessly connect your CRM with PSOhub to pass information back and forth.

Check out this quick video to see how it works, and you're off to the races:
Conclusion
We hope you are now more informed about how PSA software is the best option to efficiently manage projects in Salesforce. Don't settle for another siloed software – integration is key!
With an integrated solution like PSOhub, you'll be empowered to:
Optimize your Salesforce project management process
Leverage automation and predictive analysis to make better decisions
Manage your contracts and tasks effortlessly
Save money by consolidating your tech stack (dropping unintegrated solutions)


Keep your people productive