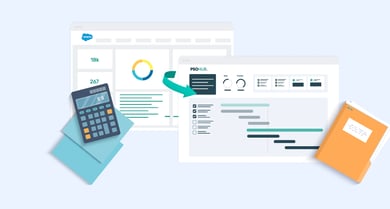 Salesforce offers a robust, highly popular CRM platform with rave reviews and big-time organizations like Spotify that use the solution to manage their sales and customer relationship.
But with the exception of a couple native features, you'll need to look elsewhere for a project management solution to handle the Salesforce deals that then turn into projects.
Case in point-- While your sales team works in the Salesforce CRM and your finance works in accounting software, there's an unfortunately missing link: the capability to manage projects and track revenue AFTER the deal is won.
The solution? 360 Degree Project Management for Salesforce!
To offer your clients and your team the most seamless journey from sales to service, you need to nail your projects with a Salesforce project management tool. One that integrates with Salesforce and can pull all that juicy data from the CRM to make creating budgets, contracts, and projects a breeze.
But how do you make sure all your team's work is correctly tracked, tied to invoicing, and in compliance with the original deal made in Salesforce? The answer is to seek project management integrations that:
Provide real value
Are affordable
Leverage automation
Enhance productivity
Let's explore further as we talk about Salesforce integrations, why you need both project management AND invoicing integrated with Salesforce, and what type of software can get you the best ROI.
Integrate your tools with Salesforce
You have quite a few options when looking for a Salesforce project management tool. Popular platforms like Asana and Teamwork integrate with Salesforce. Most of these project management platforms for Salesforce are affordable, especially for smaller teams. As far as invoicing, there are also a few preferred platforms to choose from. But honestly, it's just easier if the Salesforce project management tool you have in mind already has an invoice management feature. This will save you money and time, i.e. less switch cost from a superfluous tech stack.
Why integrate a Salesforce project management tool?
It can make the handoff from sales to project exponentially easier and seamless. Both sides get a clear understanding from the Salesforce data and transparency around what's expected of everyone.
A project management tool can keep all your team members' work under one digital umbrella, preventing silos and miscommunication.
Automation. The seamless exchange of data between Salesforce and your integrated project management tool will enable you to automate more and possibly work less (at least on those boring admin tasks).
You can get a leg up on project planning. Because a Salesforce project management tool will pull data from the CRM, each contract and scope can easily be applied to a project template. Once your contract is signed, the project side can get to work almost immediately.
Why integrate invoicing with Salesforce?
Invoicing errors are shockingly common and can even cause serious cash flow problems. If you're invoicing is integrated with your CRM, you'll be more empowered to avoid costly errors.
Integrating your invoicing with your CRM streamlines processes. You'll no longer need to manually create and send invoices. This can be automated with data that already exists in Salesforce.
You'll be able to keep a more watchful eye on your budgets. You'll be able to see exactly how much of a project's budget has been used at any given time, and then compare it directly to your contract.
What is PSA software?
The PSA in PSA software stands for Professional Services Automation. PSA software brings the following underneath one digital umbrella to make the journey from deal won to deliverables more streamlined:
Project management
Task management (collaboration tools)
Invoicing
Time and expense
Contract management
PSA software is a type of project management tool that provides an all-in-one solution, versus continuously adding to your tech stack.
Having a bunch of separate, non-integrated solutions is not only inefficient, but usually means you're spending more money than you need to: both on licenses and the time it takes team members to jump back and forth across platforms.
Plus, PSOs tend to be small-to-medium-sized organizations that usually don't require in-depth individual tools a la invoicing, etc. Therefore, a more holistic PSA solution like PSOhub can be leveraged to skyrocket efficiency and save major cash.
And finally, PSA software will seek to resolve gaps in functionality with your CRM software, the sales-to-project handoff being just one of them. At the end of the day, integrating PSA software with Salesforce will help improve your operational efficiency and your overall productivity.
PSOhub: a powerful Salesforce project management tool
PSOhub is a self-driving Salesforce project management tool, a powerful PSA platform created to help businesses manage their projects, their people, and their budget, all within the Salesforce ecosystem.

PSOhub extends Salesforce's functionality far beyond the sales process, empowering you to...
Create projects from the deal record in Salesforce. When a deal is closed in Salesforce, a contract is automatically generated in PSOhub. PSOhub then maps out project phases for each contract by leveraging time-saving project templates.
Automate time tracking and invoicing. Using calendar app integrations, mobile device GPS data, and machine learning, PSOhub automatically logs time to the appropriate project and can then generate an invoice based on the parameters you set.
Assign different rates and roles for individual team members. Have a team member that acts both as a project manager and a consultant? With PSOhub, you can easily track a person's time spent in each role and set up different hourly rates.
Get a grip on your cash flow and get paid on time. Smart invoicing from PSOhub connects to your accounting software and mandates that payment is received when certain conditions are met. Never get paid late or incorrectly again!
Get the most out of your CRM. Integrate a Salesforce project management tool!
To close, we'll quote Salesforce who wholeheartedly agrees that to get the most out of their platform, integrated systems are a must:
The idea that a single company uses hundreds of applications may seem overinflated. However, consider that each department has multiple pieces of software and systems, all of which host their own data. Across the company, these sources of data can include a number of existing business applications and systems. Each department may act autonomously, and if its systems aren't integrated with other departments, this creates data silos.
By getting an all-in-one Salesforce project management tool like PSOhub, you can eliminate silos, boost your productivity, and save money and time in more ways than one. For small-to-medium-sized businesses especially, this should be a no-brainer. Consolidate and optimize your tech stack for the win!