Salesforce Invoicing: Get from Deal to Cash FASTER
by Julie Bennett on May 24, 2021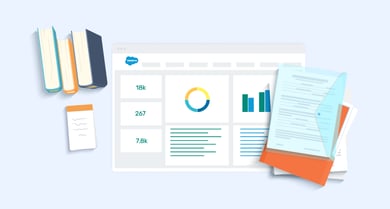 Salesforce is perhaps the most powerful CRM in the world. But for all its amazing features and functions, a historical gap creeps between sales and service.
Clogs in your deal to cash process often rear their ugly heads in the invoicing department. We'll explain how Salesforce users can get from deal to cash faster by using smarter invoicing.
Here's how you can get started with easy Salesforce invoicing today. No fancy tech knowledge required.
Get a Salesforce invoicing process.
The first piece of the puzzle starts with defining a clear-cut invoicing process. Clogs in the deal to cash process often happen simply because invoicing has not been explicitly defined. A lack of invoice terms, scattered data, etc. often plague small businesses, so get started by organizing your system.
In order to create a solid invoicing process, make sure you are organized and cover the bases, like your payment terms, how invoices are created, and delivery and monitoring.
If you're using accounting software to keep track of your invoices (you should be), be sure it is integrated with the Salesforce CRM. The Salesforce Quickbooks integration makes the entire invoicing process much easier, so make sure you're ready to go.
And finally, you'll want to use invoice templates to save time and energy. Here's a free custom invoice generator from Salesforce that's a great jump-off point.
3 ways to use Salesforce invoicing to optimize deal to cash
Now that you have your invoicing process fully fledged out, there are three ways you can go about invoicing with Salesforce. Remember that the idea is to get cash in hand sooner, so think about what is best for your business with each scenario.
1) Set up invoicing within Salesforce with Salesforce Billing
This is a good starting place that can get you on top of your invoice game. Salesforce Billing has awesome features that can help you get from deal to cash faster. For example, when your deal closes, your invoice will automatically be created. And you can customize your own invoice schedulers to respond to dates and other triggers. Though it's worth noting that Salesforce Billing is heavy on the quote side of things. If you don't need software to help you keep track of tons of quotes everyday on the sales side, you might not need to pay for all this functionality. Look more into Salesforce CPQ & Billing to see if it's a right fit for your business.
2) Get invoicing software that integrates with Salesforce.
This is the cheaper option for most small businesses working in Salesforce. There are a few different, viable invoicing platforms to choose from that integrate with the Salesforce CRM, including:
FinancialForce
Chargent
Invoices for Salesforce
As with Salesforce Billing, be sure to weigh price and functionality. Invoices for Salesforce is a pretty cheap option without extra bells and whistles, while FinancialForce will set you back substantially more with high-level features...
These are the 2 traditional paths to smart invoicing with Salesforce… but surprise! There's a third option that may be better for small and medium-sized businesses.
3) Get a Salesforce project management solution
Thinking outside the box, you could alternatively find an all-in-one project management platform that would go beyond invoicing to manage all the other moving parts of your project. In the interest of consolidating your tech stack and saving money, this may be the holistic option that will cost you less than getting Salesforce Billing or FinancialForce, plus time trackers and other software for the project cycle.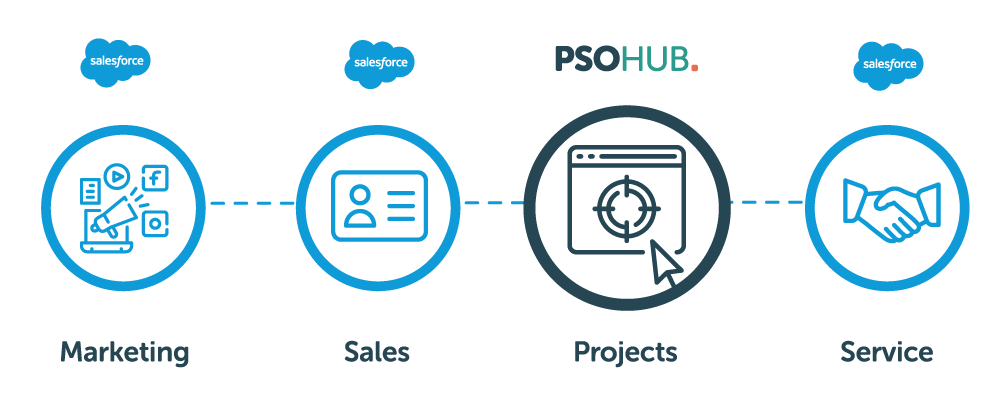 If you opt for a Salesforce project management solution, you can cover the following with the same software:
Invoicing
Contract and budget management
Task management
By keeping more of your data integrated and in one place, you'll have more control over your projects. And getting from deal to cash will never slow down because of invoicing problems again!
Want to try all-in-one project management for Salesforce FREE? Get PSOhub today.