Quick Guide to Salesforce PSA
by Qismat Riaz on November 15, 2022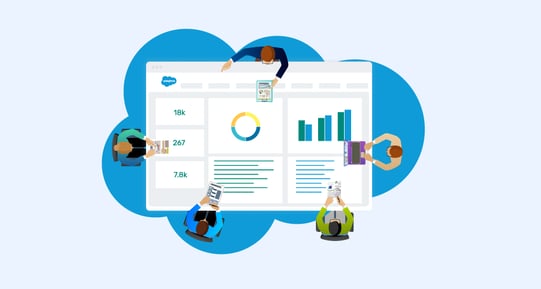 If you're in the professional services space– hello digital marketing agencies, IT, and the wonderful world of consulting– a Salesforce PSA tool can help you automate a bunch of your admin, while helping keep you and your team on-task and on budget.
That's the aim of a good PSA tool for Salesforce, anyway.
Welcome to Salesforce PSA in 3 minutes, or less for speedy readers.
Here we'll tell you all about Salesforce PSA, why people use it, and what to look for in a Salesforce PSA tool. Let's get to it! You've got things to do.
What is Salesforce PSA?
Salesforce PSA is professional services automation (PSA) software that simply integrates with the Salesforce CRM. It is not a siloed solution, meaning that data is exchanged between Salesforce and the Salesforce PSA.
To find a Salesforce PSA tool, you'll look for PSA software that provides a 2-way integration with your Salesforce CRM. You can find out if your PSA integrates with Salesforce by checking out their integrations page.
Since it's such a popular platform, most PSA tools worth their stock will set you up with some sort of integration with Salesforce, whether through a native integration or a third party like Zapier.
It's well-known that the PSA software that provides a native integration is usually a better bet than connecting with a third-party provider. It's simple–
When the software gives you a native integration– which you can find online by the way on any SaaS platform's integration page– it means that its developers have spent more time on that integrated experience. There will naturally be more features and more synchronicity between the two software solutions.
A Salesforce PSA tool will be hyper-catered to the day-to-day needs of services businesses, automating many admin tasks like:
Creating and sending invoices
Entering time manually
Creating contracts
Creating projects
And much more.
In a nutshell, Salesforce PSA will automate many processes for service businesses, especially on the financial side of project management (billing, contracts, etc).
Why you would use Salesforce Professional Services Automation
There's always a trove of reasons people want software. But professional services firms big and small have unique needs when it comes to project management and what can and can't be automated.
Agencies that already use Salesforce will get a leg up by using integrated professional services automation– aka Salesforce PSA– versus an outside solution that won't connect.
Here are the biggest reasons people use Salesforce PSA to help bridge the gap between what's happening with their CRM– sales/marketing/service– with their project management.
Benefits of using Salesforce PSA
Work smarter, not harder, with automation
Obviously, professional services automation tools are all about automation, making this the biggest benefit of getting Salesforce PSA. Automation is meant to execute menial, but necessary tasks like creating invoices, creating contracts, and more. PSA tools take care of the boring stuff, so you and your team can get back to what you do best.
Data sharing between Salesforce and your projects
The value of Salesforce PSA is that it connects your CRM data with your project data. This secure exchange of digital information, preferably 2 ways like the more popular Salesforce PSAs, makes automation possible. Project teams can get a seamless handoff from sales without all the back and forth.
Better visibility
A big benefit of onboarding PSA software is that it can help organize all your processes and keep them that way. By keeping together all the aspects of your project management together with your CRM, managers, and owners can get more insights than ever before. Easily see everything you want to in the Salesforce and project management environments with dashboards and reporting.
BETTER INVOICING (Get paid correctly, on time)
A big sin of small professional services, especially in the early days, is managing invoices with spreadsheets. A Salesforce PSA tool with invoicing included will take care of the entire invoicing process. You can automatically generate invoices from tracked time, send automated follow-ups to clients who need a nudge, and more.
Better collaboration
Salesforce PSA tools connect your sales to your project management, making collaboration around tasks easier. Most offer some kind of task management, too, which will let everyone on your team easily share information around customers and projects.
Smarter time tracking
You don't have to waste money or time on an outside time tracker like Harvest with Salesforce PSA. Time tracking is part of PSA functionality and will usually include automation of some sort to make it painless for the entire team.
Resource management
Managing resources in a remote team environment can be a challenge, but PSA tools make it easy. With Salesforce PSA, you can manage capacity on all fronts. Capacity planning is a big part of what project managers need in a resource management tool, and PSA software includes it. This is great for agile teams who can adjust workloads as they go without impacting budgets or deadlines.
Improve the customer experience
Finally, having a PSA tool in general can help professional service businesses improve the customer experience. With less time spent on tasks that can be automated, your team can better focus on the quality of their deliverables and the needs of clients.
4 things to look for in a Salesforce PSA tool
2-way integration with Salesforce - It's better to find a PSA solution that has a 2-way integration with Salesforce. This will make your analytics and reporting more accurate and give you more value.
Invoice management with smart invoicing - Check out the invoice management provided by the PSA tool. Smart invoicing will let you automate a lot of the process, so be on the lookout for automated features like invoice creation, invoice approval, and more.
Affordable price point - Salesforce PSA tools can range a lot in price, from under $10 per user/per month to around $40 pu/pm. Make sure the software has an affordable price point and that it provides enough value for that price.
Smart time tracking - You should be able to track your time organization-wide– including your sales team– with time tracking provided by PSA software. Look for even smarter features like self-driving time tracking and GPS time tracking to really up your efficiency.
Seamless Salesforce PSA Software for Startups & SMBs
PSOhub provides Salesforce PSA via a seamless integration that lets businesses connect their project management to their CRM. Starting at under $10 per user/per month, it's one of the most affordable PSA tools for Salesforce users.