PSOhub ♥s Salesforce
Project Management software that integrates seamlessly with Salesforce
Get even more out of your Salesforce ecosystem by automating your business from funnel to cash. PSOhub picks up where Salesforce leaves off. Extend your workflows and cut admin time!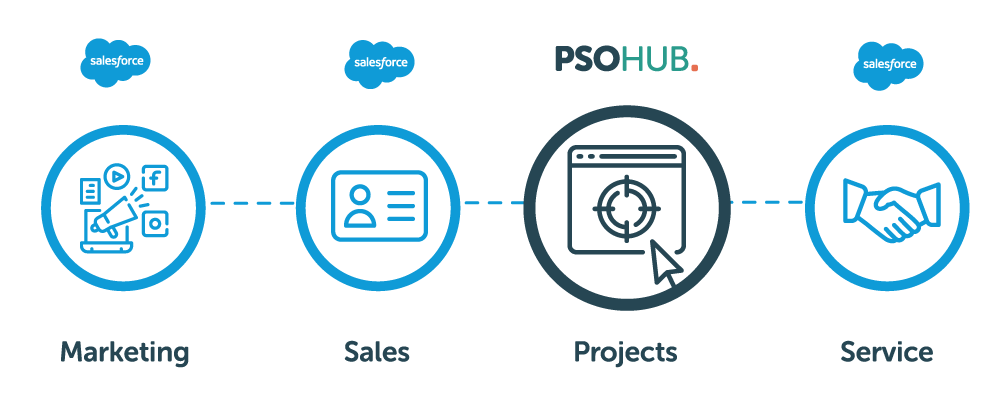 All-in-One Project Management in Salesforce
Set up contracts, manage your projects, track your time, bill clients, and more! Salesforce users love PSOhub for it's automation and predictive analysis capabilities.
Project Management
Manage all your Salesforce projects easier and improve collaboration, planning, and budget management.
Project Management
Contract Management
Use templates and other smart contract functionality to manage your fixed fee or time-and-material contracts.
Contract Management
Task Management
Delegate, prioritize, and report on your projects through task boards built for Salesforce users.
Task Management
Resource Management
Manage your resources with ease. No more guessing. Ever!
Resource Management
Time tracking
Timers, calendar integrations, and a mobile app. These are just some of the examples of self-driving time-tracking features that will make your life as a Salesforce user easier.
Time tracking
Invoicing
Would your Salesforce users like to see invoices that have been sent to a client? Send personalized invoices, both automatic or manual, and have them appear in your Salesforce activity feed.
Invoicing
Break down project management silos
Preserve information related to an opportunity and provide a clear overview to those who need it. By integrating the handoff between sales and project management, precious time can be saved.
Cross-platform visibility is now within reach
Project information syncs with the Salesforce activity timeline thanks to the two-way integration with PSOhub. This enables your team to always be up-to-date on a project's status, progress, and invoice details.
Accounting software integration
Easily manage payment reminders, credits, and more by connecting PSOhub to Salesforce and your preferred accounting solution.
Connect Salesforce & PSOhub now
Find PSOhub on Salesforce AppExchange. Connect powerful project management tools to Salesforce for free today.
PSOhub insights. Perfect for your coffee break.