Most Popular Project Management Software Features
by Claudette Albers-Reid on September 28, 2022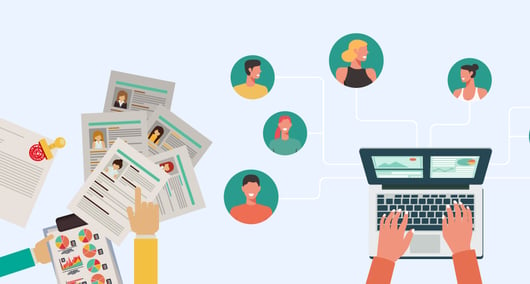 Since the early pandemic days of 2020, demand for intelligent project management solutions has skyrocketed. We've seen certain platforms like ClickUp laser-focused on task management and user-friendliness. Other project management software options have gone a more holistic route, with PSA-style project management hybrids that offer more by way of functionality and features.
Businesses are now turning to these more well-rounded software solutions to lighten their tech stack and improve collaboration.
This downsizing trend has been increasing in the past two years, notably in the finance industry as well as retail. Now, professional service firms too are actively trying to avoid the 'bloated tech stack'.
Inspired by efficiency and providing value, PSOhub has evolved into the world's fastest-growing all-in-one project management solution. As a full-suite tool filled with automated features, PSOhub helps companies all over the world manage their projects and grow/scale their businesses.
But what is it that PSOhub users love the most? What are the software features that can really make a difference in your project management and your processes on the whole?
Here's a list of the top 5 features that are recommended by users of PSOhub's all-in-one project management software.
1. PSA for top performance, reliability
"A super-intuitive PSA tool that saves us major time on draining admin."
According to most reviews for PSOhub, the feature that stands out the most is the software's PSA functionality. While PSOhub is considered a project management platform, it doubles as PSA software, meaning it's tailor-made to help professional service businesses automate their processes.
Traditionally, project management tools– like Asana and Trello, for example– tend to deal with the task and timeline sides of project management.
On the flip side, PSA tools handle more of the financial components, like invoicing and contracts. PSOhub provides the best of both worlds, and users looking for a project management platform really dig the PSA functionality.
This Professional Services Automation connects invoicing and contracts with your projects and provides the performance and reliability companies need with automation.
2. Built for HubSpot
"The layout looks and feels just like HubSpot!"
Coming in hot as the #2 top-rated feature is the native HubSpot integration provided by PSOhub. But it's more than just your standard CRM integration– PSOhub was literally built with HubSpot users in mind! This makes for a virtually seamless experience that's incomparable with other project management tools, even those with a HubSpot integration (many have this). In fact, many users report that they initially chose PSOhub specifically due to the HubSpot integration.
As of this publication date, there aren't any other project management tools that are as aligned with HubSpot both from a functional and aesthetic perspective.
HubSpot users who leverage PSOhub can stay within the same software environment for virtually all their internal processes. That includes sales, quotes, contracts, invoicing, projects, everything.
Finally, because of the close relationship between the two power platforms, HubSpot will sometimes even reach out to PSOhub with ideas to make joint users even happier. An example of this is the time tracking toggle available in the Service Hub. With this feature, users can track time directly on service tickets with just one click in the HubSpot ecosystem. This helps service businesses like IT firms keep track of their service hours and bill accordingly when they go outside the parameters of the contract.
3. Invoicing and Time Tracking (TIE)
PSOhub's invoicing and time tracking are tied for the #3 most popular feature. Let's first talk about why CRM-integrated invoicing rocks:
"PSOhub streamlines how we sell, service, and invoice clients."
Aside from the best HubSpot integration for project management, invoicing is the top reason people switch to PSOhub. As we already discussed with the #1 PSA feature, most project management tools do not have invoicing built-in, since this is more the domain of PSA software.
But with PSOhub, businesses can easily employ automated invoicing, milestone billing, all the bells and whistles they need, without having to step outside the solution.
PSOhub connects with the world's most popular accounting tools– QuickBooks, Xero, etc– so invoicing and billing is a breeze.
Users report they love that invoices are no longer floating in space (ever) and that PSOhub's invoicing ensures they get paid on time, every time.
"The easy time tracking functionality is better than all the other options that are available."
Next up is time tracking, a standout feature that sometimes takes users by surprise.
The thing is, especially with creative agencies, some team members have different methods they prefer to track their time. PSOhub makes it all OK, with timesheets for manual entry, browser extension and mobile app for time tracking with just a click, and finally, self-driving time tracking, an innovative feature unique to PSOhub.
Self-driving time tracking is basically what it sounds like– users can track their time without having to actually 'track it' due to self-driving functionality.
And invoicing is automatically triggered as well. For example, you can enable self-driving time tracking so that whenever you have a meeting, PSOhub will automatically enter the time from your Google or Outlook calendar and then generate an invoice. Forget missing out on billable hours ever again!
4. Project tracking
"PSOhub is helping us solve how we track projects and have a more structured analysis of cash flow. Also, being able to track your team is a plus."
Perhaps the 'dark horse' among the best PSOhub features as reported by users is project tracking. While admittedly not as sexy as the others on the list, PSOhub's powerful tools and real-time analytics help give managers, owners, and even team members way more visibility into how projects are doing.
In just one environment, you can track your team with the resource management/capacity planning features, your budget, your time, and your tasks.
Gantt charts and workflow charts are automatically updated by the software, and these, along with dashboards, give an effective visual of what's going on with all your projects, wherever your teams are working.
Project tracking by PSOhub is a particularly popular feature among cross-functional teams who have a lot of moving parts, sometimes scattered across the world. These types of businesses can easily keep an eye on all their projects at once, including utilization rates for both teams and team members.
5. Customer support
"Because of the support of the team at PSOhub, I could send my first invoice after a week."
OK, so customer service is not exactly a feature… But PSOhub's customer support team is constantly mentioned by users in online reviews and word of mouth (you know, when people actually talk to one another). It would be remiss not to mention it among the top-rated features. So if you're unfamiliar with PSA software, you're switching project management software, or you just want to be sure you're getting the most out of the solution, PSOhub's people will help you get there.