5 Benefits of Integrating PSA Software with HubSpot
by Jarno Koopman on March 24, 2020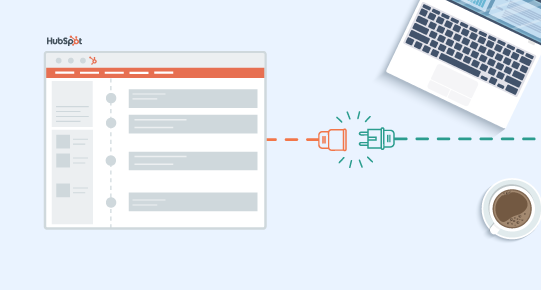 Updated January 25, 2023
HubSpot has skyrocketed as an industry leader in marketing analytics and is now trusted by companies large and small all over the world to manage their customer leads and marketing campaigns.
HubSpot is a beloved and trusty engine churning along the journey of business growth, but — dare we say — there's a way to make the platform even better.
Within the HubSpot ecosystem, you can keep a myriad of moving parts under one roof, from landing pages to content calendars. But if you really want your organization to work smarter, not harder, then integrating your project management tools with HubSpot is a no-brainer.
Because HubSpot, for all its amazing features, stops after the deal closes.
Enter PSA software with HubSpot integration.
Instead of migrating back and forth between HubSpot and the multiple tools you use to handle your projects — a la Excel spreadsheets, time and expense tracking, etc. — you can actually manage your people, your projects, and your budget within the HubSpot ecosystem.
If you need a little more convincing, here are our top 5 reasons to use PSA software for HubSpot.
First, what is PSA software?
The 'PSA' in PSA software stands for Professional Services Automation. PSA software provides professional service businesses with automated tools and workflows for project management. PSA software helps service businesses manage the following:
Projects

Resources

Budgets

Time and expense

Invoicing
PSA software helps PSO's streamline all the facets of their project management by keeping them all together under one digital roof. PSA software is popular (and necessary) among consultancy firms, architects, IT service providers, digital marketing agencies, and even freelancers.
Automation provided by PSA software can help businesses work more efficiently. For example, many PSA tools offer automated invoicing, which can take the admin drain out of both keeping up with time tracking and creating, sending, and tracking invoices. Among PSA users, invoicing remains one of the biggest value-adds of PSA software that many project management tools do not offer.
Top 5 Benefits* of PSA Software for HubSpot
Service businesses who onboard PSA software can look forward to an impressive list of benefits and features, all of which are meant to increase efficiency.
For businesses who use HubSpot in particular, PSA software can effectively help close the loop from deal to cash. Here are the major benefits of choosing PSA software that integrates with the HubSpot CRM.
*This article has been updated to include 2 more bonus benefits, as PSOhub has since expanded its functionality to cater to HubSpot users even more.
1.
Stop wasting time on admin.
By leveraging PSA software that integrates with HubSpot, you can substantially cut admin time. Whatever platform you choose, to be successful it must live in the same HubSpot ecosystem as you and your team.
With the introduction of integrated PSA Software, you can keep track of team members' time, your project budget and planning, contracts, invoices, and more without going to third-party tools that take up precious time and can promote disorganization.
2.
Get (and stay) in control of your projects easily.
PSAs in theory should be remarkably easy to use, and the more premium options out there can be quickly and easily adopted by any team already in HubSpot. It's a huge win to get a constant organizational overview of multiple projects alongside the projects themselves, regardless of what industry you're in.
By putting PSA software into the HubSpot ecosystem, you can stay in control of your projects at all levels within their lifetime. In this scenario, everything lives in one place, optimizing the time and efforts of all your team members.
3.
Track time without wasting any.
A 2017 survey by PollFish of nearly 1000 employees indicated that around 95% of people were glad to track their time and strived for accuracy.
However, the same survey demonstrated that team members who use time-tracking software are more likely to report accurate time versus manually keeping track of work.
This finding is intuitive, and it's not exactly new information. Numerous time-tracking solutions have arisen to deal with the problem, from basic smartphone applications to reliable online platforms.
The problem? You're once again reaching outside your ecosystem for project management solutions.
With PSA software with HubSpot integration, time tracking is built into your projects. Both managers and employees can track time with minimal effort, and it's a big-time bonus for project managers who are more empowered to take control of their revenue by finding chinks in the armor. Time tracking equals time-saving, but it's even more efficient when it's close by in HubSpot.
BONUS TIP:
In PSOhub, automatic time tracking can auto-fill timesheets with hours spent on completing specific projects. With features like Calendar Integrations, GPS Tracking, and Desktop Monitoring, the more solutions you use, the more it increases your billability.
4.
Recycle successful strategies.
Perhaps the best contract management software solutions, PSA's help fill the gap in HubSpot with effective contract management. You can oversee the entire lifecycle of your contracts and then replicate successful scenarios after you achieve them.
Instead of reinventing the wheel, preserve your client roadmaps and workflows that worked in the past and project them into the future with HubSpot integration seamlessly.
You can forget to create contracts from scratch every time, or rely on copying and pasting from past documents (dangerous). Custom contract templates and automated alerts can help you efficiently manage your contracts like never before.
5.
Get paid on time.
If you're already in HubSpot, it makes the most sense to let your PSA platform do your invoicing for you. Premium PSA software with HubSpot integration that has smart invoicing capabilities (like PSOhub) means that a dollar earned is a dollar paid.
That's good news for every professional service business in the world!
Integrate your PSA software with HubSpot, and say goodbye to payment lags and invoice frustration. For good.
*Bonus Benefits: HubSpot Teams Who Use PSOhub for Their PSA
Generate accurate quotes for customers in a snap.
Many teams use some form of quoting software to help streamline and automate the quoting process. This type of software comes in handy as small service businesses grow and scale, as they take on new customers and contracts more regularly.
PSOhub is PSA software that has a 2-way integration with HubSpot. Now, you can use PSOhub to quote your customers while remaining in the HubSpot environment. Because your CRM is now connected to your project management, PSOhub can provide you with quote templates that can make correctly quoting customers much faster.
Quotes by PSOhub will create, securely send, and track your customer quotes. Once approved, PSOhub can then automatically create a contract and a project with the relevant HubSpot data. It's next-level efficiency that can potentially help you win more contracts– everyone knows the bidder who gets a quote to the client fastest has the best chance.
Track time directly in the HubSpot Service Hub
PSOhub is an official HubSpot Partner, and the team at HubSpot asked PSOhub developers for a specific tool for their users: time tracking in the Service Hub.
The reason? Before PSOhub, you had to go outside of HubSpot if you wanted team members to track time on service tickets. Lots of small service businesses lose money this way, over-servicing clients and failing to track when hours go beyond the service-agreement allotment.
Now, PSOhub users that also use HubSpot can go from ticket to cash. Easily track time on service tickets with the button provided by PSOhub in the Service Hub. One-click is all it takes. PSOhub then automatically links this time-tracking data to your contract. If you go over, PSOhub will alert you and even generate an invoice automatically.
For service businesses, HubSpot-integrated PSA rocks.
PSA software organizes and automates project management for professional services. For service businesses that use HubSpot, it makes the most sense to choose a PSA that integrates with the CRM. HubSpot PSA software can benefit businesses by automating admin work. It also can help project managers and owners stay in control with increased visibility. Automated time tracking and invoicing are two of the big pluses of getting PSA specifically for HubSpot, as your project and CRM data can now live in one place.
For PSOhub users, there are additional benefits of streamlining customer quotes and tracking time directly in the HubSpot Service Hub. While PSOhub was initially designed with HubSpot users in mind, the company continues to cater to HubSpot users as they improve and expand the functionality of the software.