5 Benefits of Integrating PSA Software with HubSpot
by Jarno Koopman on March 24, 2020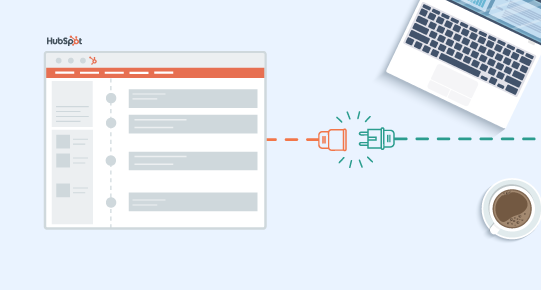 HubSpot has skyrocketed as an industry leader in marketing analytics and is now trusted by companies large and small all over the world to manage their customer leads and marketing campaigns.
HubSpot is a beloved and trusty engine churning along the journey of business growth, but — dare we say — there's a way to make the platform even better.
Within the HubSpot ecosystem, you can keep a myriad of moving parts under one roof, from landing pages to content calendars. But if you really want your organization to work smarter, not harder, then integrating your project management tools with HubSpot is a no brainer.
Because HubSpot, for all its amazing features, stops after the deal closes.
Enter PSA software with HubSpot integration.
Instead of migrating back and forth between HubSpot and the multiple tools you use to handle your projects — a la Excel spreadsheets, time tracking apps, etc. — you can actually manage your people, your projects, and your budget within the HubSpot ecosystem.
If you need a little more convincing, here are our top 5 reasons to use PSA software with HubSpot integration.
1.
Stop wasting time on admin.
By leveraging PSA software that integrates with HubSpot, you can substantially cut admin time. Whatever platform you choose, to be successful it must live in the same HubSpot-ecosystem as you and your team.
With the introduction of integrated PSA Software, you can keep track of team members' time, your project budget and planning, contracts, invoices, and more without going to third-party tools that take up precious time and can promote disorganization.
2.
Get (and stay) in control of your projects easily.
PSAs in theory should be remarkably easy to use, and the more premium options out there can be quickly and easily adopted by any team already in HubSpot. It's a huge win to get a constant organizational overview of multiple projects alongside the projects themselves, regardless of what industry you're in.
By putting PSA software into the HubSpot ecosystem, you can stay in control of your projects at all levels within their lifetime. In this scenario, everything lives in one place, optimizing the time and efforts of all your team members.
3.
Track time without wasting any.
A 2017 survey by PollFish of nearly 1000 employees indicated that around 95% of people were glad to track their time and strived for accuracy.
However, the same survey demonstrated that team members who use time tracking software are more likely to report accurate time versus manually keeping track of work.
This finding is intuitive, and it's not exactly new information. Numerous time-tracking solutions have arisen to deal with the problem, from basic smartphone applications to reliable online platforms.
The problem? You're once again reaching outside your ecosystem for project management solutions.
With PSA software with HubSpot integration, time tracking is built into your projects. Both managers and employees can track time with minimal effort, and it's a big-time bonus for project managers who are more empowered to take control of their revenue by finding chinks in the armor. Time tracking equals time saving, but it's even more efficient when it's close by in HubSpot.
BONUS TIP:
In PSOhub, automatic time tracking can auto-fill timesheets with hours spend on completing specific projects. With features like Calendar Integrations, GPS Tracking, and Desktop Monitoring, the more solutions you use, the more it increases your billability.
4.
Recycle successful strategies.
Perhaps the best contract management software solutions, PSAs help fill the gap in HubSpot with effective contract management. You can oversee the entire lifecycle of your contracts and then replicate successful scenarios after you achieve them.
Instead of reinventing the wheel, preserve your client roadmaps and workflows that worked in the past and project them into the future with HubSpot integration. Seamlessly.
5.
Get paid on time.
If you're already in HubSpot, it makes the most sense to let a killer PSA platform do your invoicing for you. Premium PSA software with HubSpot integration that has smart invoicing capabilities (like PSOhub) means that a dollar earned is a dollar paid.
That's good news for every business in the world!
Integrate your PSA software with HubSpot, and say goodbye to payment lags and invoice frustration. For good.