Best Integrations for Cross-Functional Collaboration
by Juliette Lagerweij on September 7, 2022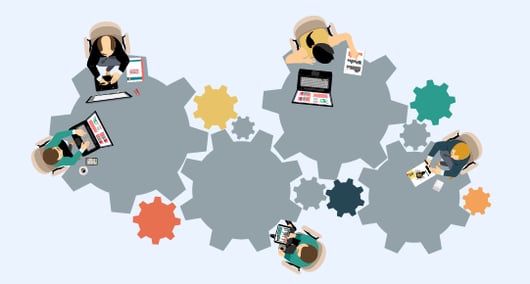 Unlike projects with a singular team, cross-functional projects involve bringing in and coordinating with different sets of teams in order to bring a project to fruition.
An easy example of this is a fit-out. Fit-out companies will make sure a hotel lobby, an entire museum, is ready for opening day by handling everything that needs to be accomplished to make that happen. Fit-out projects are inherently cross-functional in that they require more than one team: you have architects, designers, construction, electricians, you get the idea.
Cross-functional collaboration is key to making these types of projects successful. By cross-functional collaboration, we mean communication between different sets of teams that results in positive outcomes to the project or deliverables. Instead of each team working as a siloed unit, teams can share information with one another and give feedback.
Many PSOhub users around the world work in cross-functional environments, so we want to share with you the best integrations they're using to accomplish their projects with seamless communication and efficiency.
CRM integration (HubSpot/Salesforce/Dynamics 365)
The easiest way PSOhub users foster cross-functional collaboration is with the native CRM integration. By linking your project management platform with your CRM, sales team members and the project team can stay on the same page at all times. Both can share information with one another across the platforms and stay updated about status changes. While historically, the sales-to-project handoff has proved sloppy in the professional services world, the cross-functional collaboration between the two sides effectively fixes this issue.
Regular meetings
The consensus among cross-functional project managers about this one is simple: just do it! Make a plan to have regular meetings and stick with it, making sure that all the constituents are connected via their Google or Outlook calendar. PSOhub teams tend to use a couple of different platforms to hold regular meetings for cross-functional teams. Google is a favorite, as it's free, and Zoom comes in a close second, while Microsoft Teams users tend to use their meetings feature. Intercom is also a popular choice with PSOhub users in Europe. Whatever you use, weekly meetings hold everyone accountable and are non-negotiable in cross-functional environments.
Slack*
Hands-down, one of the best collaboration tools– period– for real-time information sharing is Slack. With Slack's intuitive messenger platform, you can assign different teams to different channels easily and send messages instantly to team members around the world. You can take meetings on Slack, upload important project files, blast out status updates, and their new huddle feature lets you work alongside colleagues. In fact, we highly recommend the Slack huddle when working with cross-functional teams.
Kanban boards
Across the board, everyone loves Kanban boards! They're friendly-looking, they're easy to interpret, and practically anyone can learn how to use them in about two seconds. The Kanban board is a great tool for cross-functional collaboration for these reasons. Plus, even though there are various moving parts among the teams, Kanban boards clearly display where the project stands and the stages it needs to move through to reach completion. No matter how simple or complex the project at hand is, Kanban boards are almost always helpful.
Project charts
Project charts are another popular tool used by cross-functional teams to convey important information and provide visual updates to project status. One of the most popular is the flow chart, where multiple teams can see an overview of the sequential steps required to complete the project. Flow charts are quick and easy to create. Next, the Gantt chart is one of the most famous project management tools out there, and it's one of the most leveraged features PSOhub offers. While cross-functional teams don't necessarily use a Gantt chart to collaborate per se, it's a winner for project planning and project tracking, both of which are important for all teams to stay on top of.
*Currently, PSOhub users must use Zapier to connect with Slack, but a native integration is coming soon!