What is ticket to cash? How to track time directly in HubSpot Service Hub
by Qismat Riaz on April 4, 2022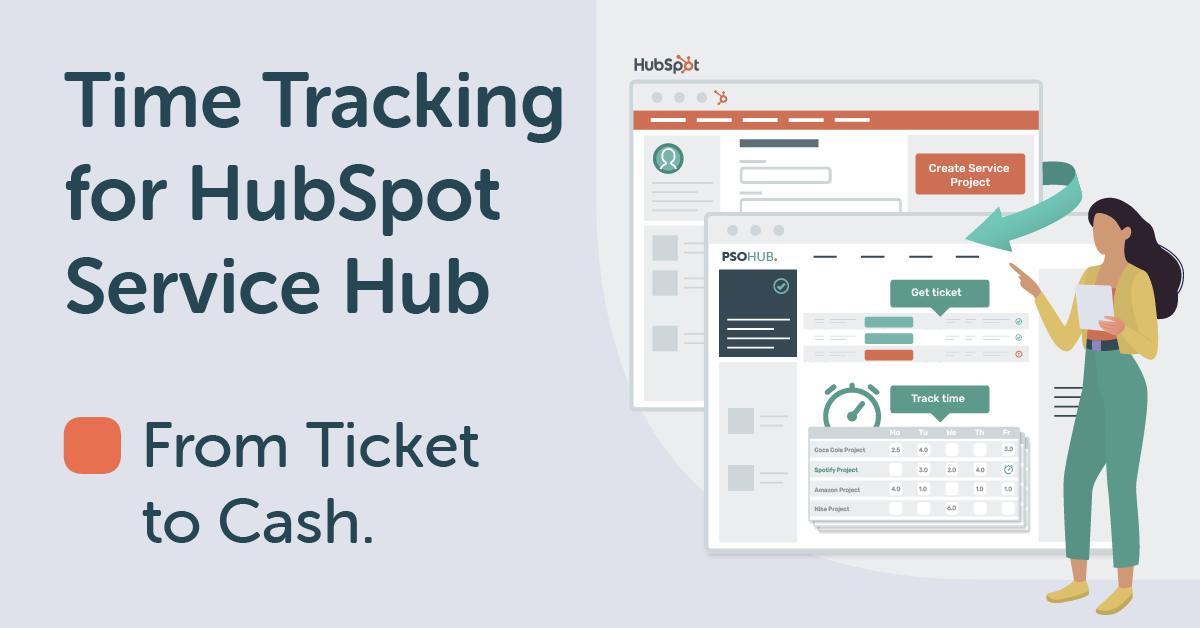 You're probably familiar with the term 'deal to cash' if you own or work for a HubSpot agency. Deal to cash refers to the steps or processes between when you close your deal in the HubSpot CRM and cash is in hand from completed deliverables.
But this article isn't about deal to cash. It's about another revenue pipeline: ticket to cash.
Find out what ticket to cash means and how you can optimize your agency's ticket to cash by tracking time directly in the HubSpot Service Hub.
What does 'ticket to cash' mean?
Ticket to cash is the pipeline that starts at your support ticket within the HubSpot Service Hub and ends in cash in hand from your clients.
Historically, there has not been an efficient solution to streamlining ticket to cash. For one, many professional service businesses like IT firms, software developers, etc may use a siloed time tracker to keep track of hours spent on service. Others may not even have anything in place and guesstimate their support ticket times or enter them on spreadsheets.
The result is missing out on billable hours that exceed what's outlined in your contract. And small businesses who aren't keeping track of this time can potentially miss out on thousands of dollars in revenue every year.
Your ticket to cash pipeline should function under the parameters of your service agreement. To make that happen, the loop must be closed between your CRM, your service, and your project management.
By leveraging automation and integration, you can track time directly on your HubSpot service tickets. This information is linked to your project management solution which manages your contract data and invoicing.
That means that any time your team spends on support for a client that goes over what's covered in the service agreement can be automatically invoiced to your client.
Read more to learn how it works.
Optimize ticket to cash: Track time directly on HubSpot service tickets
For the first time, HubSpot users can track time directly on their HubSpot service tickets, so they never miss out on billable service hours again.
To make this kind of automation available for the relaunch of the Service Hub, HubSpot reached out to PSOhub to make it happen. It works like this:
Team members track time on HubSpot service tickets with one click in the Service Hub.
PSOhub– an

all-in-one project management solution

– integrates with both the HubSpot CRM and the Service Hub. It serves as a secure 'hub' where your contract data communicates with your HubSpot data.
PSOhub will automatically keep track of all the HubSpot service ticket time your team spends and relay them to what's stipulated in the service agreement. When hours go over, PSOhub will automatically identify billable hours.
From there, depending on your preferences, PSOhub can then automatically generate an invoice and send it to the client. No more manual invoice creation ever!
PSOhub also integrates with your financial backend, so as soon as you get paid, you'll know about it on both the HubSpot and project sides.
Cash is in hand, and you are no longer missing out on billable service hours in the HubSpot Service Hub. All bases covered.

Who came up with 'ticket to cash'?
While the ticket to cash pipeline isn't something anyone invented, the term 'ticket to cash' was actually coined by PSOhub Founder & CEO, Martijn van der Hoeden. When HubSpot came to PSOhub exclusively with the idea to offer time tracking on support tickets in the Service Hub relaunch, Martijn and the team at PSOhub realized this could help professional service organizations in a big way.
Because PSOhub can now optimize the ticket-to-cash pipeline with their integrated software, small businesses can realize more billable hours they were formerly missing out on. They can also keep their data more secure and save money on their software licenses, since PSOhub offers affordable, full-suite project management, including:
Project management
Contract management
Task management
Resource management
Time & Expense
Invoicing
Top 5 benefits of optimizing your HubSpot ticket to cash
If you leverage PSOhub's time tracking in the HubSpot Service Hub, you'll optimize your ticket to cash with minimal effort. Here are some of the benefits to look forward to for HubSpot agencies:
1. Earn more money!
Obviously, the biggest benefit to optimizing your ticket to cash with PSOhub is that you'll earn more money. That's because PSOhub will automatically keep track of the hours spent on service as related to the corresponding contracts. You'll never miss out on billable hours in the HubSpot Service Hub again.
2. Improve the billing experience for clients.
If you use PSOhub's time tracker in the Service Hub and automate your invoicing, clients will be billed on a regular basis and always know what to expect. Boosting transparency is a big thing to earn repeat clients, so this is one of those intangible benefits that makes your agency look reliable and on top of things.
3. Keep your data more secure.
With PSOhub, all the data from HubSpot, your contracts, your projects, your budgets, everything, lives in one secure environment. No more spreadsheets floating around. No more siloed solutions that mean you have to manually transfer data just to do what you want them to do.
4. Save money.
Adopting PSOhub to optimize your ticket to cash can save businesses money in a few areas. The most glaring savings is the tech stack. Rather than having multiple solutions to manage all the facets of your projects– contract management, task management, etc– you can have just one, PSOhub, that can do it all. On top of that, PSOhub is integrated with what you already use, including HubSpot, QuickBooks, and more. If you have software like say, Asana, that you can't live without, that's cool too. PSOhub integrates with everything you can think of. But at the end of the day, you can save big time on monthly/annual software licenses if you make the switch.
5. Work less (on admin).
The whole point of optimizing your ticket to cash is to ensure that you and your team are spending less time on admin. No one needs to manually enter data. No one needs to create invoices on HubSpot service tickets. No one needs to do anything other than a couple clicks to track their time. With automation and integration from PSOhub's ticket sync with the HubSpot Service Hub, menial admin tasks become a thing of the past.