Why is PSOhub the fastest growing All-in-One Project Management Solution?
by Jeroen Graafland on August 4, 2022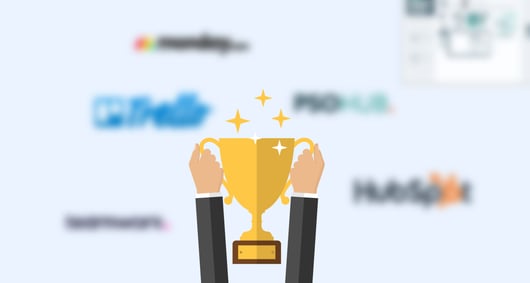 Since our launch in early 2020, PSOhub has grown to become one of the top-rated platforms for both project management and PSA software.
At the height of the pandemic, PSOhub got off the ground during uncertain times. But one thing was clear–
An affordable, all-in-one project management solution was needed more than ever before.
With millions of professionals now working from home, the demand for awesome, collaborative tools skyrocketed.
People now needed to be able to gain more insights into their projects without going into the office. To do this, managers and owners had to get serious about implementing things like solid time tracking and invoice management.
Automation has been the clear path forward post-2020 to help small and large businesses alike level-up their project management.
But automation for its own sake won't save businesses as much money as it should.
No matter how cool your time tracker, CRM, contract management tool, and your collaboration tools are, if they're unintegrated and scattered all over the place, your tech stack isn't efficient. That means you're spending too much time and money.
Enter an all-in-one solution for project management.
PSOhub fulfills the pressing need for a singular software environment for project management, where users can easily keep it together.
One place where all the functionality required to effectively manage projects not only exists, but connects with tools you already use. And any others you can't live without in the future.
PSOhub is now the fastest growing all-in-one project management solution, consistently earning glowing reviews from happy users in over 40 countries.
By innovatively combining the functionality of PSA software with easy-to-use project management tools, PSOhub now serves a variety of professional services businesses:
Digital Marketing
IT service providers
Accounting
Legal
Architecture
Consultants
Software development
And more
See why people all over the world are using PSOhub as an affordable, super-efficient way to manage their projects in an all-in-one environment.
More Bang for Your Buck: The Value of All-in-One Project Management
We've found that most managers and owners of service businesses don't mind paying a little or even a lot for software they think will improve their business. What is of top concern is value. How much you're paying in licensing fees should reflect the capabilities of your solution. In simple terms, you want something that provides the most value for the price. Where some companies can get into trouble is by getting wowed by popular collaboration tools. Before you know it, your software licenses can go into the thousands per month, especially if you're a small business that's growing and scaling.
PSOhub's all-in-one project management tool offers users the option to get rid of any of the tools they're using in favor of just one, low-cost option (starts at under $13 pu/pm).
So effectively, anything you're using outside of your CRM and your financial backend to take care of these areas can get tossed:
Contract Management
Project Management (Tracking, Planning, Gantt Charts)
Task Management
Invoicing
Time & Expense
PSOhub does all of it! Because PSOhub offers a revolutionary all-in-one environment, you can manage your projects more efficiently than ever. PSOhub users enjoy great value and functionality that pays dividends over time.
Keep It Together
Projects run more smoothly when you can have constant visibility into all facets of your project management. Instead of having your information siloed across different software– with tasks and collaboration in one tool, invoicing in another, and contracts in another, for example– you can keep it together with PSOhub.
All these areas of your projects live in one place and relay important data to one another. For example, your time tracking automatically connects to your contracts and your invoicing. So, if your team starts getting in danger of going over your time allowance as stated in the contract, PSOhub will alert you.
Invoicing is connected to time tracking, too. You can literally go straight from your Google or Outlook calendar to invoice with PSOhub. This feature is called self-driving time tracking. But more on that later.
Businesses Save Cash & Something Even More Valuable
Let's get real– we're all worried about the bottom line. Whether your business is small or large, being able to 'cut the fat' where you can is important to your project profit margins and your cash flow. But there's something arguably even more valuable than your cash: your time. PSOhub's all-in-one project management is currently helping companies save both.
We'll start with the cash savings. PSOhub saves businesses money in 3 major ways:
You can ditch siloed solutions to manage your projects, saving potentially thousands per year on licensing fees.
You can automate a lot of your admin, like invoicing for example.
You can boost your team's productivity, giving them a singular software environment that helps them focus on what they do best.
As far as tangible numbers, here's a scenario that details exactly how much PSOhub can save a small business money on annual software spend. This is a typical tech stack geared toward project management for a team of 9. Here's what the monthly licensing spend looks like:
Time tracking (Toggl) monthly total: $162.00
Task management (Asana) monthly total: $98.91
Contract management (PandaDoc Business) monthly total: $441.00
Manual admin for invoicing & expenses: $270.00
PSOhub can effectively replace every single one of these project management tools, as well as the manual admin. That brings the new monthly total to under $200:
PSOhub monthly total (Rise Plan): $149.50
TOTALS
PSOhub monthly savings: $822.41
PSOhub annual savings: $9,868.92
This is similar to many scenarios new PSOhub users encounter once they're really on board with the platform. With features like real-time Gantt charts and self-driving time tracking– just to name a couple– there's really no reason to go outside PSOhub. Managers, owners, and team members can have everything they need for project management right at their disposal.
PSOhub Teams Are More Billable
How does PSOhub make teams more billable? In quite a few ways. In fact, PSOhub is proud to help businesses save at least 100 billable hours every single year.
To get your team more billable, PSOhub allows you to leverage automation to accomplish menial admin tasks.
So, for example, instead of manually tracking time and creating invoices, you can use the self-driving time tracking feature along with automated invoicing. Potentially, you and your team don't ever have to create a single invoice again, if you don't want to. It can be automated to the tee. Also, these automated processes can help ensure hours are never overlooked and always assigned to the correct contract/project.
Another concrete feature that helps you gain more billable hours is resource management. Most resource management tools do not provide both task-based and hours-based capacity planning. But for some businesses, the ability to use both is non-negotiable, so PSOhub offers both. PSOhub's intuitive capacity planning keeps you informed as your project progresses, too; so you can see who might be overloaded and who could use extra hours.
Invoicing? It's Included!
Many new PSOhub users arrive at the solution because they've been searching for a project management tool with invoicing included but haven't had luck. Invoicing is one of PSOhub's most highly rated features, and it's not super-common for robust project management tools to have it already in the wheelhouse.
Invoice management with PSOhub is a breeze, with oh so many perks to help you get paid correctly and on time. Here are just a few of the cool features within PSOhub invoice management:
Integrates with your accounting software
CRM-integrated invoice tracking
Set and forget for recurring invoices
Installments, retainers, milestone billing
Automated invoicing from tracked time (your invoices create themselves)
A Globalized Company
As of this article, PSOhub is now being used in over 40 countries around the world! We are on almost every continent, helping people of multiple languages and currencies manage their projects better than ever before. Intuitive design and an easy-to-use interface make PSOhub popular with people of all different cultures and with most of the service-based businesses you can think of.
PSOhub's founder and lead developers hail from the Netherlands, but the team includes a diverse set of talented people from all over the world. It's a global operation centered on mission-driven and value-driven business.
The Best Project Management Integrations
Your project management software is only as good as its integrations. This is why PSOhub offers the best of the best, including the world's most popular CRMs and other tools your team already uses. In fact, PSOhub was developed with CRM users in mind. PSOhub is an official HubSpot partner and offers integrations with both Salesforce and Dynamics 365 as well. On the financial side, PSOhub connects with major players like QuickBooks and Xero. Just another way to help you keep it all together. In the interest of your money, your time, and growing your business. Here's a list of the best integrations provided by PSOhub, with more to come on the horizon:
PSOhub CRM Integrations
HubSpot
Salesforce
Dynamics 365
PSOhub Accounting Integrations
QuickBooks
Xero
Exact Online
Moneybird
Twinfield
Bexio
PSOhub Popular Tools Integrations
Outlook
Google
Zapier
Power BI
Microsoft Teams
Slack
Other Integrations
Got another non-negotiable tool you don't see on the list? PSOhub can connect to that too. Through an API with Zapier, PSOhub can integrate with virtually any solution you need. If there's a platform you can't live without, you can still keep it together with PSOhub.
The Best Automation & Predictive Analysis
Born out of years of experience in project management software and continually optimized to user needs, PSOhub offers high value by way of automation and self-driving features.
With these types of tools at your disposal, PSOhub will get smarter as you use it, learning from your past project data to help you stay on track today. And to forecast more accurately for the future.
Here are a few examples of automated features from PSOhub:
Self-driving time tracking
Automated invoicing
Automated alerts for time and budget overspending to prevent overservicing
Automated project setup from CRM data
Predictive alerts when a project is statistically in danger of going off-rail
Automated calendar integrations for time tracking and invoicing
Automated quote creation from your CRM
And more!
It's PSA Software, Too
Speaking of automation, PSOhub was founded by a PSA software expert, with decades of experience developing automated solutions for architects and other service businesses. PSOhub is itself PSA software– another term for project management software that's both created for PSOs and offers robust, automated features. While project management software on the whole is more known for managing the tasks and people around projects, PSA software deals more with the nitty-gritty financials: your contracts, your invoicing, and the like.
Because PSOhub is a marriage of both project management and PSA software, it's able to help businesses be more efficient in ways they've never thought possible.
Increase Project Profitability
Do you know how profitable your projects are? What about each of your clients? With PSOhub's Quotes feature, you can easily figure out your project profit margins. That's because all the data you need to complete those equations are already living in PSOhub.
With this information at hand, managers and owners can gain more insight into the long-term health of their project cash flow. It's also a great figure to present to potential investors as well as owners and C-suite.
User Feedback Highly Valued
Finally, we think that a major reason PSOhub is now the fastest growing all-in-one project management solution (say that three times fast) is this:
User feedback is a BIG part of what happens behind the scenes with the PSOhub developers.
PSOhub users make up a diverse set of companies across the world. In instances where users are really calling for something– the new Quotes feature is a great example– PSOhub always pushes to make their platform even better for the businesses that use it. So, the longer you use PSOhub, the smarter it gets and the better it gets.
In a nutshell…
In a nutshell, there are many fantastic reasons PSOhub has grown and continues to win more users around the world. As one of the only veritable purveyors of all-in-one project management software, PSOhub keeps getting better and better for the businesses that use it.