Why Combine PSA with Project Management Tools?
by Juliette Lagerweij on April 26, 2022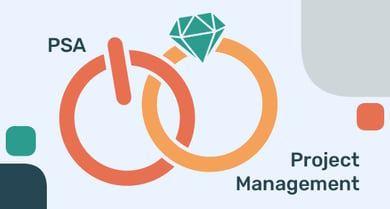 If you're in the professional services industry, you probably are familiar with PSA software and/or project management tools.
After all, 'Professional Services' is the first part of the PSA acronym, so it's supposedly tailor-made to your type of business. And you have to complete projects for clients, making some kind of project management solution inevitable to help you get things done.
What you may not know is this– that combining automation from PSA tools with software used to manage projects offers lucrative wins, particularly for small businesses.
Read on to see why PSA tools and all-in-one project management are a perfect marriage to help businesses gain efficiency.
First up, what are PSA tools?
PSA stands for Professional Services Automation. PSA tools are software solutions that help companies establish automated workflows and processes related to the following:
In other words, PSA software helps automate those critical financial elements related to projects. Professional services like MSPs, software developers, consultants, and more use PSA tools to stay on top of how money flows in and out during the project lifecycle.
Value adds
Because PSA software automates workflows related to admin tasks, organizations no longer need to pay team members to spend hours each month doing invoices, for one. On top of that, creatives and everyone else on the team have more time to get back to what they do best. That means less burnout, more billable hours, and money saved.
Perhaps the biggest potential value add from a PSA tool is an increase in revenue. On average, businesses who adopt PSA software report a YoY earning increase of over 140%. Not chump change, especially for small businesses actively growing and scaling.
Finally, teams and customers alike can expect a better experience with a solid PSA solution in tow. Why? Collaboration increases because it's easier, customers know exactly what to expect, and overall transparency organization-wide goes up a notch.
What is the difference between PSA tools and project management tools?
While PSA tools and project management tools are both leveraged by most professional services, these two software categories have different objectives. While PSA software manages the financial aspects involved in budgeting, tracking time, invoicing, etc, project management software helps people streamline what it takes to actually complete the project itself. This includes:
Project planning
Project tracking
Task management
Collaboration tools
In other words, your PSA solution will deal with your budget, contract, invoicing: the financial side of your projects. Your project management solution will deal with completing the project itself: helping you plan and delineate what needs to be done, who needs to do it, and when it needs to be completed.

Why is it a smart decision to combine PSA software with project management software?
PSA tools and project management solutions complement one another by way of what they offer PSOs, with one heavy on the financial side and the latter on the more granular project side. Typically, PSA solutions are focused on time tracking, invoicing and automating your whole services business. They are not great at doing project management with task management, kanban boards, and all the activities necessary for a project.
Where PSA software leaves off, project management software picks up. And vice versa, the caveat being that these two solutions need to be integrated in order to fully take advantage of the combination.
This perfect marriage of PSA and project management is an innovative topic we will continue to flush out to educate our users and let people know why this dynamic duo can be so lucrative. Stay tuned for more info on best practices and real-world examples of how the concept can have a huge impact on how you do business.
PSOhub's Combined Solution: PSA with all-on-one project management
Make your life easier with efficiency. PSOhub is the world's first solution to offer first-in-class PSA software alongside all-in-one project management. We're helping businesses in over 40 countries around the world save money and increase their efficiency. Read more from global users on how PSOhub empowers their organizations to do more.