Professional Service Automation (PSA) for HubSpot
by Claudette Albers-Reid on December 2, 2022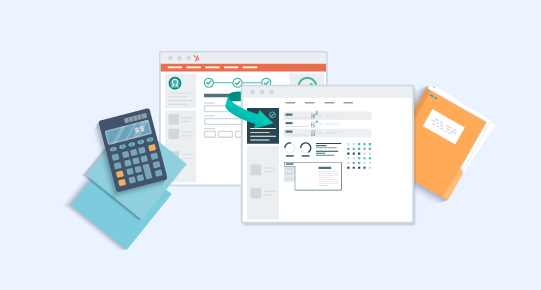 Updated on August 2, 2023
Professional service automation– aka PSA software– makes life a whole lot easier once small service businesses begin to grow and scale.
That's because PSA software, number 1, is geared toward professional services, and number 2, it automates a ton of tedious admin, even things you didn't know you could automate. Just a few examples include invoicing, quoting potential clients via your CRM, and even employee time tracking.
As far as PSA for HubSpot goes, PSOhub is the only PSA tool that was designed with HubSpot users in mind. Even the UX and interface are akin to the HubSpot environment. This makes for a seamless experience for HubSpot users who can stay within the same digital ecosystem all day, amping up productivity and keeping data secure within a closed loop.
Plus, there are some special automated tools that PSOhub made specifically for users that are already in the HubSpot CRM. But more on these in a minute.
PSA for HubSpot is about bridging the gap between your sales and your project sides and keeping you focused with powerful two-way software integration. Want to know more? Here's what PSOhub's professional service automation for HubSpot provides for service businesses in over 40 countries around the world.
Why do businesses use PSA for HubSpot?
Many HubSpot users are in the professional services industry. Digital marketing agencies, consulting firms, IT service providers, and more use HubSpot to close deals and win more customers. HubSpot gives businesses a slew of resources to help them manage their customer base, including a website builder and marketing hub.
However, HubSpot is a CRM, so their functionality theoretically stops at Closed/Won. Unless you have an integration with your project management side. This is where PSA comes in.
Professional service automation helps bridge the gap between your sales and your project management by acting as a data hub for both. This can help boost your team's productivity and keep the sales-to-project handoff smooth as butter, with all the data you need to start work on your projects available in one click.
Besides this, the biggest advantage of PSA software in general is its powerful, built-in automations. Professional service automation for HubSpot can help HubSpot agencies cut time and costs on daily admin processes related to financials. Think tracking time, billing, and contract management.
In a nutshell, HubSpot teams use professional service automation to help them:
Track their time accurately
Bill accurately
Manage their invoices
Manage their contracts
Do project planning
Do project management on the whole
These are a lot of moving parts, and that's why historically, small businesses start out by using lots of software solutions to manage them all.
But there are quite a few downsides to having a different app to do everything. For one, all those software license costs can add up, especially if you're growing and onboarding new team members.
There's also productivity and data security to consider. The more you and your team have to bounce around to different platforms, the less productive you'll be. This can actually be proven by science as a productivity drain known as the switch cost, and it's a real thing.
As for data security, having a large tech stack can also present unnecessary risks. Yes, information can be compromised or stolen, but the bigger issue for startups is usually that things get lost. Pertinent info about contracts, projects, communications, financials, and all sorts of things that affect your bottom line, easily get scattered across different channels. People inevitably end up wasting time locating the information they need.
Because professional service automation, or PSA, provides both smart features and high functionality, it can at once keep all your project management together and automate the financial side of it.
With HubSpot PSA, all the above is seamlessly integrated with your CRM data. Importantly, professional service automation for HubSpot can go from funnel to cash, giving it significant value for HubSpot teams.
PSOhub: Professional Service Automation Built for HubSpot
As the name suggests, PSOhub was built with HubSpot users in mind. PSOhub delivers professional service automation that bridges the gap between sales and projects.
By combining PSA with all-in-one project management, PSOhub helps HubSpot teams in particular to:
Optimize funnel to cash
PSOhub provides a seamless, 2-way integration with HubSpot, to the extent that the PSOhub environment looks and feels just like HubSpot. You can keep everything from sales to deliverables in one place. You can also more easily spot kinks in the armor and move your processes forward when necessary. Visibility with customizable, real-time dashboards and automated alerts can keep you in the loop at all times.
Save money on the tech stack
PSOhub starts at under $10 pu/pm, and the Growth Plan is under $21 pu/pm, making it more affordable than most of the popular professional service automation out there.
Another factor– Most PSOhub users are able to forgo or drop various outside solutions because PSOhub accomplishes the whole of the project management pie.
HubSpot teams don't need additional platforms for invoicing, contract management, or task management. It's all included. (That said, note that PSOhub can connect with virtually any solution you want it to. Their integrations mean you don't have to go without what your team is already using.)
Increase overall productivity
PSOhub can help HubSpot teams increase their productivity in a few different ways. Automating a lot of menial admin is one of the most impactful areas. There are also smart features like predictive analysis and self-driving time tracking that can help teams focus more on their profitability and productivity with every project.
Streamline their project management
PSOhub streamlines all the processes surrounding project management. You can get on top of your planning and budget, create and assign tasks, track everyone's time, and manage your resources. Instead of using outside solutions for resource management and contract management, PSOhub offers both to help you close the loop from your deal in HubSpot to cash in hand.
Automate invoicing
One of the features most praised by small businesses is PSOhub's built-in HubSpot invoicing. PSOhub integrates with your financial backend and can automatically generate and even approve invoices for you, depending on how you want it set up. For HubSpot users, they can track time directly in HubSpot and trigger invoices accordingly.
Track time on service tickets in Service Hub
Only with PSOhub– HubSpot approached PSOhub exclusively to create this feature– agencies can go from ticket to cash. PSOhub HubSpot users can track time directly in the Service Hub. In the Service Hub, simply click on the time tracker toggle provided by PSOhub to track time for each ticket you provide service to clients. This is automatically connected to your contract data in PSOhub; so if/when your hours go over the allotment in the contract, you can automatically bill the client for that time!
Create accurate quotes in a few clicks
PSOhub makes it easy to quote clients accurately and faster than ever. You can go straight from your HubSpot deal to quote creation in just one click. PSOhub's built-in quoting software will automatically import the relevant data to get you started. PSOhub Quotes gives you a Gantt chart, task board, and/or workload sheet to help you get as accurate as possible and preserve your project profit margins. If you want, you can even include these resources in your forward-facing quote to the client (something they love!). And finally, your quotes are managed for you, from secure signatures to status tracking. This helps you get your quote in the client's hands as quickly as possible. Aka close deals faster! Your team will also be able to get to work on your projects and services faster.
PSOhub: PSA for HubSpot
Professional Services Automation or PSA for HubSpot refers to software that helps businesses that use HubSpot manage their projects and automate administrative tasks.
PSOhub is PSA designed with HubSpot users in mind! With automated features and all-in-one project management, PSOhub and HubSpot can stay with you from funnel to cash and provide all the functionality professional services need for their CRM and project management.