7 Must-Have Integrations to Supercharge your HubSpot ROI
HubSpot is pretty great out of the box, but these 7 integrations will make it even better.
What's the value of HubSpot?
HubSpot is a suite of powerful inbound marketing, sales, and support tools that help businesses reach new audiences, drive conversions, and enhance customer experiences.
One of the most valuable things about HubSpot is that it's centralized. With your CRM, marketing automation, and support software all living within the same platform, you can break down data silos and improve workflows for your teams.
That's why integrations are such an important part of the HubSpot experience. They allow you to extend that centralized platform to reach other teams and other parts of your business.
HubSpot is pretty powerful right out of the box. But it's only when you start supercharging your HubSpot ROI by adding integrations that its full potential can be reached.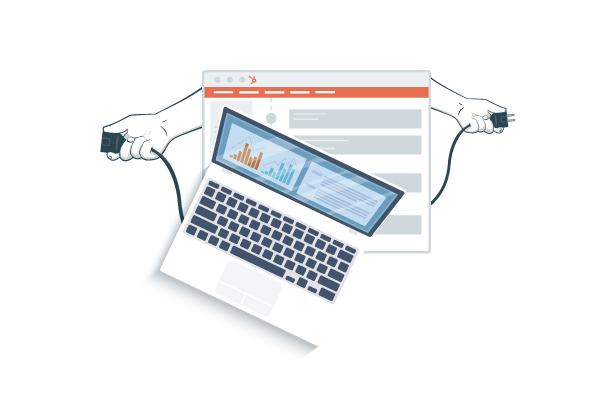 What's a HubSpot integration (and why do they matter)?
HubSpot can connect with many different applications in order to streamline workflows, sync data, improve reporting, and much more. Leveraging these connections with HubSpot can help you increase efficiency and enhance overall business performance.
BENEFITS OF HUBSPOT INTEGRATION
Streamline processes
Fewer logins to disparate systems. Less manual data entry. Fewer missed opportunities.

Break down data silos
Access and analyze data from across your business for deeper insights and stronger relationships.
Manage operations
Kickstart transparency between teams for seamless communication and project management.
Where do I start with HubSpot integrations?
To get an idea of the full scope of what HubSpot offers, explore the HubSpot App Marketplace. There you'll find hundreds of integrations, and you can check to see if HubSpot connects with the apps you already use.
But if you're looking for a list of valuable HubSpot integrations that you don't already have, the App marketplace can be a little overwhelming.
To help you out, we put together this list of 7 must-have HubSpot integrations. Whichever specific solutions you choose from these 7 categories, you'll end up with a more streamlined, more effective business.
Download the 7 must-have HubSpot integrations infographic.
Getting started with HubSpot Integrations
Once you've identified the best HubSpot integrations for your team, it's time to get those tools set up. You can do this yourself in many cases. HubSpot offers a knowledge base where you can find instructions for connecting and onboarding apps.
Simpler integrations may only require a few steps to set up. From there, you can work with the integrated apps' support team to customize your integration, if necessary.
You may also consider working with an integration partner for more complex integrations. HubSpot makes selecting a partner easy by maintaining a directory of trusted partner agencies. This agency list features client reviews and ratings to help you choose from hundreds of partners.