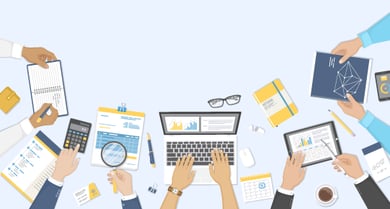 The most successful consultants all have something in common —
They're insanely efficient.
Shrewd, forward thinking individuals and teams that rely on billable hours for revenue automate everything they possibly can, so the creatives can focus on creating. They adopt time tracking solutions that help them know exactly how each team member is spending their time and on what project.
We know, because we work with them!
The name of the game at PSOhub is efficiency backed by smart, self-driving technology to help you save time and money on admin through AI-powered features like time tracking.
And the results are in —
"PSOhub can help businesses save 100 billable hours per person every year! Or more."
Here's how we figured it out.
Save time. Make more money.
Let's say you're a 7-person organization.
Thanks to the intuitive, comprehensive, and self-driving features in PSOhub, you save one hour, per week, per person.
Now, let's say you can bill 1 extra hour thanks to properly managing your projects, your contracts, and your employees with software that gives you the ultimate visibility and insights.
And on top of that, you can save an additional 30 minutes per week (at least) by leveraging PSOhub's self-driving time tracking solutions.
This means a saving of 2.5 hours per week. Multiply that by 7 employees for a total of 17.5 hours per week.
Per year, that brings you to an astonishing 700 billable hours (based on 40 work-weeks)!
How do we do it?
PSOhub generates more billable hours on four fronts:
Because of our self-driving time tracking functionalities, no hours get overlooked. An easy-to-use interface along with features like GPS tracking ensure that less mistakes are made.


High visibility into your projects thanks to real-time time tracking updates and our intelligent dashboard will help you to have constant insight into your project's health. With this increased visibility, you'll be able to take action before it's too late. Within PSOhub, you can properly manage your clients and the hours spend on a project. Doing so will increase your number of billable hours and prevent you from working for free!
Managers can get accurate insights into the productivity of each employee. This empowers you to better manage the billability of each person and address any issues that might come up during the project. This data also helps by giving the employee the data-driven information to act to remedy the situation.

All the functionalities related to our self-driving time tracking save your employees valuable time (and frustration) in entering the time.
What would you do with 100 more hours per year?
Imagine the possibilities (and the revenue) that lie in that chunk of precious time. PSOhub is on a mission to help you dive into those possibilities and leave the admin and project management time-sucks in our hands. Where they belong.
Save 100+ billable hours this year!