History, Mission & Vision - PSOhub CEO Martijn van der Hoeden
by Catherine Rozyczko on May 5, 2020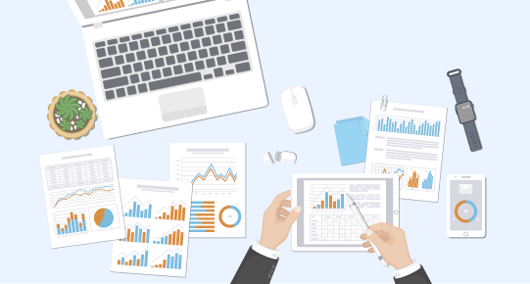 PSOhub founder and CEO Martijn van der Hoeden started his first company at just 18 years old.
For the next 30ish years, the tech entrepreneur continued to develop comprehensive solutions in the professional services space. It all began with tailor-made software for engineers and architects —
"What we saw already at that time that it was very hard for those creatives to basically manage their projects and keep track of their time and expenses and budgets on the projects," said Van der Hoeden.
Decades later, Martijn has leveraged his years of experience in software development in the professional services industry with the best self-driving functionality and AI capabilities out there. PSOhub is a revolutionary platform that dramatically cuts admin time and provides a seamless funnel-to-cash experience with project and contract management, a real game changer for growing businesses.
In the professional services arena — particularly for companies who use HubSpot for their CRM — PSOhub is virtually unrivaled with features and capabilities geared specifically toward empowering small businesses to be as efficient as possible.
We had an interesting chat with Martijn on his wealth of experience, what inspired him to create PSOhub, and his vision for the future of the platform.
History
In the 90s, Martijn created a powerful software solution called Assistance PSO with his company, Assistance Software. Into the next couple decades, he and his team redeveloped the solution for a broader market (they previously catered to architects, engineers, and similar creatives) to include businesses like IT service companies, marketing firms, etc.
"What I saw already at that time in the 2000s, there was a big gap between basically your admin stuff and your communication layer around your projects — starting with email but also appointments, telephone calls — everything was still scattered all over the place. So, I made a decision that we needed to integrate with those platforms, and back in 2008, we started to integrate our solution with SharePoint for document management and later with Microsoft CRM."
Van der Hoeden and team finally rebuilt their entire solution to be embedded into Microsoft CRM, and he eventually sold the company in 2017.
Q: How did your previous experience play into developing PSOhub?
I have a long experience in the professional services industry and creating solutions for that market — more than 30 years in different stages of the market, in different maturities of the market. When I started in the 90s, there was no internet. There was no cell phone, etc. So of course we had different technology that we applied.
What I always liked to do and what I always saw in my career was that in the professional services industry, in most cases those people like to design buildings or design websites or develop software or provide marketing services.
But all those people have one thing in common —
"They hate to do admin."
They don't like to do time entry and they don't like to do expense entry….They like to create fantastic stuff but they don't like to do the admin stuff around it. And of course, that's a necessity if you want to run a profitable business.
Q: What inspired you to develop PSOhub?
I already had the idea for a long time to make a solution where you have self-driving timesheets, smart contracts, and predictive analysis so that you don't have to manage a project and be worried that it goes off-rail — basically that your solution is managing the project and managing if it goes off rail by giving you on-time alerts.
"You don't ever have to do time entry anymore, and you never have to think about creating invoices anymore because of smart contracts."
The technology today is giving us the opportunity as a technology company to leverage AI, to leverage self-driving capabilities of platforms and combine that all in a fantastic solution for the professional services market. And that's why I started PSOhub in April 2020. Together with three other entrepeneurs we created a team of specialist and have been researching and grinding, creating a smart, self-driving solution to cut admin time and help small businesses get from deal to cash quicker and easier.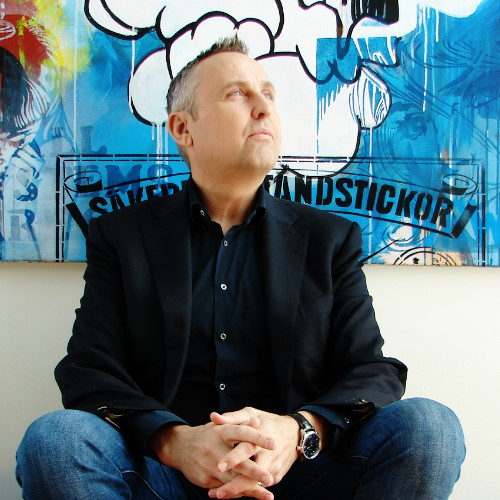 Q: Why did you choose to focus on the needs of small businesses?
I also wanted PSOhub to be accessible because of a very user-friendly interface for everyone who hates to do admin….Small businesses are completely underserved in the market.
If you look at the landscape of solutions in this space, they're all focusing on companies of above 100 people and more. That means that the solutions get very complicated because you need to think multicurrency, multilingual. You need to think about consolidations.
That's all fantastic for bigger companies, but small businesses don't want to use all that functionality and don't need all that functionality. They need to be much more efficient than bigger companies to make money.
"Being smart, self-driving, and efficient are things that are key for those businesses to be profitable."
For me, PSOHub is really an accumulation of my experience over the last 30 years, leveraging self-driving and AI technology of platforms that are available today and bringing this to the market for a very acceptable and competitive price for small businesses in the world.
Q: Talk about integrations, especially for HubSpot users who can benefit from integrating directly with PSOhub.
Hubpot is a great solution for CRM for sales and marketing, but also to create your website…
What I don't really believe anymore is that one solution fits all and that one solution can provide all the functionality you need in specific areas. You have all those specialized solutions that do one thing really great, and because of the technology we have today and everything is online, everything is in the cloud, it's relatively easy to connect those platforms.
So when we created PSOhub, we really wanted to be a 'hub' between your CRM solution —
in this case Hubspot — and your financial backend solution that can be for example, Quickbooks. And even your collaboration solution like Teams or Slack.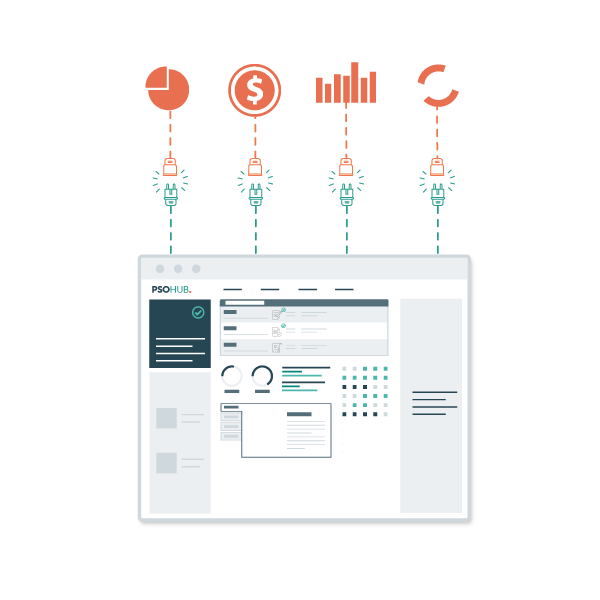 That's why also the name is so important to me, that we are a hub between your other solutions that you want to use because they are doing one thing much better than I could ever do it.
And that's why we love to integrate with champions in CRM like Hubspot. We love to integrate with champions in the financial backend like Quickbooks, but also in the future with platforms like Slack or Teams.
"PSOhub is basically always the hub that will connect those dots in the middle and will bring everything together."
We want to deliver a journey from funnel to cash, so when you develop a lead starting with your website, starting with your CO your CA, and you develop a lead to a deal. Then you close that deal to a project.
We want to have a seamless experience from the deal to the PSOhub project.
And then start up your contract, set up your team. With self-driving time and expense entry, you'll see automatically your timesheets will flow in from the intelligent, self-driving timesheets of PSOhub, and that creates invoices that will be posted to your financial backend.
For us, leveraging champions in certain areas like HubSpot is very important for the efficiency behind our product.
Q: We already know that PSOhub is an unmatched project management solution for HubSpot users that can keep things under one roof. What about other types of service providers that don't use HubSpot or a CRM at all? Say, architects?
I know a lot of architects from my past! We had more than 650 clients in that space, so we know them a lot.
You only need full CRM functionality if this is something that is a part of your strategy as a business. You can also use PSOhub completely standalone.
You also don't need the financial backend integration. It makes life easier, but if you just want to invoice throughout PSOhub it's completely possible.
As soon as you want to have more functionality on the CRM side, we recommend that you get a free license with HubSpot and if you need more functionality there, you have to pay a little bit. Same for PSOhub. Then we have that seamless integration with those solutions.
But you can definitely start with PSOhub as a standalone solution. If you're a HubSpot user, you can leverage the integration as well.
Q: How easy is PSOhub to implement for small companies?
A lot of HubSpot users in the professional services industry would love to use PSOhub; they're also small companies in most cases. It's a very user-friendly solution, so with the enrollment we have in place and the tools we have in place, you can really self service your implementation.
Q: What is your high-level vision for PSOhub? What does the world look like when the small businesses that need PSOhub are using it?
What I envision and what I find great and very exciting is that you can create a smart contract where you set up your billing rules, and with the self-driving and self-learning capabilities of PSOhub, your timesheets will flow in automatically. We look at your address and your GPS location, your Google or Outlook calendar, and with our smart algorithms we create your timesheets automatically.
And if we cannot figure it out, you correct PSOhub and enter a time entry to a certain project; there's a self-learning mechanism so that next time, you don't have to do that again.
An ideal client of ours will get an alert from PSOhub that we see — with predictive analysis —
that not now, but in 3 months, we expect that the project will go off rail. We'll alert you today because we see with our predictive analysis algorithm where this project is going. Time entries will be done completely by PSOhub and at the end of the month, the invoice is sent to your client.
Q: What are some predictions and goals you have for the future of PSOhub?
I anticipate in the future, when we are more common with tokens and digital money like Bitcoin, that you can also not only send the invoice, but get the token directly in your bank account. So as soon as your client accepts your delivery — like when calling a cab or ordering food — the money transaction is done completely and automatically after the client accepts your drawing, design, campaign, etc. [This would be] more of a blockchain kind of solution.
Right now we can offer a complete, closed loop between the smart contract and the time entry, but at this moment, the world is not ready yet for the blockchain.
Q: Finally, the mission of PSOhub is to be the global leader in smart, self-driving Professional Services Automation by empowering small businesses to achieve their ambitions. Is there anything you'd like people to know about what's in store for PSOhub and their users?
It's pretty unique, a really smart, self-driving solution in this market that's completely embedded and integrated with different solutions around it, so it's not a standalone. You have a lot of standalones doing time entry, but it's basically filling in an Excel spreadsheet. And in most cases, you cannot invoice and there is no predictive analysis or project management.
You see that people are using those standalone solutions that are very limited in just putting timesheets in, but you don't do anything with your time! You're just exporting that data to another sheet and then putting it all together.
What's interesting also is that we are integrating with Zapier. Zapier is a cloud platform that connects all kinds of solutions, and it's an open platform, so we can provide data to Zapier.
For example, as soon as a project goes off rail, we'll send you an email, but also send a signal to Zapier, so you'll get a post directly in Teams that the project has gone off rail. Zapier connects also to Slack, Asana, etc. We just connect to Zapier, and Zapier provides the connections to the other platforms.
Compared with 10 or even 8 years ago, platforms were not as open as they are today. That gives a lot of possibilities to use the best of breeds as a company, so you can use Slack, Teams, whatever you like.
PSOhub is always bringing those worlds together as a hub where you create in a CRM solution your deal and promote it to a project in PSOhub. We manage the project. We do it with predictive analysis. We look at your project, and we do self-driving time entry and timesheets. We help you with the timesheets and then we can send signals to different solutions to communicate around the project as well.
We did a lot of market research and first of all, HubSpot is really a blue ocean from that perspective. There are no solutions completely embedded to HubSpot to basically bring that deal to the next level of project execution and project management.
"On the other side of the spectrum, it's important for us to be smart, predictive, and self-driving. Those three words are not just words for us. For our development team with everything they develop."
Is it smart enough? Can it be more predictive? Can it be more self driving?
We take out the administrative time drain as a professional, so you can focus on your ambition as an architect or your ambition as a developer, a marketer, a writer, etc. That's what we want to help you with.
Intrigued? Excited? Try PSOhub for FREE.