The Best Salesforce Project Management Tool
by Martijn van der Hoeden on May 28, 2021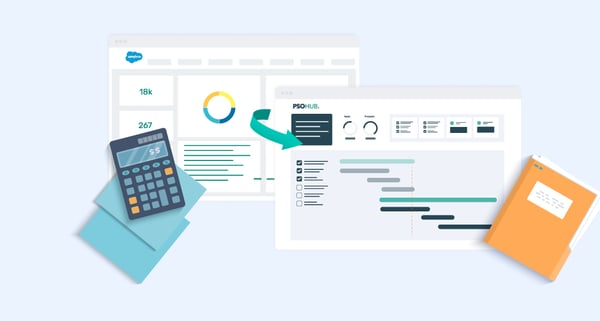 Salesforce offers a robust, highly popular CRM platform that's loved by businesses all-round — and we'll bet yours does too! Even big-time organizations like Spotify and T-Mobile use the CRM to manage their sales and customer relationships.
The platform is perfect for providing teams a single view of the customer. But what happens when the time comes to take those Salesforce deals and turn them into projects?

Except for a couple of native features, you'll need to look elsewhere for a project management solution. After all, Salesforce is purpose-built as a CRM, not a project management system.

The best solution? An all-in-one platform that gives teams 360-degree project management power, without doing away with Salesforce.
To help you find the best Salesforce project management tool, let's take a look at:
The best type of software for streamlining project processes
The best project management app for Salesforce
Why you need to integrate project management and invoicing
What is PSA software?
PSA (Professional Services Automation) software is built for professional service organizations (PSOs) looking to move away from a hodgepodge of disparate systems.

As the name suggests, CRMs are great for managing customer relationships. But when it comes to managing a wide array of project processes, PSA software is the key to optimization.

PSA software brings all-important administrative tasks under one digital umbrella to effortlessly streamline the journey from deal won to project delivery, keeping things simple by automating and centralizing your:
You can think of PSA software as a type of project management tool that provides an all-in-one solution, versus continuously adding to your tech stack.

Using a handful of separate, non-integrated solutions is not only inefficient — in general, it also means you're spending more money than you need to. In addition to the cost of the licenses themselves, another concern is the switch cost: the time it takes team members to jump back and forth across platforms.

Because PSOs tend to be small-to-medium-sized businesses, they don't usually require in-depth individual tools for invoicing and other processes. A more generalized, centralized system like PSA software is often a more efficient choice.

And finally, PSA software can resolve gaps in functionality with your CRM software, the sales-to-project handoff being just one of them. At the end of the day, integrating PSA software with Salesforce will help improve your operational efficiency and your overall productivity.
So what's the best project management app for Salesforce?
To offer your clients and your team the most seamless journey from sales to service, you need to nail projects with a PSA project management tool — one that integrates with Salesforce and can pull all that juicy data from the CRM to make creating budgets, contracts, and projects a breeze.

There are plenty of options available, which makes selecting the right one for your business a difficult process. So where do you start?

The short answer is, the best tool gives you the power of 360-degree project management, which integrates project management and invoicing under one roof.

While your sales team works in Salesforce and finance works in accounting software, there's a missing link — the capability to manage projects and track revenue after the deal is won.

To demonstrate the importance of this point, let's break down how project management software integrated with Salesforce can help you work smarter.
Why integrate a Salesforce project management tool?
You work hard enough as is to keep projects on track, so why not let a Salesforce project management tool give you a leg up?

Here are four reasons why a project management integration is a clever move:
Streamline handoffs. An integrated Salesforce project management tool can make the handoff from sales to project management exponentially easier and seamless. No longer is there a grey area of expectation, because both teams have total transparency.
Centralize data. Store all your team members' work under one digital umbrella to prevent departmental silos and miscommunication. Centralized data keeps everyone on the same page.
Automate admin. No one likes to spend time on boring, repetitive admin tasks. Seamless data exchange between Salesforce and your integrated project management tool will help automate work, saving you valuable time and effort.
Why integrate invoicing with Salesforce?
Much like project management tools, there are also a handful of preferred platforms to choose from. But an even better option is a project management tool that integrates with Salesforce and has a built-in invoice management feature.

Here are four solid reasons why a Salesforce invoicing integration makes work easier:
Avoid errors. Small invoicing errors can mean serious cash flow problems. As shockingly common as they may be, integrating your CRM and invoicing can empower you to avoid these costly mistakes.
Automate invoicing. Why manually create and send invoices when you can leave it up to automation? You can simplify the invoicing process with your integration that pulls relevant data from Salesforce.
Manage budgets. Track how much of a project's budget has been used at any stage and compare it against your contract. With everything under one digital umbrella, you can keep a more watchful eye on your budgets.
Save resources. Managing your budgets can go a long way to keeping projects profitable, but you can also reduce switch cost from a superfluous tech stack. Altogether, you can save the business time and money — and that's never a bad thing!
PSOhub: a powerful Salesforce project management tool
Essentially, a holistic PSA solution can help you and your team skyrocket efficiency and save major cash. Meet PSOhub: a self-driving project management tool now integrated with Salesforce.
PSOhub is designed as a powerful PSA platform created to help businesses manage projects, people, and budgets, all within your Salesforce ecosystem.

PSOhub extends Salesforce's functionality far beyond the sales process, empowering you to…
Create projects from the deal record in Salesforce. When a deal is closed in Salesforce, a contract is automatically generated in PSOhub. PSOhub then maps out project phases for each contract by leveraging time-saving project templates.
Automate time tracking and invoicing. Using calendar app integrations, mobile device GPS data, and machine learning, PSOhub automatically logs time to the appropriate project and can then generate an invoice based on the parameters you set.
Assign different rates and roles for individual team members. Have a team member that acts both as a project manager and a consultant? With PSOhub, you can easily track a person's time spent in each role and set up different hourly rates.
Get a grip on your cash flow and get paid on time. Smart invoicing from PSOhub connects to your accounting software and mandates that payment is received when certain conditions are met. Never get paid late or incorrectly again!
To get the most out of your CRM, integrate a Salesforce project management tool!

In closing, we'll share a quote from Salesforce who wholeheartedly agrees that to get the most out of their platform, integrated systems are a must:
"The idea that a single company uses hundreds of applications may seem overinflated. However, consider that each department has multiple pieces of software and systems, all of which host their own data. Across the company, these sources of data can include a number of existing business applications and systems. Each department may act autonomously, and if its systems aren't integrated with other departments, this creates data silos."
By getting an all-in-one Salesforce project management tool like PSOhub, you can eliminate silos, boost your productivity, and save money and time in more ways than one. For small-to-medium-sized businesses especially, this should be a no-brainer: consolidate and optimize your tech stack with the best Salesforce project management tool.