How to Use PSOhub Quotes to Close Deals FAST & Work Smarter
by Martijn van der Hoeden on September 16, 2022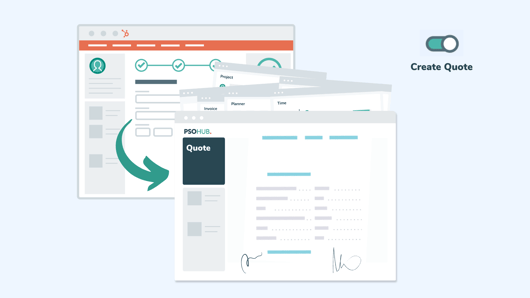 Quoting software is a tool commonly used in the professional services sector, particularly among organizations that are growing/scaling and taking on more customers.
In a nutshell, quoting software will automate the process of creating accurate project quotes for your clients and/or potential new ones.
The obvious big benefit here is being able to submit a quote as fast as possible.
In many situations, the difference between closing a deal and losing it is simply a matter of time– The one who gets the quote in the client's 'hands' first is most likely to win the contract.
Here's how you can use the Quotes feature by PSOhub to help you close more deals and work smarter when it comes to your overall project management.
Timeliness & Accuracy
Bottom line– PSOhub added Quotes to their stack of automated tools to help businesses quote potential projects as quickly as possible. Timeliness is the focus, referring to the expectation for accessibility and availability of information and how long that takes. Without getting into too much of a semantic discussion, timeliness can be measured as the time between when information is expected and when it's readily available and accessible.
In the case of quoting a client for a service-based project, timeliness should fall somewhere within the 24-hour range. With PSOhub, you can deliver an accurate quote even sooner, since Quotes leverages specific automation to create, deliver, and manage quotes wicked-fast.
Go from Deal to Quote with a Click
If you're using HubSpot, Salesforce, or Dynamics 365 for your CRM, you can go from your deal to quote generation in just one click. Since PSOhub is seamlessly integrated with all 3 of the world's most popular CRMs, your new quote will automatically import all relevant customer data. No manual re-entry is required. Literally, all you have to do is click Quote, and all information including important dates, customer information, activities, etc automatically updated from the deal timeline in your CRM.
Contract Templates Ready
One of the best things about contract management with PSOhub's all-in-one project management is the contract template. Rather than creating contracts from scratch every time, you can simply pull up a template or a past contract and start filling in pertinent info. This has saved PSOhub users around the world countless hours on issuing new service agreements. For creating Quotes in PSOhub, it's the same thing. You can even use the Quick Start function for those super-time-sensitive deals. Just another way PSOhub's quoting software keeps things moving in a timely manner.
Input Tasks & Workload for the Ultimate in Accuracy & Transparency
You want to know how much it will cost your agency to complete a project as accurately as possible at the quoting stage. To make that possible, PSOhub Quotes give you a task board, a workload sheet, and/or a Gantt chart. Start filling out one, two, or all three to get the most accurate estimate as soon as possible. With all these tools at your disposal, you should be able to enter the relevant data more efficiently than ever before. And finally, if you choose, you can include your task board, workload sheet, and/or Gantt chart with your Quote when it's submitted to the client. You can select which information you want them to see, and customers really dig these kinds of transparent details at this stage in the game.
Quote Management Built-in
Quotes are confidential documents that often convey sensitive financial information. It's imperative that your quote is delivered to your client confidentially and that they have a way to securely sign the document. You also want to be able to see the status of your quote in real-time: Was it submitted yet? Has it been signed? When can we get to work? PSOhub fulfills everything you need for quote management by handling secure delivery, digital signature, and real-time status updates.
Now get to work!
Once your quote has been signed, PSOhub will alert you to the status and automatically create a project with all the data from your CRM and from the quote itself. You and your team can now get to work ASAP on those juicy deliverables!