#1 HubSpot PSA Tool | How PSA Benefits HubSpot users
by Qismat Riaz on July 18, 2023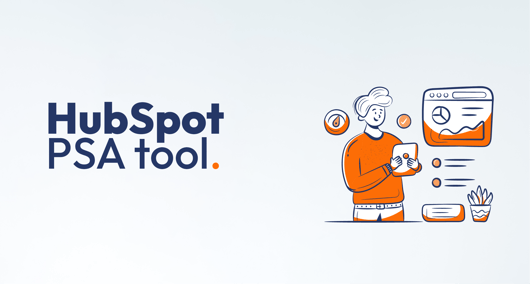 HubSpot is the premier CRM for small businesses in the professional services world. These organizations, in particular, can benefit from adopting a PSA tool to take over their project management.
A PSA tool is software that provides automation specifically for professional services, hence the completion of the acronym, Professional Services Automation.
PSA tools are designed to help service businesses function more efficiently, both operationally and on the financial end.
In the past, PSA tools were focused primarily on the financial side of project management. That's why historically PSA software has been rooted in automated features that help make billing and contracts less dependent on humans for administrative tasks.
Since the pandemic, PSA software has evolved to include more aspects of project management in its functionality. Now, a few top-tiered solutions are so comprehensive, you really don't need much else in your tech stack, save your accounting solution and CRM.
Which brings us back to HubSpot…
HubSpot reigns as one of the best platforms ever to grow and scale a small business. But for those in professional services– i.e. digital marketers, consultants, accountants, IT, etc— HubSpot gets even better with a PSA tool.
How does a PSA tool benefit HubSpot agencies?
A PSA tool may benefit HubSpot companies in many tangible ways, but they all fall within three categories: saving money, better people management, and better productivity and visibility. Here's how a HubSpot PSA tool improves project management in these three arenas.
Less revenue leakage
One of the biggest sources of revenue leakage for small PSOs is invoicing. While it's tempting to get started with Excel spreadsheets, calendar alerts, and human monitoring, invoice management should be top of mind from day one. Luckily, a PSA tool can effectively take care of the whole process, to the extent that you never have actually to create or send an invoice again.
So instead of having invoices floating in space or hiring an assistant, a PSA tool can automate your invoicing, ensuring you get paid correctly and on time.
Another cause of revenue leakage and lower project profits is shoddy time tracking. If your team isn't effectively tracking their time, you're probably missing out on lucrative billable hours. Not only that, you're missing out on important insights as to how the business actually runs day to day.
PSA tools make time tracking seamless, linking your time tracking data with your contracts and your invoicing, whether your team is actively signed into HubSpot or not. This means that billable time doesn't slip through the cracks.
Like invoicing, some PSA tools can even automate the entire time tracking process with features like self-driving time tracking.
These are just a couple of examples of different automation offered by PSA that can help businesses avoid revenue leakage. Others include predictive alerts, HubSpot ticket sync, and more.
Automated resource management
HubSpot service businesses with remote teams need all the help they can get with resource management. Instead of keeping this in the brains and spreadsheets of project managers, PSA software provides specific tools and automation to make managing resources easier.
For example, PSA tools provide capacity planning to help managers sort out complex projects with larger teams. Usually, they will offer this in the form of task-based or hours-based capacity, the former of which is better for straightforward projects with fewer stakeholders.
PSA software additionally connects resource management to time tracking, so it can update resource capacity in real-time. This means managers can see at-a-glance, 24/7 who is overloaded and where work can be shifted around.
And since PSA tools now offer more of an all-in-one functionality for project management, they will also link resource data automatically with your task management. Project managers can quickly assign and reassign tasks based on real-time capacity, all while staying within the HubSpot ecosystem.
Increased productivity & visibility
As you can see, a big reason a PSA tool provides value is its ability to connect all your CRM and project data in one, secure, organized place. Because a HubSpot PSA tool integrates with your CRM, your team on both the sales and project side never has to leave the software environment. The sales-to-project handoff is no longer something that takes really any time at all, and company data remains secure in a closed loop.
All the relevant data, including time tracking, project planning, and invoicing, stays in the same place. This saves employees a lot of time from not having to bounce around multiple spreadsheets and platforms.
Not to mention, because many tasks related to invoicing, time tracking, and resource management are now automated, creatives and consultants can put in fewer hours for non-billable time. The result is increased billability, and often, productivity, particularly on the part of consultants who now have more earning potential.
As far as increasing visibility, there's something to be said with any small business for having a single source of truth. Tech stacks get bloated easily, and critical pieces of information can often get lost in the shuffle. Or it takes people too much time to locate what they need to perform a task.
PSA tools that link to HubSpot can act as this singular source of truth, especially when you link your communication channel like Slack and your financial backend.
PSOhub: The #1 PSA Tool for HubSpot
PSOhub is the #1 PSA tool for HubSpot! It's the only PSA software that was designed specifically for HubSpot users– so much so, PSOhub's interface actually looks and feels like HubSpot.
The two-way integration is so seamless, many reviewers have remarked that they don't even realize when they switch from HubSpot to PSOhub and vice versa.
To cover all your project management needs with the power of a bonafide PSA tool, PSOhub provides one of the most affordable solutions for HubSpot agencies.
Try it today for FREE and get to know PSOhub's industry-leading features, like:
Self-driving time tracking
Automated invoicing
HubSpot ticket sync
Real-time Gantt charts
Capacity planning
Kanban boards
Quotes
And more!