Capacity Planning in Resource Management: What's Best for Your Business?
by Martijn van der Hoeden on June 12, 2021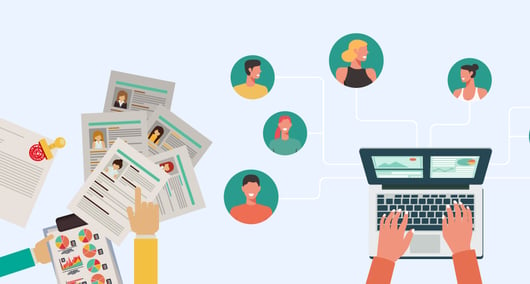 Resource management is a key aspect of holistic project management. If we take a look back at the most complete definition of project management, we see that resource management helps cover many bases to help you stay in control of your projects.
Specifically, resource management will play into the following parts of MOTIQ:
Money- Resource management helps you keep track of where your money is going each month, as it relates to your resources (aka your people).
Organization- Your people are your organization, and resource management will empower you to make decisions based on the workload your team members can handle week to week and month to month.
Time- A good resource management tool will give you an accurate representation of the amount of time you can expect from your people toward each project, and who and where time is being used most efficiently.
This brings us to capacity planning. Capacity planning within resource management will help ensure the right people are working on the right tasks at the right time.
Capacity planning is not the same as project planning, but rather an integral part of it. You can leverage capacity planning to increase accurate forecasting with a resource management platform.
When using a resource management tool to help you facilitate your projects and your people, you have three options for capacity planning:
Task capacity planning
Hours capacity planning
A combination of the two
We'll detail the pros and cons of each so you can see which path is the right choice for your organization.
What is capacity planning?
Without getting too into the weeds, capacity planning is simply the way you figure out how many hours or tasks your team can handle related to how many hours/tasks are needed to complete the project. By capacity, we're referring to the most amount of work that can be completed within a window of time.
Because capacity planning is a great way to make sure your projects are delivered on time, it's important to use a tool that fits the needs of your business.
When you're getting ready to start your capacity planning on a project, you'll have three ways of going about it:
1) Task capacity planning
Task capacity planning will give you a feel for what your team can handle on a task basis. Tools that help you with task capacity aren't going to be as concerned with actual hours, but with the tasks that are needed to get the project done (value-based project management).
With task capacity planning, you'll get a beneficial overview of what everyone can handle based on their roles. It's a great option for small businesses and uncomplicated projects because you don't have to get super granular. Simply set up your resources and input their task capacity on a weekly or monthly basis, depending on how long the project will take.
PROS of task capacity planning
You don't need a lot of information to get started
The fastest option to set up
A great option for smaller teams
CONS of task capacity planning
Less accurate than hours capacity planning
You're really just getting an indication of the workload versus seeing the full picture
Bottom line- Task capacity planning is a great option for smaller businesses that want to get a jump on resource planning for their projects. With smaller teams, project managers have a better idea of how long each person takes to complete a task, so less knowledge is required. However, you can't budget time for a task, you can only schedule hours when you use the Workload sheet. Same goes for larger teams, as it won't be feasible to know how long each person will take on tasks.
2. Hours capacity planning
Hours capacity planning is your next step-up in accuracy from task capacity. Rather than just measuring tasks, hours capacity planning will help you calculate the time it will for each project item (contract line) per month, per role and resource.
If it's important for you to know capacity down to the nearest hour, this is the option for you. Larger teams and bigger project budgets usually necessitate hours capacity planning, as do projects with longer timeframes.
PROS of hours capacity planning
Increased accuracy
More insight into actual workload
You can compare your actuals with what's scheduled (with the right resource management tool)
Compare Actuals with Planned Hours
CONS of hours capacity planning
Requires more time to set up
Requires more discipline
Bottom line- Hours capacity planning is the more popular option for project managers that need an accurate representation of time. Smaller teams in fields like content production probably won't need to put in the time and energy it requires, while larger teams in industries like software development will want to leverage hours capacity to stay on top of their resource management.
3. Use both!
Not all projects will necessitate getting this in-depth into capacity, and certainly not all teams will require such a detailed capacity planning. That said, to be able to forecast the most accurately, a combination of both task capacity planning and hours capacity planning is the surefire way to go. Larger organizations with complex, long-term projects and team members around the world are good candidates for the combo.
If you want to leverage both hours and task capacity planning, you'll need a robust resource management tool. Not all the platforms out there have this kind of functionality, so make sure to do your research.
PROS of using both task capacity and hours capacity planning
Insane accuracy
Ultimate control
You check not only actuals spent time but also what is achieved
CONS of using both task capacity and hours capacity planning
Requires significantly more time and knowledge to set up
Unnecessary for many projects and teams
Bottom line- Using both task and hours capacity planning provides the ultimate in accuracy and control, but smaller businesses definitely don't need to put in the time and effort the combo requires.
Finally, is there a resource management tool that offers all three?
Yes! As part of PSOhub's vision to offer 360 Degree Project Management, the platform now gives you all three options in the new Resource Management feature. No matter which you choose, you'll get capacity planning that's fully integrated with all the other moving parts of your projects. A true game changer.
Get started today for FREE!