11 Time Tracking Tips to Make Your Business More Efficient
by Jarno Koopman on April 9, 2020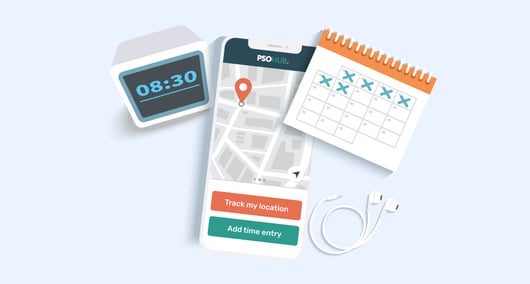 When it comes to accurately billing clients, time tracking is critical.
When it comes to measuring your team members' efficiency, time tracking is critical.
Hell, time tracking is critical when you're feeding a newborn!
You get the point. Time tracking is vital to keep your agency billing accurately and making the money you're entitled to. But in spite of its importance, time tracking in small organizations and for individual contractors is difficult and even annoying.
Challenges present themselves in different forms. Remote work teams may be working with one app while developers are using something else. Some people may be booking time for meetings while others aren't. The list of inconsistencies goes on.
The benefits of effective time tracking cannot be understated. Know someone with excellent time management skills? Guarantee they have some sort of time tracking solution in place, however primitive it may be.
That's because good time tracking is more like playing a sport than performing art. Owners and managers know that it takes diligence and motivation to do it right.
The good news is, time tracking is in itself, incentivizing, especially for efficient people and people who value their personal time. Efficient people jump at the chance to be more efficient. People who genuinely value their time will always want a better picture of how it is spent during the day.
Aren't these the people you want on your team, anyway?
The bright and motivated team member will not resist time tracking. On the flip side, time tracking exposes time-sucks and incorrect billing, so prepare for that as well. We've put together 11 time tracking tips to guide you on your journey to tracking better time. And hopefully, optimizing it.
11 time tracking tips to help your business get it together
1) Just do it!

Commit to the idea that intelligent time tracking will be a part of your everyday workflow. It doesn't have to be complicated or even a major change, but make sure you stick with it and encourage your team that this will be a great way to help everyone make the best of their hours. And if implemented correctly, can help the whole crew get paid more. You can start by developing a routine or using a template.
2) Limit multi-tasking.
Multitaskers should stop bragging about their ability to juggle a million things at once (but wow, do ever). Science actually suggests that multitasking lowers cognitive functioning. Focusing keenly on one task at a time enables you to harness more brain power than trying to do a ton at once. When your role requires creative brain power — as many if not most team members' jobs do — that's a thing you want to conserve. Plus, multitasking leads to poor time management and data that's harder to easily track. If you're juggling three things at once, how much of your last hour do you know went to your client?
3) Keep all time tracking information in one centralized place.
This should be a no-brainer, so make sure any time tracking solution you use can provide you visibility. Eliminate app bouncing and the time-suck involved.
4) Use your calendar (Google Calendar or Outlook) to easily block time.
This is especially helpful if you block time for more than just client meetings — be sure to include tasks, internal team meetings, and personal events. Here's another one of our blogs that talks about linking your calendar to your invoicing to really take things up a notch.
5) Make time tracking part of daily work flow.
For time tracking to be truly sticky, you need to have it integrated into your daily workflow. If you're on a desktop all the time, consider using a browser extension, like this one for Chrome.
6) Install a mobile app if you're always on the phone.
People in professional services can often lose major billable hours by not including long phone calls and phone meetings into their totals. Team members who are known to be on their phones often should definitely install a time tracking solution to easily record billable hours. The incentive here is obvious.
7) If you're on the go, consider smart tools that use your calendar or GPS.
This next one is a game changer in the time tracking world for people that tend to bounce around a lot, whether it's across the city for a strategy meeting or across the world to work on a new project. Can't remember exactly how much time you spent at that meeting? The best time tracking solution out there will be able to automatically add it to your time.
Learn more about PSOhub's Time Tracking mobile app and self-driving features.
8) Look for features on tools you already use.
Another option is considering if the tools you use everyday — project management software, CRM, customer support, or development tool (like Github) — have time tracking features built-in. After all, the more things you can keep under one roof, the better.
9) Implement and support.
Once you nail these tips, find ways to extend the help to your team. Encourage and educate them about how time tracking will protect their creative energy and optimize their time. You can also incentivise your employees by using time tracking as growth objectives for their work and offer rewards.
10) Trust and transparency.
One of the best things about implementing a smart time tracking solution is that it encourages trust and transparency among team members. Use time tracking to build trust with your internal team and promote transparency by sharing time logs. Remember that good time tracking habits start with the leaders.
11) Have clear goals.
Sure, efficient and comprehensive time tracking is vital for billing clients, but you may find in your reports that you spend too much time in one area. Identifying goals to look out for in your time tracking will help to improve efficiency and forecasting. You'll soon realize you have more time — for your clients, your team, and you!
If you want to improve your efficiency, even dramatically in some cases, pick an intelligent time tracking solution and stick with it, especially if you can use time tracking as a way to invoice clients. And if your time tracking platform isn't doing enough for you, shop around.
Learn more: Get self-driving time tracking with PSOhub for Free