The Definitive Time Tracking Tool Pro/Con List
Introduction
The importance of time tracking in project management
For professional services organizations (marketing agencies, managed services providers, architecture firms, engineering firms, etc.), time tracking is much more than team members clocking in and out.
Depending on your organization's particular structure and services, you likely charge either per hour or per project. If you're paid by the hour, the need for accurate time tracking is pretty obvious. But even if you get paid by the project, you need a way to accurately estimate cost.
When you first agree to take on a project, both your team and the client need to know approximately how long it will take to complete the work and how much it will cost. So you estimate, plan, budget, and come up with a timeline.
However, variables are an inherent part of project-based professional services work, so no matter how carefully you plan your project, it's only an estimate. If you're not carefully monitoring your team's time, it's easy to lose control of your project and run over budget.
Accurate, consistent time tracking is the best way to make sure you stay within budget, on time, and within scope — which translates to
more accurate billing
and
less

overservicing
.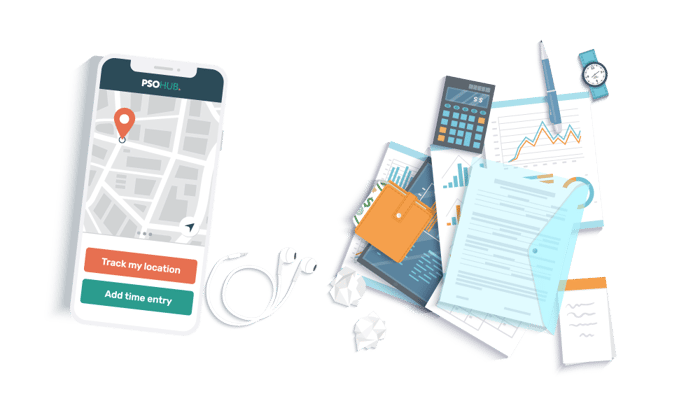 When you know exactly how many hours have been spent on each task by each team member, you can look at how your progress fits into the big picture — are you on track, or do you need to make adjustments? In other words, more visibility means more control and a greater chance for success.
Why time tracking spreadsheets aren't worth it
Time consuming and labor intensive
This is the most obvious downside. There's little room for automation, and team members have to manually enter their hours — that's time they could be spending on client work.
Opportunity for human error
Incorrect formulas, forgotten decimal points, and inadvertently deleted rows can all destroy a spreadsheet. Someone needs to triple-check for errors, track down team members who have missing info, and make changes.
Specificity is difficult
Most time tracking spreadsheet templates are pretty basic, which means your visibility is limited. Tracking each team member's specific tasks for each client gets complicated fast, and unless you want to spend weeks developing a custom system, you likely won't get a clear idea of how your team's time entries fit into your overall projects.
Pro: They're free
Let's get this obvious one out of the way: There are a ton of free time tracking tools available online, and many of them are better options compared to purchasing software you don't necessarily need.
Pro: They're free
Con: They often lack features that scale.
As your agency grows, you'll get more and more value from streamlined processes. Just because a particular time tracking tool would work for your organization at the moment doesn't mean it would still be efficient one year from now.
Free tools often lack automation options (like invoice generation) that can streamline your processes and prevent mistakes.
Con: They often lack features that scale.

Scaling-friendly features you should look for in a time tracking platform:
Pro: They reduce repetitive operational work.
The right time tracking software or app will save time and effort for your team through automation and self-driving features.
Pro: They reduce repetitive operational work.

With an automated time tracker, team members don't have to manually input their hours at the end of the day. This frees up time to actually work on client projects — the work that really matters to your organization.
Similarly, when team members can easily and accurately track their time, managers can focus on leading their teams rather than dealing with logistical time tracking concerns.
11 Time Tracking Tips to Make Your Business More Efficient
Read more >
Con: They can decrease morale.
Workplace surveillance has been a hot topic for the past few years, and it's no surprise that poorly executed productivity tracking systems can make employees feel undervalued and micromanaged.
Especially for creatives, rigid time constraints can create stress and negatively impact performance. Experts agree that to prevent low morale, organizations should aim for a balanced approach when it comes to monitoring employees.
Con: They can decrease morale.
Pro: They can increase morale.
Wait, didn't we just say time tracking tools can be bad for morale?
It all depends on your reasons for time tracking and how you implement your policy — the right kind of time tracking can actually increase morale. To put it simply, the tool you choose should be helpful for the whole team.
Here are a few ways that a high-quality tracking tool can benefit team members:
Pro: They can increase morale.
Easy to use
The right tracking tool for your team will make it fast and easy to log time. Automation and self-driving features can make a big difference for functionality and user experience.

Creates more transparency
Your team shouldn't have to guess whether or not they have enough time to complete all their tasks. Tracking tools can help your team members understand their true capacity and identify others who have some extra time to help when necessary.

Helps with time management
The right tracking tool will help team members monitor their hours as they go, so they don't end up doing more work than they need to — and you don't end up overservicing clients.
Con: It's one more thing to add to your tech stack.
Between marketing, sales, contracts, project management, and invoicing, you probably already have quite a few platforms and software solutions in your workflow. Depending on the time tracking tool you choose, adding another platform to your tech stack might end up creating more work and cost, especially if there aren't integrations available.
If your team members have to manually move data from one platform to another or improvise methods for connecting software, that extra labor will likely cancel out any efficiency improvements you'd get from the time tracking tool itself.
Luckily, some time tracking tools come with powerful integrations. When your CRM, project management, time tracking, and invoicing solutions are all seamlessly integrated with one another, that translates to less work for you and your team members — and more ROI from your tech stack.
Con: It's one more thing to add to your tech stack.
Pro: They can provide you with actionable insights.
One of the most useful products of a high-quality time tracking system is data. A platform with solid reporting capabilities is a huge advantage, because it offers more visibility into where your organization's time goes.
Looking at time tracking stats and trends can help you…
Pro: They can provide you with actionable insights.
Plan better
Analyzing data from completed projects is a good way to create more accurate cost estimates and project timelines and identify which types of projects require more careful oversight of time management.
Identify top performers
When it's time for performance reviews and employee recognition, you don't want to rely on your memory — or complicated spreadsheets — to determine which team members are most efficient. Your time tracking solution should be able to calculate this info for you.

Identify areas for operational improvement
When you're armed with actionable time tracking data, you can identify problem areas and implement specific strategies for increasing productivity.For example, let's say you can see from time tracking reports that your team is spending way too much time on last-minute client requests.With that information, you can make appropriate adjustments to your standard operating procedure (SOP) with the specific goal of reducing those hours, such as establishing a clear prioritization system for those eleventh-hour requests or building in more opportunities for client feedback earlier in project timelines.
Conclusion
Professional services organizations face unique time tracking challenges that require specialized solutions. And for the vast majority of agencies and firms, time tracking spreadsheets just aren't powerful enough to justify how much time and effort they require to build and maintain.
There are plenty of free time tracking tools out there that each have their own pros and cons. When you find a high-quality tool, however, that eliminates most — if not all — of the cons.
PSOHub:
Is

available for free, with a

no-nonsense pricing model

for access to more features.
Offers scale-friendly features

like automation, smart invoicing, and mobile time tracking.
Saves time and reduces repetitive work

for team members, boosting morale and productivity.

Integrates seamlessly with HubSpot

and other CRMs so you don't have to overhaul your tech stack.
Offers a powerful reporting dashboard to help you track progress and optimize your business.