Team capacity planner for project management: benefits and tools
by Martijn van der Hoeden on February 26, 2023
Managing your resources effectively is the key to churning out those awesome deliverables and offering a great customer experience.
A big part of that is capacity planning, aka figuring out how much time and resources your team has and assigning tasks and deadlines accordingly.
Capacity planning begins in the project planning stage when you start to budget out and determine the scope of the work. But it doesn't stop there.
Capacity can fluctuate, and unforeseen circumstances may arise that require you to shift work around.
Agile teams, and remote teams, especially, know this. As long as you plan out your team's capacity and track it, you'll be able to adjust to changes.
A team capacity planner for project management can help you both with effective capacity planning and with capacity tracking/agile workload management as the project progresses.
Here's the basics of what you need to know, including what a team capacity planner does, how it does it, the benefits, and the top project management tools that come with a team capacity planner as part of the software package.
Let's begin.
What is a team capacity planner?
A team capacity planner is a real-time resource allocation tool that will allow you to both leverage capacity planning for projects and track your team's capacity as the project progresses.
You can also use a team capacity planner for capacity planning and tracking for the entire year, as you can see within the first few seconds of the video below:
Team capacity planners effectively track your team's capacity across multiple projects. As demonstrated in the PSOhub resource management video above, a team capacity planner will let you see:
All the resources you have on your team
Scheduled/planned capacity
Visual representation of capacity (like a bar graph)
Team Capacity Planning & Tracking
Team capacity planners come in handy for both project planning and project tracking. Because as important as it is to capacity plan at the outset, tracking your team's capacity is critical to effective workload management, particularly for remote teams.
What are the different ways to do team capacity planning?
Team capacity planning is the method by which you determine how much work your team can handle compared with how much work is required to complete the project, service, role, etc.
Capacity planning is a function of resource management, but it's a big part of your overall project planning to determine timelines, milestones, etc.
A team capacity planner will first off, give you the tools to plan your team's capacity. You can do this on a per-project basis or for a select period of time i.e. monthly, quarterly, yearly.
There are 3 forms of capacity planning, and which one you use will depend on the size of your team and the scope of the project:
Task-based capacity planning-

This is for small teams and projects with a minimal scope, where you will measure your team's capacity based on tasks. When you work on a small team and know intimately how everyone works, task-based capacity planning is an effective option that won't take up too much of your time.

Hours-based capacity planning-

When there are multiple milestones and/or deadlines are not flexible, you may want to go with hours-based capacity planning. This will map out your team's capacity based on logged hours. For medium and large teams, for projects with a large scope, and for people who want to get more granular with their capacity planning, going with the hours-based model is a smart idea.

Both-

For the super-complex projects and budgets that have little wriggle room, you can leverage both task-based and hours-based capacity planning. This is the most laser-focused you can get with planning your resources, and we've seen it leveraged by large, globalized companies as well as software teams who have developers working all over the world. Of all three methods for capacity planning, this will take the most time.
Tracking your team's capacity
Once you've completed your team capacity planning for a project or for a set period of time, a team capacity planner will help you track your team's capacity over time.
Because it's part of your resource management, your team capacity planner will provide some sort of a dashboard like the one below. This will let you see, in the form of a simple and intuitive visual, where everyone on your team stands as far as capacity:
Resource Management by PSOhub provides real-time resource allocation tools
You can also use filters and time parameters on your team capacity planner to find out, for example, who has the most available capacity in the next month for an upcoming project.
A team capacity planner is a great tool for agile teams because of its capacity tracking. This will enable you to shift and adapt whenever you need to, without negatively impacting the customer experience and/or your deliverables.
Team capacity planner vs capacity planning templates
You can easily find free templates for team capacity planning online to get your feet wet. These you can make in Google Sheets or Excel, but they're not the same as a team capacity planner for project management.
A template that lives in Excel, Sheets, etc is stagnant, unless you spend a ton of time to populate cells with your time tracking data, project data, etc.
Most people who use a team capacity planner template like this rely on manually updating their team's capacity. This obviously requires time and is subject to errors from manual entry.
Team capacity planners are able to help you plan and track your capacity because they're already connected to the relevant data, including:
Time tracking-

Your team's hours on the capacity planner are automatically populated with time tracking data from the hours that have been logged toward specific projects.

Multiple projects/contracts-

A team capacity planner allows for multiple projects and contracts. This means you can easily see your team and individual resource capacity across the board, tracking them automatically as you go along.

Task management-

The tasks required to complete projects are a big part of determining your team's current capacity. Your team capacity planner is connected with your tasks, so no stone gets unturned. You can even zoom in on individual tasks when faced with a question about capacity. This makes the connection to task management pivotal for both planning and tracking capacity.
In short, capacity planning spreadsheets are now obsolete, since you can use a team capacity planner that automatically updates and provides you with real-time resource allocation.
8 Benefits of a Team Capacity Planner for Your Project Management
1. Make sure deliverables are on time, every time.
Because you know exactly how much work your individual team members can handle, you can shift work accordingly when deadlines are looming or unexpected issues arise. A team capacity planner can buy you more time to right a wrong or shift your focus by tracking your team's capacity as the project progresses.
2. More accurate scoping and budgeting
Using a team capacity planner during your project planning will help you scope and budget more accurately. Instead of guesstimating, you can get closer to what the deliverables will actually entail. Small teams can use task-based capacity planning at this stage; it's simple and doesn't take too much time. For larger teams and more complex projects, hours-based capacity planning can help you dial-in on your deadlines and what your client can expect.
3. Focus on profitability
The team capacity planner can help you focus on the profitability of your projects by keeping managers constantly aware of the team workload. Capacity planning can help you map out your projects to accomplish them as efficiently as possible and keep your project profit margins high. You can also forecast your profitability more accurately, something that can help you plan for the future as your business grows and scales.
4. Don't leave your team underwater!
With a team capacity planner, you'll never leave your team underwater again. Connected task management means you can get to assigning and reassigning tasks with just a couple clicks. This means you'll only be assigning new work to people with the available capacity, and that's something everyone will appreciate.
5. Prevent burnout
Speaking of not leaving your team underwater, a team capacity planner can help you prevent your resources from burning out, too. You can easily get a bird's eye view of your team's current capacity and run reports that account for it over time. This will alert you to any tangible signs of burnout, like team members who are consistently over capacity or close to it.
6. Stay agile
Agile project management is the methodology of choice for most professional services, especially those that work with remote teams. When customers and stakeholders are all over the world, you can expect the unexpected. When the unexpected occurs, insights from your team capacity planner can help you act more quickly when something needs to change to move the needle forward.
7. Provide a better customer experience
In professional services, the customer experience is everything. If it gets compromised with shoddy planning or missed deadlines, you're in danger of losing that client. A team capacity planner helps you stay on top of the workload of your resources and complete all your deliverables on time. If there are delays, you can communicate that with the customer with an updated, accurate timeline based on your data.
8. Promote productivity
Finally, team capacity planners serve as great motivators, since all your resources know that you can essentially 'see' their productivity measured out in visuals at any given time. Because managers get 24/7 updates on their team's billable utilization, they can nudge who they need to in order to increase billable hours and stay productive.
Top Project Management Tools with a Team Capacity Planner
Here's the thing– if you want a team capacity planner, you already need more robust resource management to manage your people and their time.
The good news is that popular project management tools are moving more toward all-in-one functionality, so they're now including bonafide resource management. And with it, a team capacity planner to do all the things we discussed above.
In short, to get a team capacity planner, you can use a project management tool that you already need (or have) anyway. Here's a list of the most popular project management tools that include a team capacity planner. For each of the top software solutions, we'll let you know:
Which package offers the team capacity planner

How much that costs

And what it's like to use their capacity planner
Asana
Asana is one of the world's most popular apps for task management, allowing you to easily assign tasks and plan projects. The more expensive Asana licenses offer more functionality, including full-blown resource management with Asana Business. This workload tool includes a highly intuitive team capacity planner with real-time insights from the rest of your project management data in Asana.
Asana team capacity planner: Asana Workload
Package & Pricing: Asana Business $24.99 pu/pm billed annually
Capacity planning with Asana: Asana's team capacity planner lets you assign a value to your tasks in hours or your own point system. This is a fantastic way to help you plan for those intangibles, like customers that you think might require more attention or energy in certain areas.
PSOhub
PSOhub is the preferred project management tool for HubSpot users, as the software was created to provide a seamless environment with the CRM. It now also provides a native integration with Salesforce and Dynamics 365; and its low-cost, high functionality makes PSOhub an attractive option for any small service business. The team capacity planner from PSOhub is available in their Rise and Growth packages, both of which are cheaper monthly than Asana Business.
PSOhub team capacity planner: PSOhub Resource Management
Package & Pricing: Rise-Growth $16.50-$20.50 pu/pm billed annually
Capacity planning with PSOhub: PSOhub is one of the few project management tools that will let you do all three methods of capacity planning: task-based, hours-based, and hours-AND-task-based. Their intuitive team capacity planner is part of their all-in-one project management, so it's connected to all the relevant data from your projects and your CRM.
Microsoft Teams + Microsoft Project
Microsoft Teams is popular with businesses all over the world, especially globalized teams. Microsoft Teams goes above and beyond project management with real-time collaboration tools and more to give businesses everything they need to thrive in the post-pandemic climate. The team capacity planner is found with Microsoft Project at the two higher tiers of licensing. Note that this is different from 'Microsoft Planner' which does not have the resource management suite of tools we're describing here.
Microsoft Teams team capacity planner: Microsoft Project (Resource Management)
Package & Pricing: Project Plan 3-Project Plan 5 $30-$55 pu/pm
Capacity planning with Microsoft Teams + Microsoft Project: With Microsoft Teams and Microsoft Project, you get a lightweight-yet-powerful resource management tool that includes capacity planning. Easily see what's going on capacity-wise in the Resource Center, where team members are automatically color-coded according to capacity: green for good, blue for underused, and red for overextended.
Toggl Plan
Toggl Plan offers a remarkably simple way to plan and execute your projects. Their lightweight software is easy to use, affordable, and if you use Toggl Track, you can truly encompass all the facets of your projects. That includes time and expense, billing, and more. Toggl Plan's team calendar gives you a visual representation of what your resources are up to 24/7. This makes it another great option for remote teams. Toggl Plan's colorful, friendly interface makes resource planning an easy feat, helping you to plan and track your team's capacity.
Toggle Plan team capacity planner: Toggl Plan Resource Planning
Package & Pricing: Business $13.35 pu/pm
Capacity planning with Toggl Plan: Toggl Plan doesn't offer the more in-depth features to capacity plan for complex projects, but its scheduling features work well for capacity planning for smaller teams. You do this by doing your resource planning and setting timelines for tasks in Toggl Plan. Your team view will help you see capacity at a glance as the project progresses.
Everhour
Everhour is more than just a time tracker and provides a team capacity planner that's intuitive and friendly. As part of Everhour's productivity suite, you can effectively plan and track the capacity for your team. The best part is that Everhour is hyper-focused on visuals, so you can get the capacity data you want to know at just a glance. No crazy-long utilization reports needed. And because Everhour also provides project management, time tracking, budgeting, and invoicing, you can keep more of your data in one place.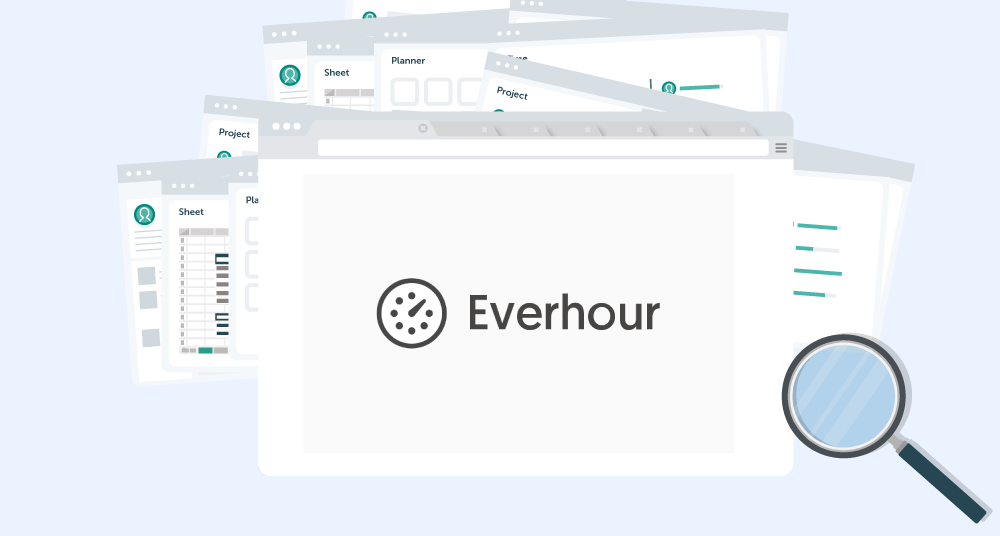 Everhour team capacity planner: Everhour Resource Planning
Package & Pricing: Team $8.50 pu/pm billed annually
Capacity planning with Everhour: Everhour is one of the most affordable project management tools with a team capacity planner included. You have to do the higher-tiered licensing, but it's still cheaper than the other options on our list. As far as visualization is concerned, Everhour is one of the best choices to help you 'see' and understand your team's capacity both at the planning and execution stages.
Wrike
Wrike is a dominant player in the project management space, continuing to add new features and functionality to their robust platform. Wrike's capacity planning tools are perhaps the most in-depth on our list, and we especially like the built-in reports you can run. To get these tools, you'll need Wrike's full resource management suite, which is only available in the Business and Enterprise licenses. Wrike is known for their real-time Gantt charts and other project planning tools that make managing projects at once easier and more dialed-in.
Wrike team capacity planner: Wrike Capacity Planning Tools
Package & Pricing: Business $24.80 pu/pm
Capacity planning with Wrike: Capacity planning with Wrike can help you get super-analytical, without the legwork. We love that you can use automated reports to calculate future capacity. Another great feature are the capacity planning templates that Wrike provides for different kinds of projects and organizations, so you can easily get started.
More info on team capacity planning
Team capacity planning can make a big difference in profitability and productivity throughout the lifecycle of your projects and services. Here's a couple of helpful videos to learn more:
Resource Management Best Practices Guide