6 Hacks to Increase the Profitability of Your Projects
by Jarno Koopman on June 28, 2022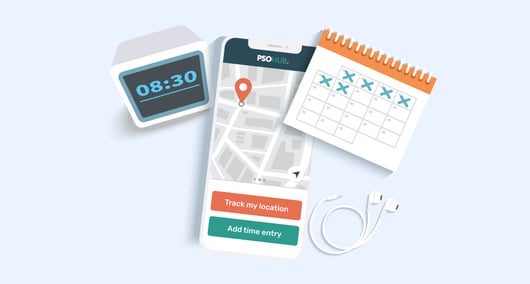 The project profit margin is one of the most critical numbers managers and owners need to be looking at.
Project profitability is the financial lifeblood that keeps service businesses afloat, so it's vital that project managers prevent revenue leakage, while finding ways to make their processes and people more efficient.
A lot of factors influence your project profit margins, and increasing them may require some investigation and deep thinking.
However, there are a few easy ways to 'trim the fat' and hack your way to more profitable projects with minimal effort.
Check out our 6 hacks to increase the profitability of your projects and see how they can make a tangible difference.
1. Automate your invoicing process.
If you're new to the idea of invoice management and invoice automation, the idea of software taking over all your invoices might seem scary. On the contrary, automating your invoicing processes can shave wasted, profitable time and benefit your business in the following ways:
Save money on admin time.
Approve invoices with just a click.
Reduced errors mean you get paid CORRECTLY and ON TIME.
Automated scheduling and milestones mean invoices are always sent.
Regular billing schedules keep clients happy.
No more spreadsheets. No more invoices floating in space. You can hack your way to more profitable project margins simply by automating your invoicing process with a good software tool.
2. Self-driving time tracking
One of the easiest ways to lose out on project profits is unbilled time. When your consultants are guesstimating how much work they've put in, things tend to slip through the cracks. Meetings go unbilled, and responding to emails at night isn't tracked, these little things can add up in the hundreds or even thousands on a single project alone. Once a project is complete, you can't resurrect all those billable hours out of thin air.
Instead of talking all about how you need to get a handle on your time tracking– consultants and managers who need to do this already know all that– here's a hack to get it done: self-driving time tracking.
Self-driving time tracking is a smart feature that enables users to completely automate the time tracking process. The software gathers information from your Google or Outlook calendar along with your GPS location to essentially do all the time tracking for you. For example, if a consultant on your team has a busy week of meetings, their time will automatically be tracked while they're in those meetings. For onsite service, GPS location automatically tracks the time while the consultant is physically at the location.
The point of self-driving time tracking is to eliminate the need to manually track time. It's the AI future of time tracking, and it works. Instead of missing out on billable hours that will increase your profits on time-and-material contracts, every minute of work for that particular client can easily be accounted for.
3. Integrate invoicing with your time tracking
As a follow-up to numbers 1 and 2, integrating invoicing with your time tracking provides another great profitability hack. Again, there's a substantial reduction in manual errors, as no one has to physically enter or import time onto a spreadsheet.
When invoicing and time tracking are connected, invoices get created automatically.
Consultants in particular love this hack because they never have to waste any time creating an invoice to make sure they get paid. Adept time tracking tools should be able to integrate with your invoicing software and/or financial backend, so this hack really is just a matter of you setting up the integration (which is easy). Self-driving time tracking will already connect with invoicing as part of its smart functionality.
4. Get rid of software you don't need
How many platforms does it take for your team to get the job done? 5? 10? Of course, you need a tool for collaboration, to share important info around the tasks of your projects. You'll need invoicing and time tracking anyway, as illustrated above.
What other software licenses are lurking in your tech stack?
See if you can't jettison anything extra that you don't need. Also, you can save money by going with platforms that offer more than one facet of project management. For example, instead of having separate software for resource management, time tracking, and invoicing, you can get an all-in-one solution that does all three. Especially if you have a team of 5+ people, or you run a startup, the monthly/annual licensing fees charged per user by popular platforms can really add up.
5. Use role-based rates to stay inside your resources pool.
Do you have team members wearing multiple hats? Instead of outsourcing a particular role, which is both time-consuming and expensive, you can increase your project profitability by using role-based rates.
So when people are filling multiple roles within a project, they can get paid accordingly for what those roles are. For example, you may have a design consultant who charges, let's say, $125 per hour. Let's say you need a few hours of light graphic design work which this consultant knows how to do. In lieu of hiring outside your resources or paying this person their $125/hour consulting rate, you could propose a role-based rate for the graphic design work, specifically. If this consultant agrees, you could maybe pay $60-$75 per hour for the graphic design work, saving money and time on the overall project budget.
Role-based rates are not offered by every project management solution, but platforms with more all-in-one functionality as well as PSA software will usually provide this feature.
6. Capacity planning
Finally, if you want to hack the profitability of your projects BEFORE they even start, capacity planning will change your life. Capacity planning is not only an effective way to forecast the profitability of your projects, it's a fantastic way to utilize your resources to the best of their abilities and in a way that takes their own priorities into account.
That's because capacity planning can alert you to who is overloaded– aka at full capacity– and who could use a little extra work on their plate. You can then make informed decisions to move the project forward smoothly and keep your team members happy.
For small businesses, task-based capacity planning is usually sufficient to get a handle on completing different project phases most efficiently. More complicated projects with lots of stakeholders may require hours-based capacity planning; it's more granular and takes more time, but is probably one of the best ways to forecast and budget projects accurately. You can do capacity planning with a resource management tool as a siloed solution or within your project management software.