Agile Project Management for Microsoft Teams: Pros & Cons
by Qismat Riaz on July 6, 2022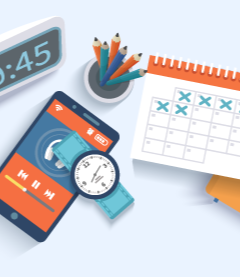 Microsoft Teams is used by countless organizations around the world to enhance collaboration and help teams keep all their necessary docs and processes in one place.
For project management in Microsoft Teams, you have a few options. One, you can stay within the solution, or two, you can get something that integrates with Teams. If you and your team use the agile methodology to facilitate your project management, you're in luck. Microsoft Teams has built-in functionality to help you with this.
Alternatively, you can get an integrated solution as well to help you cover your bases. As Microsoft Teams users ourselves, we've evaluated both using the platform itself and using an integrated solution for agile project management. Here's an overview of what you can expect using Microsoft Teams for agile project management.
In a nutshell, what is agile project management?
Unlike traditional or 'waterfall' project management which follows a linear series of sequential steps, agile project management is more iterative than linear, allowing teams to actively respond to dynamic circumstances.
The agile method tends to be preferable for startups and small teams who have people working in multiple roles. This method is also popular in software development, as bugs and issues inevitably pop up and must be dealt with as they occur.
Agile Project Management within Microsoft Teams
You can easily apply the agile project management method within the Microsoft Teams environment. Teams who use scrum will find they can get a lot out of the solution to achieve their goals, as both the scrum master and scrum team have a lot of functionality to keep things organized and on track.
By way of task management, Microsoft Teams pretty much has agile teams covered, as dependencies and alerts are easily customizable for when people have to adapt to an unexpected change. Friendly Kanban boards are easy to use and manage workflows in the Teams ecosystem.
What sets Microsoft Teams apart from most project management/collaboration solutions is its live chat feature. With Microsoft Teams, no one has to use Slack (though you can integrate it with Teams if you want) or Google Meet. A live chat feature that offers document sharing, video, phone calls, and group meetings is one of the major perks of using Teams for agile project management. You can truly keep all the information surrounding your projects in one environment.
Finally, another benefit of using Microsoft Teams for project management is that invoicing is included. A robust invoicing feature is not commonplace in most project management software– think Trello and Asana– but more and more agile, asynchronous teams are moving in this direction toward more all-in-one solutions. The more you can keep everything in one place, including invoices, the more you can increase the profitability of your projects.
Pros

:
Customizable story cards can be assigned to different channels, making for more detailed task management

Good for complex projects, as all project information is centralized and organized

Dependencies and alerts for tasks

Gantt charts included

Live chat and video great for scrum meetings

Kanban functionality for the win

Invoicing included in the Teams environment
Cons

:
Not super-intuitive; may require extensive research and training for scrum masters and teams
No built-in time tracking
Agile Project Management for Teams with an Integrated Solution
Not everyone digs the Microsoft environment, and some teams prefer more intuitive solutions for their project management. In this case, you can get a cheap project management tool that integrates with Microsoft Teams and also provides all the functionality you need for agile methods, including scrum.
FYI, Teams does not come with a built-in time tracking solution, so agile teams may want to go with a project management platform that offers a time tracker.
Last tip- While you can use Microsoft Teams to manage your contracts, an outside solution will do more of the work for you with features like templates, automated alerts, etc. For small service businesses that are growing and scaling, this is an attractive alternative.
Pros

:
More functionality
More customization
Built-in time tracking with many solutions
Smart invoicing with certain solutions is included
Better contract management
Cons

:
You may have to do some trial and error before you land on something you like
You'll have to pay an additional software license fee
Top Options for Agile Project Management for Microsoft Teams
If your team follows any of the agile techniques for project management, you're in luck with Microsoft Teams. We evaluated the top options and came up with a list based on the following criteria:
Our own experience
Online reviews
All-in-one functionality
Gantt chart functionality included
As users of Microsoft Teams, we have experience leveraging agile-style project management in both the platform itself and outside software. Here's what we consider to be the choices with the best value.
Microsoft Teams!


You don't have to reinvent the wheel. If you're already paying for Microsoft Teams, you can already do most of what you need for agile projects, including Gantt charts. Plus, you can streamline your communication and collaboration without onboarding other costly software.



Asana


People love Asana because it's affordable and easy to use. While Asana does not include invoicing, Teams does, so you can really cover your bases with these two platforms.



PSOhub


PSOhub is one of the most affordable all-in-one project management solutions out there. Its low cost and self-driving time tracking feature make it a great match for what you get with Microsoft Teams.





Wrike


Wrike also provides more of a holistic project management platform that agile teams love. Wrike has Teams integration that's easily set up with a quick visit to the Teams Store.


GanttPRO


GanttPRO is an agile team favorite among staunch users of– you guessed it– the Gantt chart. GanttPRO has some of the most robust Gantt chart features we've seen, and it integrates seamlessly with Microsoft Teams.
Final verdict
Our final verdict? Microsoft Teams has almost everything agile teams need, built-in time tracking. Gantt charts are there, and the chat feature makes scrum meetings easy. That said, if you want a bit more out of your Gantt charts, or you prefer a different environment for tasks and planning, a low-cost option like Asana or PSOhub that integrates with Teams will also provide long-term value.