Project Management for Slack: What are the options?
by Julie Bennett on May 9, 2022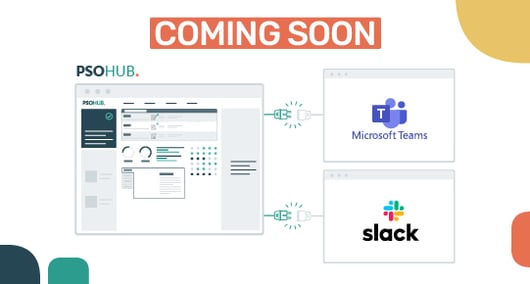 Slack has become the go-to tool for businesses around the world who want to quickly send messages and stay in touch with their team(s). The SaaS platform offers a ton of benefits by streamlining communications. Plus it's insanely easy to use. For many teams, Slack is a non-negotiable part of the tech stack. So if you're looking for a project management tool that supports the platform, it should provide an integration with Slack.
That way, you can get something to manage the ins and outs of your projects– budgets, contracts, planning, etc– while still using Slack to communicate information around your projects.
In fact, Slack becomes even better if it's linked to your project management software. Here's a list of project management solutions that are integrated with Slack. They're all viable options within a reasonable price range.
What you'll learn:
The pros and cons of each
How much they cost
What they cover from a project management standpoint
What the online reviewers are saying about the integrations
What to look for
Project Management for Slack: The Top 5
Why people love Slack
Slack is a collaborative tool that allows users to communicate through instant messaging. You can create channels and workflows to streamline your team's communications, and Slack is known to be extremely user-friendly. The platform itself is powerful, with users from small startups to Fortune 500 corporations in all corners of the world.
In fact, if you start poking around to look at how many people actually use Slack, the numbers are astounding. If you look into the statistics, it's clear just how much Slack has grown to become perhaps the most-preferred messaging/collaboration tool for businesses:
For example, every weekday, Slack usage globally surpasses 1 billion minutes.
Over 10 million people use Slack on any given day.
According to Slack,

65 out of the Fortune 100

use Slack.

Slack users

reduce emails by 32% and meetings by 23%.
Slack is beloved by some of the largest companies in the world like Amazon and IBM and also by small teams that are just getting started. In fact, Slack was initially a failed video game that turned into a messaging platform. That attention to user experience has earned the app a well-deserved reputation for making collaboration easier, especially for global teams.
What are the benefits of getting project management software for Slack?
Keep it together.
When it comes to workflows and information surrounding tasks, you need to keep everything as organized as possible. When communications are flying all over the place in different emails and spreadsheets, things get lost in the shuffle. Many startups learn this the hard way before getting a tech stack to automate their processes. When your project management software links with Slack, you can keep all your conversations streamlined and connected to the projects and tasks they correlate with.
Get better at collaborating around projects.
People need project management to deal with the actual project, but people also really love using Slack. Slack messages are lightning-fast, and it's easy for teams to update each other in a flash while working on something important or time sensitive. With the financials, tasks, budgets, and planning in your project management solution and your linked Slack channels, you can increase collaboration and harmony among your team.
Get alerts and notifications where you're already working.
This is one of the biggest benefits of linking the two reported by users online: You can do project-oriented tasks without leaving Slack. The integrations on our list enable users to do things like add tasks, update project status, and more within Slack itself.
Save $$$
Because of the increased efficiency of collaboration provided project management for Slack, businesses can save money on time spent on emails and meetings specifically.
You'll get more out of it vs keeping the two siloed.
If you already have Slack and a tool to manage your projects, you'll get more out of them both if you choose to integrate the two. Having too many siloed solutions is a negative for productivity, and it also increases the risk of error from manual data entry, etc.
How We Made This List: Top 5 Slack project management integrations
Pros & Cons
We list the pros and cons of each project management solution we've chosen that integrates with Slack. To make the list, pros have to outweigh cons. The benefits and drawbacks include everything from cost to cool features and more. UX is heavily weighed and based on our own experience with the various platforms.


Value
Value isn't the same thing as what something costs. There are a lot of free project management platforms out there, and some of the tools on this list have free versions. But whether or not a tool has a free version, we purposely selected Slack project management tools that go far by way of value, offering powerful software to make managing projects easier. These options are worth the spend, when used to their potential.
Top-notch functionality presents itself by way of self-driving technology and project management features that are top-of-mind, things like task management and invoicing. We didn't put project management options like BaseCamp or Microsoft Teams on our list, since these contain robust chat features that Slack already provides.
Finally, not all integrations are created equal. Sometimes an integration can really do cool things; other times, an integration can seem like it doesn't really 'do' anything. In addition to listing pros, cons, and features, we dug into online reviews for each of the best Slack project management tools. That way, you can see from a more collective perspective that the tool indeed provides value.
Top 5 Project Management Options for Slack
1. Asana + Slack
Project Management Features: Planning, Tracking, Budgeting, Task Management, Time & Expense
Cost: FREE version + Starts at $10.99/user/month
Pros:
Leader in task management
Approachable and easy to use
Plan, budget, and track your projects
Time tracking available
Link your projects to channels on Slack
Cons:
Asana is consistently rated #1 in project management and has been dominating the space for a few years now. People love Asana because it's easy to use. In fact, it's so intuitive, most users don't need any official onboarding or training. People can easily experiment with the colorful interface to get Asana to do what they want it to do. With Asana, you can easily monitor workflows and where your task management stands at all times. As far as the Slack integration, you can easily link your Asana projects to discussions and channels. You can also create Asana tasks within Slack, for truly seamless task management around all the actionable items of your projects.
2. PSOhub + Slack
Project Management Features: Planning, Tracking, Budgeting, Task Management, Time & Expense, Contract Management, Invoicing, Capacity Planning
Cost: FREE trial + Starts at $8.50/user/month
Pros:
All-in-one project management
Helps lighten tech stack and save $$$
Self-driving features
Smart invoicing built-in
Tailored to professional services
Cons:
Unnecessary functionality for some entrepreneurs and small teams
PSOhub offers an all-in-one project management suite for a fraction of the price, when compared with adding all tools needed for contract management, invoicing, etc. The solution caters to professional services and is a favorite of digital marketing agencies, IT firms, development teams, accountants, and more. In addition to covering the full spectrum of project management needs, PSOhub includes next-generation features like self-driving time tracking and predictive analysis, making it literally a 'smarter' solution. Online reviews demonstrate that small businesses really love the built-in invoicing in particular. The Slack integration with PSOhub enables users to fully close the loop on sharing information around projects, helping boost efficiency even more for global teams.
3. Monday.com + Slack
Project Management Features: Planning, Tracking, Task Management, Collaborative Docs
Cost: FREE version + Starts at $8.00/user/month
Pros:
Great for developers and content production
Bonafide task management
Can replace Google Docs and other word processing
Comprehensive dashboards with analytics
Share project progress instantly on Slack
Cons:
No invoicing
No time and expense
Monday.com is the dark-horse project management favorite of developers that provides detailed task management in an easy-to-use environment. One of the features users love the most from Monday.com is Docs, where you can collaborate on documents in real time that are automatically connected to your tasks and projects. You can effectively put all your team's documents in Monday.com for more secure and synchronized collaboration. Like the other project management tools on this list, Monday.com has a popular mobile app. Analytics and dashboards help managers and owners stay on top of progress, while the Slack integration enables everyone on your team to communicate everything that's needed around a project more securely and quickly.
4. Airtable + Slack
Project Management Features: Planning, Tracking, Task Management, Capacity Planning
Cost: FREE version + Starts at $10.00/user/month
Pros:
Easy-to-use and intuitive
Favorite of content creators and digital agencies
High flexibility for developers
Lots of automated features
Airtable updates automatically ping Slack
Cons:
No invoicing
No time and expense
Airtable is a highly flexible, low-code project management platform that can do pretty much anything you can dream of related to task management. Airtable is known for their life-saving templates at every turn, and users can even create customized interfaces within the platform. Like Asana, Airtable is colorful, intuitive, and easy to use, with little to no training required for most small teams. As a project management solution for Slack, Airtable helps teams become even more efficient by streamlining all the information you need to manage around projects. With the integration, Airtable updates can automatically ping Slack, so everyone knows project status as it's happening, where they're already working.
5. Trello + Slack
Project Management Features: Planning, Tracking, Budgeting, Task Management, Time & Expense, Capacity Planning
Cost: FREE version + Starts at $5.00/user/month
Pros:
Super user-friendly
Wide range of applications across all industries
Great for small businesses and entrepreneurs
Very affordable
Add Trello cards to your boards within Slack
Cons:
Finally, Trello makes it into the top 5 project management options for Slack with its signature Trello cards and boards that are helping people all over the world get more organized. Trello streamlines workflows in a strikingly simple way, without sacrificing functionality surrounding task management. The result is that everyone from nonprofits and housekeepers to medium-sized businesses can easily leverage Trello's software features. You can track time and expense with Trello and accurately plan your resources, for more control over budgets and planning. With the Trello integration for Slack, you can add new Trello cards to boards without ever having to leave Slack. Users can also get automated card and board previews on their chosen Slack channels.
Your Project Management for Slack: What to Look For
We've presented you with what we consider the top 5 project management solutions out there that integrate with Slack.
Asana, PSOhub, Monday.com, Airtable, and Trello all provide viable options by way of project management. And with the Slack integration for each, you can up your collaboration game even further. Plus, you and your team can do a lot with these platforms within Slack itself, so people can stay focused and not jump around.
To close, remember these final tips when choosing or switching to one of these Slack project management tool:
Make sure you get enough features that are important to you, like invoicing.
Make sure you can link it to your CRM, too.
Integrate your financial backend.
Keep it together! Try to do more with less in your tech stack.
PSOhub offers all-in-one project management for teams in 40+ countries around the world. With built-in invoicing, self-driving time tracking, and powerful integrations with Slack and the most popular CRMs, PSOhub is the go-to for professional services. The software is tailored to professional services, marrying project management with powerful automation. Learn More