Top 7 Billable Hours Software 2023: The Best Billable hours software
by Claudette Albers-Reid on January 25, 2023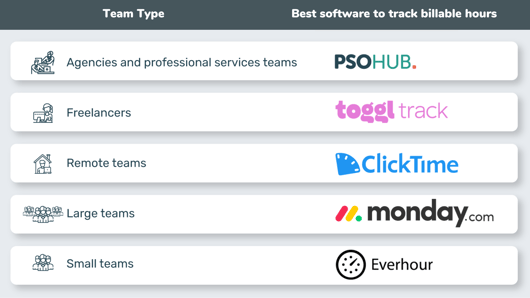 If you are a service business or a freelancer, the lifeblood of your income comes from billable hours– aka the time that you charge your clients for services.
Keeping track of your time using spreadsheets and handwritten memos is a clumsy routine of the past. Now, you have a myriad of software options to make the entire process more seamless and more accurate.
Efficient teams leverage billable hours software not only to track time accurately but to be able to track what is billable versus what is not.
Our list contains the top billable hours' software in 2023, based on our list of criteria that includes relevant features, reviews, and more. Check out these solutions that are affordable and easy to use:
2023 Best Billable Hours Software Review

1. Harvest

- Most popular/Easiest to Use
Harvest remains one of the top choices in billable hours software, primarily because it's just so easy to use. You can get started for free, and for freelancers with just a couple of projects, you may be able to get away with the free version until the business grows and scales.
Harvest creates tools to track time and also helps managers/owners understand how that time is being used. The platform can also track time across multiple projects, a necessity for any growing business. These capabilities and more make Harvest an effective tool for tracking billable hours, regardless of how many team members and projects you have worked at once.
Each time entry made in Harvest comes with a memo attached, so everyone can detail exactly what they're working on. You can also set up parameters for different roles and projects within Harvest with set billable rates.
So for example, if a consultant is billed differently for multiple roles, they can simply select the role or project for the tracked time. This information is relayed to invoicing, so you can always clearly see billable versus non-billable time with your team members.
While Harvest does not offer automated invoicing, it does make the process easier and can connect to your invoice management and/or your financial backend.
Standout Features:
Integrated online payments- You can get paid faster for your billable hours with the online payments that come with Harvest. This is a unique feature on our list not offered by the other solutions. Clients can use PayPal or Stripe to pay invoices in just a couple of clicks, but those are currently the only two payment processors natively supported by the platform.
Analytics at-a-glance- Although Harvest doesn't have deep-dive analytics, anything you want to know about your team's time can easily be tracked and displayed on reports. This is particularly important for billable hours, as you can visually see what's happening with your team's billability over time.
Popular integrations- Harvest provides a long list of integrations with popular tools to make time tracking even easier. You can connect to task management a la Asana and Trello, as well as your favorite communication tools like Slack and Outlook. If you don't see your team's favorite software on the list, you can set up a third-party integration with Zapier.
Pros:
Friendly, easy-to-use interface

Works for businesses of all sizes

Easily differentiate billable vs non-billable time

Provides online payment options for clients via PayPal and Stripe
Cons:
Limited functionality beyond time tracking
Pricing: FREE 1 seat and 2 projects; PRO $10.80 pu/pm billed annually
What reviewers say: Harvest currently receives a 4.3 out of 5 on G2. Most of the 5-star reviews reference how easy it is to onboard Harvest, with little-to-no training required by supervisors and individual staff. G2 reviews of 3 stars or less were written more than five years ago and reference features that Harvest has since implemented in the software.
2. PSOhub - The best overall value
PSOhub is the best overall value for billable hours software because it covers all the bases of project management while making time tracking and invoicing a seamless process. PSOhub was specifically designed for professional service organizations (hence the "PSO"), so it's extremely intuitive for consulting firms, marketing agencies, and more.
The original design for the software is based on the HubSpot experience, as this was the first native CRM integration added to PSOhub. HubSpot users love that PSOhub looks and feels just like their CRM.
But PSOhub doesn't just connect with HubSpot; there's a native integration for Salesforce and Dynamics 365 CRM systems as well. PSOhub relays data two ways with your CRM, so you can go from deal to cash without skipping a beat and without having to switch back and forth between platforms.
PSOhub calls itself all-in-one project management software, which it is, but there's an interesting twist. The platform doubles as a PSA solution, which means it's chock-full of automated features specifically created to lessen the time-suck of admin work. This means teams can be more efficient and more billable.
As far as tracking billable hours go, it's hard to find a comparable tool. Self-driving time tracking from PSOhub remains the easiest, most automated way to track billable hours. At present, none of the other solutions on our list offer this advanced feature.
Standout Features
Self-driving time tracking- This standout feature makes PSOhub different from every other option on our list. Self-driving time tracking can make it so that you accurately track time across projects, without having to actually 'track' it. With PSOhub, you can go from your Google or Outlook calendar to invoice without effort. If you use the calendar integration, PSOhub will track your billable hours and allocate it to the correct project automatically.
Invoice automation- A large portion of PSOhub converts come to the platform for invoice automation. You never have to create an invoice ever again, as you can get your billable hours automatically populated on your invoices. This makes creating, sending, and approving invoices a breeze and helps teams get paid correctly and on time, every time.
All-in-one project management- PSOhub offers all-in-one project management that extends to all users and syncs seamlessly with the world's most popular CRMs. This all-in-one functionality includes billable hours tracking, expense tracking, resource management, project planning, task management, contract management, and more. All at a low price that's competitive with software with a fraction of the capability.
Pros:
Highly affordable

Tons of automated features to reduce admin drain

Built-in profitability reports

Designed specifically for professional services

Native integration with HubSpot, Salesforce & Dynamics 365
Cons:
Limited verified online reviews
Pricing: $8.50 pu/pm Base; $12.50 pu/pm Starter; $16.50 pu/pm Rise; $20.50 pu/pm Growth (billed annually)
What reviewers say: Admittedly, PSOhub doesn't have thousands of verified online reviews like a couple of other options on our list. That said, PSOhub gets glowing reviews across the board, but HubSpot users in particular seem most pleased with the interface and overall ease of use. Many reviewers say they have ended up with PSOhub because of its all-in-one functionality, especially with regard to invoicing.
3. Toggl Track

- Great for Freelancers
Toggl Track is one of the most affordable choices for software to track billable hours. Toggl lets you seamlessly track your team's time across multiple projects and clients without breaking the bank.
Toggl Track's forever-free version is ideal for freelancers and provides an awesome idle-time detector to help keep productivity levels high.
Small businesses and larger companies alike use Toggl Track to manage billable time. Currently, Toggl Track has over 5 million users across the world and can integrate with other tools via a browser extension.
Toggl Track doesn't offer much by way of functionality, which keeps the price low and the ease of use high. But as far as a bonafide billable hours tracker, it does everything you need it to do. For example, team members can easily track time anywhere with the mobile app. You can easily generate reports on the profitability and billability of your team. Invoicing is not included with Toggl Track, so users have to export this data into their billing software.
For more of a well-rounded project management approach, users can adopt Toggl Plan to handle project planning, resource management, and task management. Toggl Plan requires an additional licensing fee, but all-time tracking data from Toggl Track will sync automatically.
Standout Features:
Easy-to-understand reports-

Toggl offers out-of-the-box reports that are remarkably simple and easy to understand. No need for coding or any special knowledge. You can generate these reports to present at meetings and to gain insights into your team's

billable utilization

.

Billable rates- You can assign different billable rates for your team. This means that consultants and other individuals can easily track their time across multiple projects and contracts, with the appropriate rates already built-in.
Cool browser extension- Toggl Track's browser extension has a couple of cool features that are ideal for freelancers and service firms alike who need to track their billable hours. Included are the Pomodoro timer– a hipster time-blocking technique for productivity– and alerts for idle time. These features can help teams increase their time efficiency and maintain focus throughout the service lifecycle.
Pros:
Seamless billing included

Easy to use

Free version for up to 5 team members

Included desktop and mobile app

Pomodoro timer and idle-time alerts
Cons:
Have to export time tracking data for invoicing

Have to add Toggl Plan for more functionality
Pricing: FREE version and $9 pu/pm Starter
What reviewers say: Salesforce users are big fans of Toggl Track and enjoy the native integration that makes tracking time in the CRM a seamless experience. Toggl Track currently enjoys an overall rating of 4.6 out of 5 stars on G2. Most reviewers remark that ease of use and affordability are their favorite things about Toggl Track.
4. ClickTime - Billable Hours Tracker & More
ClickTime is known for its billable hours' tracker geared toward service businesses like marketing agencies, consulting agencies, and the like. But ClickTime offers much more by way of project management.
ClickTime provides full-fledged resource management software that connects with the billable hours' tracker. You can plan your resources, manage capacity, and log time all within the same platform.
ClickTime's time tracker is hailed by users as easy-to-use, with a convenient mobile app that lets managers and team members stay on top of their time, wherever they work. Remote agencies are fans of ClickTime to help their team operate efficiently when it comes to billable time.
Consultancy firms use ClickTime for expense tracking that's included at all levels of licensing. However, resource planning, budgeting, and employee utilization functions are only available in the Premier package at $24 pu/pm billed annually.
Finally, ClickTime provides a lot of value with its analytics and reporting. You can use pre-existing reports or get as customizable as you want. Display your analytics on dashboards for owners and C-Suite for an automatic presentation visual and real-time update.
Standout Features
Real-time billable hours tracker- ClickTime gives managers and owners a real-time perspective on their team's billable hours as they happen. This feature was designed with service businesses in mind to help them increase billability and profitability.
Resource planning- ClickTime's resource management suite gives managers everything they need to effectively plan resources. Use capacity planning to shift work when necessary and maximize employee utilization.
Easy-to-use mobile app- Users praise ClickTime's mobile app which makes time tracking a breeze for remote teams and consultants who may have to bounce around. In particular, consultants love the expense tracking from ClickTime that lets them submit expenses with their smartphone in a couple of clicks.
Pros:
Includes expense tracking

Comprehensive resource management

Well-reviewed mobile app

Customizable reports & dashboards for managers/owners
Cons:
Not super-intuitive

Pricey if you want more features like budgeting and resource planning
Pricing: $10 pu/pm Starter; $13 pu/pm Team; $24 pu/pm Premier; Enterprise quotes available upon request
What reviewers say: The bulk of reviews for ClickTime are positive, and the platform currently enjoys a rating of 4.6 out of 5 from G2 reviewers. A lot of users specifically mention the billable hours' tracker, and it appears that a large number of remote teams appreciate ClickTime's easy time tracking and custom report generator.
5. Everhour - Cheapest Billable Hours Tracker
The cheapest billable hours software that actually has adequate functionality has to be Everhour. Although scant on features in the free version and entry-level licensing, Everhour is remarkably easy to use and highly affordable at the team level. Everything below their price does not fulfill the criteria to be on this list.
With Everhour, you can do your budgeting, time tracking, and invoicing all in the same place. Instead of exporting any data, automatically create an invoice based on your time and expense data. When connected to your financial backend, Everhour makes invoicing and billing a painless process.
Everhour provides native integrations with some of the most popular task management tools like Asana and Monday.com. However, Everhour provides comprehensive task management on its own platform. You can easily create, assign, edit, and upload documents to tasks with Everhour. Potentially, businesses of 5 or more can save a lot of money by simply onboarding Everhour to handle their projects, tasks, resources, and invoicing.
Plus, Everhour provides billable rates, great for consulting businesses and startups whose team members may be acting in multiple roles on multiple contracts. With Everhour, you can skip the confusion and automatically bill to the correct project.
Standout Features:
Valuable integrations- Everhour is a cheap billable hours tracker that integrates with most of the popular tools that small businesses use. You can connect with collaboration tools like Slack and accounting with QuickBooks and Xero.
Connected invoicing- With Everhour, you can quickly and easily generate an invoice based on tracked time and expense. Connect with your financial backend and ensure your invoice management is on point.
Scheduling & task management- Everhour helps businesses stay on top of their people with a full scheduling suite. Perfect for remote teams, managers can create timelines and see where tasks stand.
Pros:
Highly affordable

Billable rates

Easy to use

Budgeting & invoicing included

Integrates with popular project management tools
Cons:
Fewer verified reviews online

Need a minimum of 5 users to get all the features
Pricing: FREE version; $5 pu/pm Lite (2 or more users); $8.50 pu/pm for Team
What reviewers say: Admittedly, Everhour has fewer verified online reviews than the other billable hours' software on this list. There are currently under 150 reviews for Everhour on G2, but the overall rating is solid at 4.7 out of 5 stars. People consistently mention that Everhour is easy to use and helps their business stay on top of time management.
6. ClockShark

- Best for In-Field Service Businesses
So far, all the billable hours' software on our list has catered toward professional services who spend most of their billable hours in an office or working remotely. In-field service businesses have different needs, as multiple employees may be working on multiple projects across a large area. It's critical that construction organizations like this have a good grip on where everyone is and how they're spending their time. Enter ClockShark.
ClockShark is ridiculously easy to use, with a clean interface and seamless UX. Employees can utilize the mobile app to track time while on job sites and the browser extension for work inside the office.
Another cool thing that makes ClockShark different from most other billable hours software is its facial recognition kiosk. When desired, you can download ClockShark's kiosk app on a smart device and place it at the job site. In this scenario, all that's needed to clock in and out is a quick look at the camera. This is an excellent way to prevent timesheet theft and also, to keep a truly accurate record of time-tracking data.
ClockShark offers multiple integrations and includes the major accounting software on that list. While they don't offer payroll, these integrations make it possible to pay employees correctly and on time with just a couple of clicks.
ClockShark also offers invoice management. Though you can't automate the process, as with PSOhub and other PSA solutions, they provide a full suite of invoice management where you can easily differentiate between billable and non-billable time. ClockShark also helps you out on the customer experience with this one, as clients can see exactly what they are being billed for, without the legwork on your part.
Standout Features:
Real-time GPS time tracking- Perfect for construction companies, ClockShark provides real-time GPS time tracking. Dashboards display where employees are working at any given time, whether in the field or in the office.
Spanish language support- This is one of the coolest things about ClockShark which is super-tailored to US construction work. The software offers built-in Spanish language support, even with the Standard licensing. Since statistically, a huge chunk of US workers in the field are fluent in Spanish, this feature can really help managers and owners who haven't mastered Spanish as a second language.
Facial recognition kiosk- In addition to mobile and desktop time tracking, ClockShark has a kiosk app you can download that uses sophisticated facial recognition. If you choose, you can have one singular point of clocking in and clocking out onsite. All the employee has to do is move their face into the camera view of the phone or tablet, and voila: no clocking in for other employees and guaranteed time tracking accuracy.
Pros:
Tailored to in-field service businesses

Invoicing included

From quote to cash in hand

Integrates with QuickBooks, Paychex, and Xero
Cons:
Limited reviews

More expensive
Pricing: $16 per month + $7 pu/pm for Standard; $30 per month + $9 pu/pm for PRO
What reviewers say: As of this review, ClockShark enjoys 4.7 out of 5 stars on G2. However, there are less than 300 reviews that have been published by the popular software review site. Of what we've seen, construction companies are the most popular users and laud seamless time tracking and billing. Multiple reviews cited that while ClockShark is great for small and medium-sized businesses, larger organizations with 100 employees or more may not be a great fit.
7.

Monday.com

- Best for Digital Marketing Startups
Monday.com is one of the bigger players in the project management space. This is more of an all-in-one platform which makes it a great value for marketing startups.
For starters, Monday.com has its own CRM. You can manage all your customers and sales from deal to cash without ever leaving the platform. From there, you can get into the nitty gritty of project management, including resource management and of course, billable hours.
Monday.com can track the billable hours of everyone on the team and keep everyone in the same digital environment. From your sales team spending the majority of their time in the CRM to your creatives on the project management side, you'll have visibility into it all with this all-in-one solution.
Monday.com is known for its attractive interface and relatively straightforward UX. You can group your task boards into folders and use the platform's slew of templates to save major time on new projects.
Finally, one of the biggest value-adds of Monday.com is customizable automation. This can help startups and large businesses alike reduce a lot of admin drain while still remaining in control of the sales-to-project pipeline.
Standout Features:
Custom automations- Users love the custom automations that can easily be set up with Monday.com. The list of what you can do in this regard is pretty long, from custom reminders to budget-overspend alerts. If you can't figure out how to set up the automation you want, odds are, a quick call with support will get you where you need to be.
Rolodex of integrations- Because Monday.com is popular and used by big-name businesses like Coca-Cola and Hulu (just to name a couple), they've really stacked the deck with integrations. If you're using it, you can bet that Monday.com integrates with it. Slack, Outlook, the gang's all there. These integrations are very easy to set up and are praised by various verified users.
Track time directly on the task board- No matter how you like to manage your tasks, you can do things your way with Monday.com's task management suite. Kanban boards, a favorite of digital marketers, can help you streamline your workflows, while real-time Gantt charts can help you plan more complicated projects. The ability to track time directly in the task cards is a slam dunk to determine billable versus non-billable hours.
Pros:
Well-established with tons of positive reviews

CRM included for startups

Billable hours plus all your project management needs

User-friendly

Customizable workflows
Cons:
Not ideal for solopreneurs and freelancers
Pricing: Forever FREE version for up to 2 users; $8 pu/pm for Basic; $10 pu/pm Standard; $16 pu/pm for PRO. All prices reflected are billed annually. Enterprise businesses and those who have more than 40 users can contact Monday.com for pricing.
What reviewers say: There are currently almost 7,000 reviews for Monday.com on G2, and the solution hovers at 4.7 out of 5 total stars. Most reviewers praise Monday.com for its task management and the way it makes overall operations more efficient.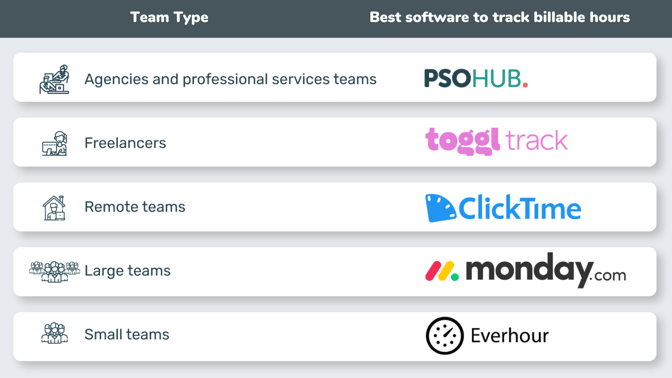 How we made this list
If you're looking for billable hours software, there are a lot of places to turn. That's why we made a list of criteria to vet the top solutions that people are using in 2023. Here's the benchmarks we used to pick our top contenders:
Easy-to-use time tracking
Billable hours software is only as good as the time tracker that it provides. When selecting the best platforms, we made sure the time tracking provided is easy-to-use. These software solutions use features like a mobile app to help teams track their time as seamlessly as possible.
Integrations with popular tools
Checking out the native integrations of any software platform is a good idea to get a feel for how well they know their customers and how much they're committed to providing a seamless experience. When reviewing software to track billable hours, we looked for solutions that connect to popular tools used by small businesses. CRM integrations, calendar integrations, and integrations with collaboration tools like Slack all make for a stronger candidate to help your team get more billable.
Affordability
Many times, people end up paying a high price for software that has too much functionality or specification that their business simply doesn't need. Also, the time tracking software space has grown substantially in the past few years. There's more competition and more companies that are offering highly competitive prices to use their platform to track billable hours. Ipso facto, we focused on affordable software that provides a lot of value for the price.
More valuable features
Billable hours software is essentially glorified time tracking software, and simply keeping track of time doesn't provide much value to businesses. That's why we kept our eyes open for solutions that include other valuable features related to billable hours: resource management, invoicing, project management, and the like.
Verified online reviews
Even before you start a free trial with any type of software, it's always a good idea to look at verified online reviews to see what users are saying. For this list, verified reviews played an important part in determining what the most celebrated features are for each billable hours solution, as well as negative aspects that you won't find listed on the company's websites.
How does billable hours software work?
Billable hours software enables individuals and teams to track time that will be billed to a customer for a project or service.
If invoicing is included with your billable hours software, you can automatically create invoices based on tracked time and expense. If not, you can connect your billable hours software to your invoice management and/or financial backend.
Billable hours software should always provide a time tracking tool as well as a way to determine billable versus non-billable time. Managers can do this by setting up parameters within the solution or by simply having team members fill out the memo section of time entries to explain where that time is going.
Benefits of Billable Hours Software
Whether you are a freelancer, a small team, or you manage a large group of consultants, if you are charging clients per hour, you need to keep an accurate account of said hours. That's exactly what billable hours software accomplishes. Here are the high-level benefits you can expect from onboarding software that tracks billable hours:
Track time accurately
Forget guesstimating after the project is over or having consultants round up their hours. You can get laser precision as to how much time is to be billed down to the minute.
See clearly where time is spent
Billable hours software will help you distinguish easily between billable and non-billable time. Billable hours contribute to earnings whereas non-billable time does not contribute directly to projects or client services. Being able to see what's billable and what's not quickly and easily can give you major insights into what you may or may not need to change as far as internal processes.
Track time across multiple projects and teams
Project managers overseeing multiple projects and teams can keep all their time tracking information together in one place versus having to create a different account each time. Billable hours software will also put your time tracking data in digestible format with dashboards for productivity insights at a glance.
Save time on admin
Instead of having to search through multiple spreadsheets, emails, software solutions, etc, billable hours software will track time for you and most often, even generate an invoice. This can save you and your team major time on submitting timesheets, reviewing them, and putting together invoices based on those entries. Internal admin time is not considered billable, so by reducing it, you can help increase the profitability of your projects.
More visibil

it

y
Billable hours software does more than track time. It provides analytics that can be displayed on real-time dashboards. Managers and owners gain more visibility into time management as it happens. Easily spot kinks in the armor, errors, and productivity lapses.
Focus on profitability
You can focus more clearly on the profitability of your customers and your projects if you have solid data that explains where all your team's time goes. Some billable hours software solutions have profitability reports built-in, so you can get this information in just a few clicks.
Decrease billing errors
It's critical to bill your customers accurately, both to get paid for your work and to maintain trust in the client relationship. Software that tracks billable hours can connect to your invoice management and financial backend. If it doesn't (not the most efficient way), the solution will allow you to easily export your time tracking data to whichever invoice tool you're using.
Billable Hours Software Checklist
Not all billable hours software is created equal, something we noticed in our research of the world's most popular solutions.
The standout software will contain certain features and functionality that make time tracking and billing seamless and easy. Here's a checklist of what to look for to make sure you're getting the best value:
Integration with your CRM (if you use one)
Real-time dashboard for managers and owners
Connected to or included with project management software
Integration with your invoice management
Mobile app for time tracking on the go
Browser extension for employees to track time
Included resource management features like capacity planning
Billable Hours Software FAQ
What are considered billable hours?
Time spent working on a project or service that can be billed to the client at an hourly rate are considered billable hours. Billable hours include all time on tasks that are directly related to the project or servicing the customer.
Some examples of billable hours include project planning and research, meetings with the client, communications related to the project (like emails), tasks to complete deliverables, service tasks, customer requests, and any other work included in the project scope or service agreement.
Non-billable hours make up all the work tasks that cannot be billed to the client. This is time that does not directly contribute to the completion of the project or service.
Examples of non-billable hours include team networking events, internal admin, team-building exercises, time spent on marketing, and any other tasks outside the scope of the project or contract.
How do you keep track of billable hours?
To keep an accurate account of your billable hours, regardless of what tools you're using, you'll need to follow 5 steps. First, you have to select your resources and their hourly rates aka billable rates. Next, set up a billing schedule that will determine how often you invoice your client for the work. Third, set up a time log for the project or service agreement that will keep everyone's hours in one place. Next, track the time that is billable either with software or by having team members submit their hours. Finally, calculate the total billable hours and invoice the customer according to the parameters of the billing schedule.
The big value of billable hours software is that you can accomplish all these steps with just a few clicks. No spreadsheets or guesstimating are needed. Your solution will automate much of the process and keep your time-tracking data secure.
What's the difference between billable hours software and time tracking software?
This is a great question, since many time tracking software solutions double as billable hours software. However, they are not exactly the same thing. Here's why:
Standard time tracking software is solely concerned with tracking time. It does not differentiate between what is billable and what is not, and it may not have any way for you to connect your time-tracking data to your invoicing. Think of the stopwatch on your smartphone. This can technically be considered time-tracking software, though it literally does nothing else but stops and start a timer.
On the other hand, billable hours software is concerned both with accurate time tracking and with what is billable versus non-billable time. It can show you this information via analytics on a dashboard. Also, billable hours software always has a way to communicate to or connect with invoicing, hence the word 'billable'.
At what point do I need billable hours software?
If you are in the professional services sector, you will need billable hours software from the jump. It doesn't matter if you are a solopreneur or have just a couple of team members– you will need to accurately track billable hours before your business grows and scales. The software on our list is top-notch and will scale with you, so you won't have to worry about switching solutions as you grow your business.
Review Round-Up
Billable hours software is a non-negotiable for any freelancer or professional service business that bills clients by the hour. This type of software will help you track your time organization-wide as well as help you more seamlessly differentiate between billable and non-billable time.
Most of the platforms on our list hover around the same price point, but different businesses will flock to different solutions depending on their needs:
To get started quickly with an easy-to-use platform, you can use Harvest as your billable hours' software and connect it with your financial backend to make invoicing easier.
PSOhub provides the most overall value in billable hours software because of its all-inclusive functionality that covers all the ins and outs of project management, especially for CRM users.
If you're a freelancer, Toggl Track is a low-cost option that can give you everything you need to correctly track your time and create an invoice for your customers.
ClickTime is more than just a billable hours tracker, with awesome features for resource planning and a highly-rated mobile app that makes time tracking insanely easy.
If you want the cheapest billable hours tracker without skimping too much on functionality, Everhour has a forever-free version and very affordable pricing for small businesses.
For construction companies and other in-field service businesses, ClockShark is a slam dunk that provides managers and owners with real-time data from GPS time tracking technology and facial recognition capabilities
Finally, Monday.com is an excellent choice for digital marketing startups because it can also be your CRM while handling the ins and outs of daily operations.
Final Note
Make sure that you choose a billable hours software solution that provides your business with a seamless experience. This piece of your tech stack should be able to effectively track time across multiple projects and analyze the data. All the options on our list have a free version or free trial to get your feet wet, so you can see which is the best fit for your service business.