The Best Harvest Alternatives for Time Tracking in 2021
by Catherine Rozyczko on January 7, 2021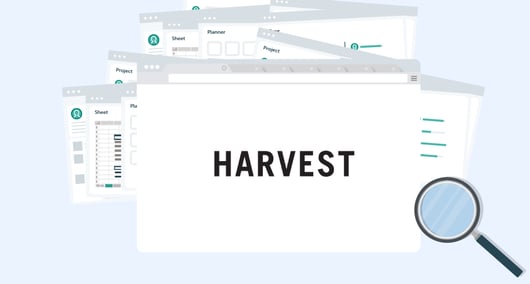 Looking for a time tracking solution for you and/or your team?
Harvest is an incredibly popular tool, but alternatives with better tech and more nuanced features may be the better choice to get a grip on your time tracking. Depending on the size and needs of your organization, you should consider a few options besides Harvest that can level-up your time tracking game.
Check out these popular time tracking alternatives to Harvest that businesses are using in 2021 to track and manage time.
Everhour
Everhour is a popular alternative to Harvest, largely because of its key integrations with trendy project management platforms like Asana, ClickUp and more. Everhour goes beyond time tracking for more financial visibility and time management. In addition to time tracking, you can set budgets in Everhour and receive notifications to stay in the loop. The platform also can take care of your scheduling and even provides a task management feature. Everhour is one of the leaders in a trend for 2021: time tracking platforms stepping it up to offer more features that can help teams with other components of project management.
PSOhub
PSOhub provides an excellent alternative to Harvest since it's already an all-in-one project management solution. Whereas Harvest and other time tracking software will usually need to connect with your project management solution as well as your financial backend, PSOhub has time tracking built-in. From a price perspective, it makes more sense to use less platforms, and that's one of the strongest value propositions PSOhub presents.
"Plus, PSOhub offers GPS time tracking and innovative self-driving time tracking. With self-driving time tracking in the PSOhub ecosystem, you'll never have to input your time or even send an invoice again."
Hubstaff
Hubstaff offers one of the top choices in time tracking software for businesses of all sizes, in a large variety of industries. The platform is known for being elegant, clean, and extremely easy to implement and use. Employee monitoring features like app and URL tracking make the solution ideal for organizations managing people who are working from home, sometimes halfway across the world. Hubstaff is also payroll software, so instead of integrating with another solution, you can send payments directly in the platform. With GPS tracking and other awesome features, Hubstaff drives a hard bargain with the seamless experience they offer.
Time Doctor
Time Doctor is a highly popular Harvest alternative, especially for larger organizations. Businesses like Verizon, Remax, and Ericsson use Time Doctor to effectively track time and monitor time for employees and consultants all over the world. With Time Doctor, you can track time across all your devices and integrate with a few project management tools like Teamwork and more. Time Doctor is known for its customizable and effective time management features, like nudging team members when they get distracted on the web during work hours. Time Doctor also integrates with Slack, making it a top choice for teams already steeped in multiple platforms.
Worksnaps
Worksnaps presents a preferred time tracking software for global teams who work from home, and it's great for everyone from solopreneurs to startups. Although Worksnaps isn't necessarily a top Harvest alternative for large organizations, it's an affordable platform that can really help small businesses and freelancers get a handle on their time tracking. Worksnaps is also preferable for managers who need to see at-a-glance where their team stands on a project. With integrations to many favorite project execution tools, Worksnaps offers great value for the price.
Roundup - Harvest Time Tracking alternatives
Harvest isn't the only platform with skin in the time tracking game. Everhour is a preferred solution for customizable features, while Hubstaff offers a lot of value by offering payroll software. PSOhub provides an all-in-one project management tool with self-driving time tracking built-in to save organizations time and money. Then you have Time Doctor, gaining steam for its simplicity of use and easy implementation for big, global teams. And finally, Worksnaps is a more simplified solution that's affordable and easy-to-use.