How to Do a Customer Profitability Analysis
by Juliette Lagerweij on December 8, 2022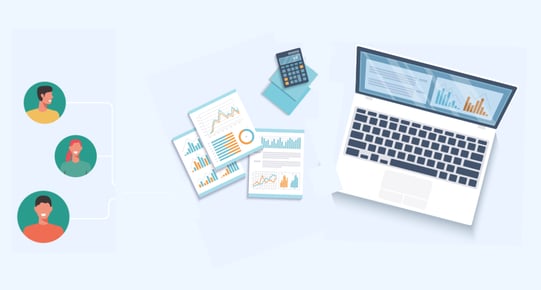 Do you know how profitable each of your customers is?
Professional service firms, especially, aim for the long-term customer relationship. We want to funnel customers in and take care of them, so they keep coming back. That's obvious.
As your small business grows and scales, knowing how much you're netting with your clients is critical. This can help you measure how efficiently your team is churning out services and how valuable each customer is.
Don't forget the project profit margins, too.
You may have customers that don't net as much as the others, but that has a high margin. This means work for that client is executed more easily.
This is all information you can't afford not to have. Luckily, a customer profitability analysis will answer these questions and more.
Doing a customer profitability analysis can feel overwhelming since there are more than a few data points needed. But never fret, it's really not that complicated. The more data you already have in front of you in the same place, the better.
Here's how you can do a customer profitability analysis to figure out how much profit each of your clients generates and what the margins are for service with each client.
What is a customer profitability analysis?
A profitability analysis measures money earned against the total costs incurred to determine. A customer profitability analysis measures how much profit is generated by the said customer and how easy or difficult it is for your business to generate those profits. For professional services, the most important information to garner includes:
Customer net profit- How much money has the client made for your firm? This is the total net profit generated by the customer.

Average net profit per project/per contract- If each time your client returns for services, it's a new project, then you'll want to know the average net profit they generate each time. This goes for agencies that offer individualized and/or packaged services.
For customers that have service agreements in place, you can measure how much profit each customer generates per contract. This is more of a way to see how profitable the customer is on a monthly basis. When you figure out the net profit per contract of the customer, you can easily get metrics like their profitability per month, per year, how much they make you per hour of work, etc.
Customer profit margin- How much of a margin are you making with each client? Some customers require significant time and energy; others may earn you the same amount but with less of a resource burden. Customer profit margin measures what percentage the customer earns you in profit related to the overall investment they incur by you. In a nutshell, the customer profit margin shows you how much ROI you receive when you work with that customer.

Time & energy analysis- For small teams, time and energy are precious. To keep your team happy and evaluate your clients on another level, it's recommended to do some form of time/energy analysis. Aka, is this customer worth the time and energy required for you and your small team?
What you need to get started
To start on a customer profitability analysis, you'll first need to get your ducks in a row. That means figuring out the hard financials and real figures. The good news is that you probably have most of this information in just a few clicks. It's knowing where to look.
This is the information you'll be needing to get started on your customer profitability analysis:
You need to know how much has been paid to you by the customer. To figure this out, you'll need to go to your contract management and/or invoicing (accounting software). If your team is working in a CRM that's linked to your project management, you can easily pull this info up.
Make sure you have access to time-tracking data. This will show you how much time is spent on each project for the client or how much per service contract. You'll need to go into your project management tool to see how much expenses are incurred on the customer's projects and contracts, as well.
Getting started
To get the adequate info above, you'll need to pull up the numbers. Go ahead and sign in to the following that applies to you to retrieve this information:
Project management solution
Applicable contracts (contract management solution)
Your project management solution will contain important information as to the costs incurred by the customer on each project. If you're using a CRM, this is also a critical data store that will contain basic info on your customer as well as any costs incurred by them within the sales cycle.
Doing a customer profitability analysis
Now that you have the necessary information, you can get started on the calculations. Here's how to figure out the total net profits generated by your customer as well as their net profit average. You'll also figure out the customer's profit margin, and if you want, the average profit margin each time you take on a project with them. Finally, you'll analyze how well you and your team use your time and energy with said customer.
FYI– This isn't as much work as it seems if you know where to look in your tech stack. Software can really save you time with all this.
If you're using all-in-one project management that's linked to both your CRM and your accounting, a lot of these numbers can be generated for you.
For everyone else, you may have to whip out your calculator or an old-fashioned Excel spreadsheet.
Customer net profit
You can calculate this by subtracting the total costs from the invoices you've received from the client. This can be done by going through each project you've done for said client. You may also need to check your service agreement to see what hours have been billed that fall outside the allotment in the contract.
Customer net profit = Total net profits from all projects & contracts
Customer net profit average
This number is for customers that use your services on a per-project basis. Simply add the net profits for each project and divide by the quantity to find the average.
Customer net profit average = Total net profits from projects/# of projects
Customer profit margin
There are a couple different ways to figure out the profit margin for each of your individual customers. First, you can find the overall profit margin. Do this by dividing the customer's net profit against the total costs incurred like this:
Customer profit margin = (Total costs for customer/Total customer revenue) x 100
Another figure you may want to see if you're working with the client on a per-project basis is the average project profit margin for that customer. What's your margin on each of their projects? Figure that out by averaging the margins for each project for your client. This is only slightly more tedious, and it's a good way to see how well you do each time you take on a project with the customer.
Average project profit margin = Total project profit margins for customer/# of projects
Time & energy analysis
This calculation is more nuanced, and it makes the most sense to do your time & energy analysis AFTER you've done the other profitability calculations. Once you know the customer net profit, how much you make on average with their projects, and what your margins are, you have a better feel for how much they're actually contributing to your revenue. With these numbers in mind, reflect back on your work with the customer, and if necessary, get feedback from your team on the time and energy that have been applied. You can keep it simple with an evaluation like this for you, another manager/owner, and any team members you want to include:
Sample Time & Energy Questionnaire
On a scale of 1 to 5, 5 being an excellent use of time & energy and 1 being a waste of time and energy, what's it like energetically to work for the customer?
Putting it all together: What to consider
Now, you have cold, hard numbers to show you how much profit your customer is earning for your business. You've also done some time & energy analysis, the 'soft skill' side of things that gives you insight into the energetic profits and losses you may be incurring.
To wrap up, here are some points to consider. First, a good profit margin for professional services hovers around 30%. Is your customer in that range?
Second, take a good look at the customer's margins versus the total revenue they bring in. For example, a client may generate a lot of revenue on paper but require tons of time in service, making the margin slim.
Finally, are the time & energy for each client worth what they bring in? Some customers don't require as much, while others are more demanding. Don't forget this important piece of the profitability pie.
Let PSOhub keep track of the profitability of your customers!
PSOhub is an all-in-one project management software for professional services. Now, you can easily calculate the profitability of your projects and your customers in just a few clicks with the Quotes feature.
Forget whipping out the calculator and looking for the numbers you need. With PSOhub, you can keep it all together and track profitability within your project management. It's connected to your CRM, too, as well as your financial backend and any other tools you use.
For growing businesses, PSOhub makes profitability analysis easy and painless.
Book a demo or start a free trial today to learn more! Our friendly team can help you with your profitability analysis and any other awesome features you want to leverage ASAP.