How PSA Software Streamlines Agency Project Management
by Julie Bennett on October 4, 2021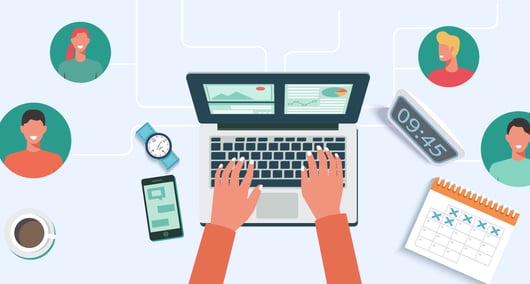 Every marketing agency project manager wants the same thing: to deliver projects on-time and on-budget, minus the stress. But if you're struggling to make that happen, it's probably because your project management tools aren't doing the work for you (and they should!).
PSA software takes the headache out of project management at every step.
Professional services automation (PSA) software brings all aspects of project management into one hub to help you improve efficiency. And it's great for optics, making you appear on top of your game because you're able to get work done faster; therefore, the agency gets paid faster.
We'll talk about the ways PSA software streamlines project management in agencies, from closing the sale through to celebrating launch day. By helping you coordinate each project phase (scoping, planning, monitoring), plus the added benefits of CRM integrations such as HubSpot and Salesforce, robust PSA software can make your life easier. Here's how.
Set projects up for success from the get-go
A crucial, yet often overlooked element of project management relates to the sales-to-project handoff. Get this right with optimized communication, and you've just prevented loads of wasted time down the track. So how can you heighten team communication? Let your PSA software do it for you:
A PSA software like PSOhub enables a two-way HubSpot integration that streamlines the handoff from sales to client services. With your HubSpot sales data (and later, project management information) contained in one place, there's no chance of things being lost in communication during the sales-to-project handoff. You've also heightened transparency, which benefits everyone.
Now, you're ready to start planning. You can use PSOhub to set up projects quickly and accurately. Check out these 3 tips for HubSpot users:
Close your deal in HubSpot, then use PSOhub to create your new project in just one click. PSOhub's intuitive self-driving setup will help you out, or you can craft your own tasks from scratch, if desired.
You'll want to split the project into key activities, then break those activities into smaller task lists. The effort you put in now by way of task management will streamline your team's workflow once the wheels are in motion.
Create a project schedule using a Gantt chart which is a great way to share timelines with clients in a digestible format.
Simplify day-to-day project management
Because PSA software offers a powerful suite of tools, you're equipped with everything needed to run the project smoothly through to launch. This innately makes life so much easier for both you and your team, especially when it comes to the day-to-day.
While HubSpot is a fantastic CRM, it falls short by way of functionality for your daily project grind. Yes, HubSpot has some basic out-of-the-box project management features such as task management and email alerts. That's okay for small teams or simple projects, or if you're budget conscious. But for those who need a solution in place to manage international teams and more nuanced projects, PSA software can give you more of a 360-degree functionality to keep it all together.
PSA software like PSOhub that integrates with HubSpot (or Salesforce, if that's what you use) makes project management a breeze for growing teams and large-scale projects. Here are a just a few of the ways a solution like this helps you keep in control of your projects on a day-to-day basis:
Easily visualize project progress and to-do's with Kanban boards and Gantt charts.
Make the most of your resources. Observe team availability using dashboards and snap up spare capacity with intuitive resource management features.
Monitor time spent on each client within HubSpot activity feeds, so you don't blow out the scoped hours.
Never worry about accurate time tracking again with a self-driving time tracking tool.
Get paid faster (yes, really)
Running projects like clockwork gets the agency paid faster. But how else can you expedite the process, if not by great project management?
PSOhub adds contract management and invoicing to HubSpot by integrating with the CRM and then seamlessly transferring that data to the project side. Here's how their PSA software can help you get paid faster:
No need to draw contracts up from scratch. You can simply repurpose existing contracts and fill them out automatically with HubSpot contact data. Or alternatively, you can use contract templates to make things go more quickly.
With PSA software like PSOhub, users can automatically track time on tasks which can trigger recurring or milestone invoices. Ipso facto, you can set it up where you never have to actually 'send' an invoice again.
Because of the two-way integration, you can send an invoice and your whole team will see it on the HubSpot activity feed.
You'll receive automated alerts for time and budget overspend.
You can easily keep an eye on active contracts in the dashboard manager and learn which are mor/less profitable.
Using PSOhub for agency project management
PSOhub is the missing link to streamline your business, designed to help you get work done smarter and get paid faster. Agencies love PSOhub's PSA software for its seamless integrations with platforms like HubSpot and Salesforce. PSOhub's unmatched methodology of 360-degree project management is powered by:
Project management
Time tracking
Contract management
Invoicing
If you're using other software for project management or invoicing (e.g. ClickUp or Monday.com), PSOhub can fill the gaps in those solutions and in your CRM to help you manage your projects smarter. And because PSOhub is super-affordable and integrates with everything you need, you can take what you want from and leave what you don't.
Curious how PSOhub works? Try our free trial today!