5 Tips to Streamline Your Contract Management Workflow
by Qismat Riaz on February 16, 2022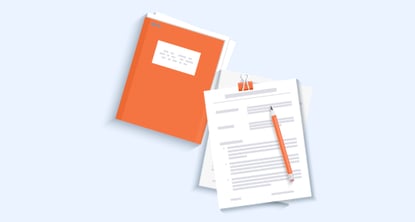 Is your contract management workflow a hot mess?
You're not alone.
According to research conducted by World Commerce and Contracting, lousy contract management accounts for a total annual revenue loss of 9%. That's almost 10% of the bottom line every single year.
Luckily, there are a few practical tips you can apply to your contract management system that will keep you out of the red and in control of the process.
Even better, these tips involve processes carried out by software, meaning you won't have to really 'do' anything– that's what automated features are for.
Here's the high-level info you need to get started with better contract management in the digital world.
5 tips to streamline contract management workflow (and save $)
1. Create new contracts with templates.
The contract management lifecycle begins with the creation of the contract itself, so this is a great place to get started in optimizing the workflow. Creating a contract involves negotiating, editing, and finalizing terms; but with contract management software, you don't have to create contracts from scratch over and over again. Instead of reinventing the wheel, start your contract lifecycle with efficient contract creation, using templates to help you save time and standardize certain aspects of what you offer.
2. Use old contracts on successful projects with smart contracts.
Contract creation with contract management software isn't just limited to using templates to save time. With smart contracts, you can use data from your CRM to reuse past approaches on successful projects. Because smart contracts are generated based on data, you can look forward to less human error, and predictive analysis will help you better prepare for future outcomes. Particularly if you use a CRM to manage your sales, you'll want to leverage that data in your contract management solution.
3. Manage your contracts within your CRM.
Speaking of CRM data, if you are using HubSpot, Salesforce, etc, that's the best place for your contract management to get started. This way, you can keep your data more secure and error-free since it will all be under the same digital roof. You don't have to technically 'do' anything to make this happen, except for picking contract management software that integrates with whichever CRM you use. Then of course, be sure to set up the integration with a couple clicks.

4. Use role-based rates.
Startups and smaller firms often have team members who wear multiple hats. Usually, these different 'hats' don't necessarily require the same rate, which can get tricky when it comes to creating contracts. Cover all your bases on your contracts and get better at accurate forecasting by using role-based rates. Your contract management solution should have this flexibility, and smaller organizations can benefit big time from this one tip alone.
5. Prevent overservicing with an end-to-end solution.
Finally, to get your contract management workflow actually flowing and efficient enough to not require extra work for you, use an end-to-end solution. That means getting contract management software that does more than just manage your contracts. If you're in the professional services industry, you're looking at a project management solution or PSA software to get the job done. This type of software will integrate with your CRM and keep your contracts under the same digital umbrella as all the other moving parts of your projects. With an end-to-end solution for contract management like this, you'll get benefits versus going with multiple, siloed platforms:
Powerful analytics- With an end-to-end solution, your analytics get taken up a notch, simply because there are more places to pull data from. So when you're going to look at your contract numbers, you'll get to see current data on time, expense, and task management in the same place. Powerful analytics that cover the project lifecycle are a great tool to help managers and owners make decisions, and it's easier with an end-to-end solution that can do it all for you.
Resource management alongside- An all-in-one project management solution that manages your contracts provides value by letting you keep your resource management alongside. At every step of the contract lifecycle, your software can keep an eye on your resource spend.
Set up automated alerts for budget overspend- To that end, you can set up automated alerts so that you never are in danger of overspending on your contracts. An end-to-end solution will be able to keep track of your team's time and expenses in real time and alert you at the threshold of your choice to help you reel things in.
Affordable- For all the efficiency and features an end-to-end solution offers, it happens to be the affordable choice as well. If you have an all-in-one platform to manage your contracts and integrate with your CRM, you'll save a ton of money. You'll be able to ditch multiple project management solutions in favor of just one that will keep your contract management on point to boot.
Contract management tips in a nutshell
In a nutshell, you can get your contract management on track relatively easily and make up for that 9% most businesses lose on it in revenue every year. Start the workflow right by using templates to create new contracts, so you can save time. Make sure you use smart contracts that can leverage data from your CRM on past contracts. And while you're at it, keep your contract management within the same digital environment as your CRM. Remember to use role-based rates to keep things transparent, and finally, use an end-to-end platform like PSA software to save even more