The 8 Best Project Management Software options for 2021
by René de Jong on January 12, 2021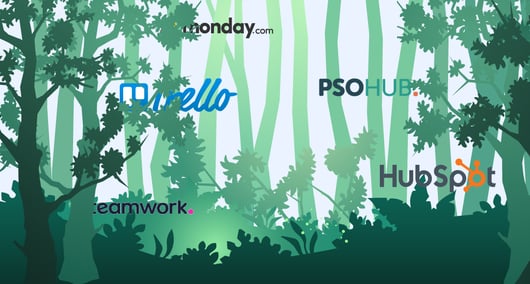 Project management software has always been a critical part of the tech stack for architectural firms, digital marketing agencies, and more. Post-2020, even more industries and solopreneurs are in need of a project management platform to manage teams working from home.
We've compiled a list of the 8 Best Project Management Software options for businesses in 2021. Our selection is based on a few factors, including:
Check out the best project management software solutions for 2021 that deliver the type of value and integrations businesses need to keep up today. Remember, awesome project management software should make everything from task management to invoicing more streamlined and when possible, automated. The following options fit the bill.
1) PSOhub
PSOhub is the first of its kind in the project management software world because of its base functionality: 360 Degree Project Management.
"With PSOhub, you can manage all your projects and your teams from a centralized 'hub'."
This includes everything from time tracking to budgeting and invoicing. And from there, you can still integrate with other tools in the outer layer when you want to. PSOhub is also at the top of the list because of the amount of automation features and self-driving tools that are largely absent from most project management solutions. This self-learning tech can basically make a lot of your admin time and effort go away, so you can focus on creating and growing your business. If you want the most integrations (hello HubSpot!) and visibility into ALL facets of the project management process, PSOhub is the all-in-one solution you're looking for.
Who PSOhub is for: HubSpot agencies, small to medium sized organizations, solopreneurs
What users are saying: HubSpot users love the 360 Degree Project Management that PSOhub provides, which saves small organizations major time and money. PSOhub users can usually drop at least one other siloed solution by adopting PSOhub, and self-driving time tracking is one of the most popular features.
HubSpot's VP HubSpot Marketplace, Nancy Riley, on PSOhub
Price: 30-day free trial, starting at $8,50/month/user

2) Microsoft Teams
Microsoft Teams is trusted by all types of organizations, from large corporations who now take meetings at home to nonprofits and even schools. The platform is famous for its collaboration tools and live video conferencing that make life easier on global teams. Microsoft Teams offers an excellent way to streamline all your communication and keep all your files in one place. The chat feature means all conversations are secured and kept within the Teams ecosystem, so you can readily eliminate inter-organization emails, a huge win. You can pretty much consolidate everything surrounding your project management into Teams and customize workflows however you want. All in all, Microsoft Teams is one of the best project management solutions when it comes to easy, globalized collaboration.
Who Microsoft Teams is for: Enterprise organizations, global teams, IT & software
What users are saying: Users often rate Microsoft Teams as the best audio conferencing and best video conferencing service. Users love the instant messaging feature that many say promotes unity among teams.
Price: Business Basic $5.00/user/month | Business Standard $12.50/user/month | E3 $20/user/month
3) Asana
Asana has become one of the most dominant names in the project management space and teams all over the world love the easy-to-use task management tools it provides. With Asana, teams can intuitively assign, reassign, and communicate around tasks while keeping things organized and friendly. Asana is known for being incredibly easy to use and affordable for small businesses. The Asana platform quickly rose to the top of the task management solutions market in 2020, as more organizations needed an easy, reliable, and relatively cheap option that could help global teams collaborate more efficiently. If you want to go with what's most popular, Asana is a top contender.
Who Asana is for: Marketing, content production, small businesses
What users are saying: Users love the intuitiveness of the Asana platform that makes onboarding incredibly easy. Key integrations with other tools like Toggl also delight users who want to leverage other solutions they're using to manage projects.
Price: Premium $10.99/user/month | Business $24.99/user/month | Enterprise (contact for price)
4) Monday.com
Visually appealing with all the functionality bells and whistles, Monday.com is giving bigger players like Asana and Microsoft Teams a run for their money. Monday.com makes customization simple, with amazing-looking dashboards and easy implementation that anybody can figure out relatively quickly. In fact, both small businesses and larger organizations praise Monday.com for its wicked-fast onboarding and non-intimidating interface. And Monday.com also scores big for email marketing, with custom templates, AB testing, and more. This platform can easily replace a siloed email marketing solution, keeping more of your data under one digital roof and saving your business $$$.
Who Monday.com is for: Marketing, small businesses
What users are saying: Users rave about the great customer service they receive from Monday.com. Customizable templates and awesome dashboard features are among the most popular elements users talk about.
Price: Basic $8/user/month | Standard $10/user/month | Pro $16/user/month | Enterprise (contact for price)
5) Wrike
Wrike is the dark horse of the group that's on the rise, particularly with international teams. Wrike counts over 2 millions users around the world and offers the ultimate level of versatility. Like PSOhub, Wrike earns major points with us for its ability to integrate with most of the tools you already love-- the marked exception being HubSpot. At the time of this publication, Wrike will integrate with Salesforce, but if you're a HubSpot user, you'll have to connect the platforms via Zapier. That said, global teams love Wrike for automating menial admin tasks and the cutting-edge reporting that gives managers powerful analytics in real time. Depending on what tools you like to use, Wrike may take the winning stride.
Who Wrike is for: Marketing teams, medium-sized organizations
What users are saying: The most common benefits that Wrike users talk about are increased visibility and productivity. Global creative teams rank among the most delighted Wrike users.
Price: Professional $9.80/user/month | Business $24.80/user/month | Enterprise (contact for price)
6) Trello
Looking for something super simple and easy to use? Say hello to Trello, the collaboration and project management solution that's for everyone. Or should we say that Trello is a Task Management solution for everyone? The platform is used by a huge variety of industries and is designed for teams of all sizes. Onboarding Trello for your organization is lightning-fast, and the intuitive interface and features mean that you don't really have to train anyone on the platform. For this reason, a lot of small businesses that might be unsure about what project management really is -- or what solution they really need -- find themselves adopting Trello. However, it's missing some components to be a complete 360 degree Project Management solution. Time tracking in Trello is no option and an integration with your favourite CRM (like HubSpot) is also a no go. Trello doesn't offer budgeting, time and expense, and resource allocation.
Who Trello is for: Software & IT, small businesses
What users are saying: Trello offers a pretty powerful free edition that small teams can often use for basic task management. Most users praise Trello as being remarkably easy to use.
Price: Business class $9.99/user/month | Enterprise $17.50/user/month
7) Teamwork
Teamwork delivers a one-two punch by going beyond task management to include other key components of 360 Degree Project Management. Teamwork has comprehensive task lists, GANNT charts, and the ability to upload and share documents with native Google and Dropbox integrations, to boot. But the platform also includes time and expense, a great feature to help you get an even better handle on your projects. Teamwork ranks as a top collaboration tool that's easy to use for team members and easy to control for project managers. Marketing teams especially find Teamwork useful to structure their workflows, and the platform is a popular choice for smaller organizations.
Who Teamwork is for: Marketing, small businesses
What users are saying: GANNT charts and Kanban boards are a couple features that most reviewers praise within the Teamwork platform. Users also love that Teamwork makes collaboration and communication seamless, with automated alerts and a live chat feature.
Price: Pro $10.00/user/month | Premium $18/user/month | Enterprise (contact for price)
8) ClickUp
Does your team regularly need to collaborate across complex tasks? ClickUp might be the solution you're looking for. When it comes to task management, ClickUp offers the most versatile, detailed, and customizable option. ClickUp touts their platform as 'one app to replace them all' when it comes to project management. Unlike many project management tools that focus solely on tasks, ClickUp also checks off boxes for budgeting and time and expense tracking, making it a more comprehensive solution. And project managers love the customizable dashboards and resource allocation feature, helping to gain more visibility into the project management process. If you're on a small team of detail-oriented creatives, ClickUp might be the droids you're looking for…
Who ClickUp is for: Marketing, software & IT, small businesses
What users are saying: Users love that ClickUp actively listens to feedback and responds with better features. Some ClickUp users claim that the platform can appear intimidating at first, but once they're in, it's easier than they thought.
Price: Unlimited $5/user/month | Business $9/user/month | Enterprise (contact for price)
Roundup
2020 brought teams around the world a new-found respect for agile project management software to facilitate workflows and more while teams work from home. In 2021, we are seeing these types of solutions step up to provide even more value for all sizes of businesses with better features and more visibility. While there are a few more players currently on the market, we think the above 8 options for project management software are the cream of the crop.
Shopping guide for Project Management
After reading all this shopping for project management software might be confusing, in part because each solution is so highly specialized. The right fit for your business can vary widely depending on a project's complexity, time frame, as well as your team's specific needs.
That's why we assembled this guide to help you choose the right software for you.
The Best Project Management Software for Professional Services Teams: PSOhub
Finding the best project management software for professional services teams isn't easy. From project handoff to time tracking and billing, keeping track of contracts at specialized firms is quite a task for small teams.
PSOhub was built from the ground up to fill a gap in the marketplace for professional services providers like marketing agencies, consulting firms, IT managed services firms, and accountants. It comes standard with features like contract management and automated invoicing, all connected to your CRM to streamline every client relationship from closed-won to completion.
Key features:
Robust (native) CRM integration
Time tracking
Contract management
Task management
Reporting and forecasting
360 Degree Project Management approach by PSOhub
Why we like it:
PSOhub is designed with 360 degree project management vision to manage deal-to-cash flow for small to medium sized teams better than other project management tools. Plus, with a slew of valuable integrations, it's more versatile and customizable than the competition. At the end of the day, PSOhub is designed for professional services firms in a way that other tools aren't.
Price:
60-day free trial, starting at $12,50/month/user
Learn more about project management with PSOhub.
Honorable mention:
Teamwork — While it's arguably designed for larger, more distributed organizations, Teamwork enables time tracking that integrates with billing. It's also highly scalable for growing enterprises.

See how PSOhub can revolutionize your project management capabilities. Read more.
The Best Project Management Software for Startups: Monday.com
The Best Project Management Software for Startups: Monday.com
Startups need a software solution that is nimble — one that organizes complex tasks into digestible, highly customizable workflows for smaller teams. Monday.com is designed to make communication and project tracking easier, while also using data to make informed decisions on resource management, roadmapping and more.
Key features:
Automation
Reporting
High-level planning
Great UX
Why we like it:
Monday.com offers startups a basic version that comes standard with a lot of tools, including CRM, marketing and sales, and project management. This framework is a great jumpoff point for building a tech stack with numerous integrations if you haven't established one. Plus, we just like its simple and colorful UX. Sometimes, it's the small things.
Price:
Free trial, $29/month for standard plan.
Learn more about project management with Monday.com
Honorable mentions:
Clickup — Another great foundational project management solution, Clickup offers numerous tools for companies without an established tech stack.
PSOhub — Designed for small-to-midsize teams, PSOhub includes templates that streamline new initiative launches and make getting up and running easy.
The Best Project Management Software for In-House Marketing Teams: HubSpot
In-house marketing teams don't necessarily rely on accurate time tracking for billing, forecasting and reporting. In most cases, an external project management solution is more of a nice-to-have than an essential item.
Enterprise businesses may spend tens of thousands annually buying licenses for a workflow management software, like InMotion Ignite, to keep their in-house team organized. For more budget-conscious businesses, the built-in project management tools in most leading marketing automation software (e.g. HubSpot, Pardot, Mailchimp, Keap, etc.) have basic task management functionality to track projects, enable communication, and manage tasks without added spend.
"HubSpot is one of the most powerful platforms out there, so it's a great option for marketing teams who want baseline project management tools without adding more software to their tech stack."
Key features:
Task management
Email/in-platform alerts
Why we like it:
We've found that HubSpot offers a robust project management capacity without adding to your bottom line. Optimizing HubSpot for in-house marketing use keeps users on a single platform, which limits confusion and streamlines communication between teams.
HubSpot also offers real-time insight into content performance and customer persona research — a valuable source of inspiration for creative teams.
Price:
No additional cost above marketing automation software cost.
Learn more about project management with HubSpot.
Honorable mention:
Trello — Simple, inexpensive, and easy to use, Trello works well for small teams. It layers well on top of marketing software, and can prove invaluable for managing external freelancers.
The Best Project Management Software for Very Small Teams: Trello
If you're looking to organize very small teams (or just your own tasks), Trello is hard to beat. This simple yet effective tool allows you to create dynamic checklists with Kanban boards and due dates. Plus, it can be customized to suit your aesthetic tastes.
Key features:
Kanban boards
Checklists
Due dates
Customizable appearance
Why we like it:
Many of us use Trello to replace notebooks and scrap paper for organizing our personal to-do lists. But it's especially valuable for tracking a small number of tasks within a project — in fact, it features an at-a-glance Kanban view that is very effective.
Trello comes with just enough features, such as user permissions and assignment chat logs, to make it a powerful tool for smaller teams. Plus, it's very affordable.
Price:
Free forever plan, $9.99/user/month for most popular tier.
Learn more about project management with Trello.
Honorable mentions:
Wrike — Designed in a similar mold to Trello, Wrike has added features that many smaller teams may need.
PSOhub — PSOhub has excellent UX for managing tasks from its Kanban view.
Conclusion
Getting the most from your project management software starts with choosing the right tool for your needs. Here's a quick summary of our top picks for different types of teams: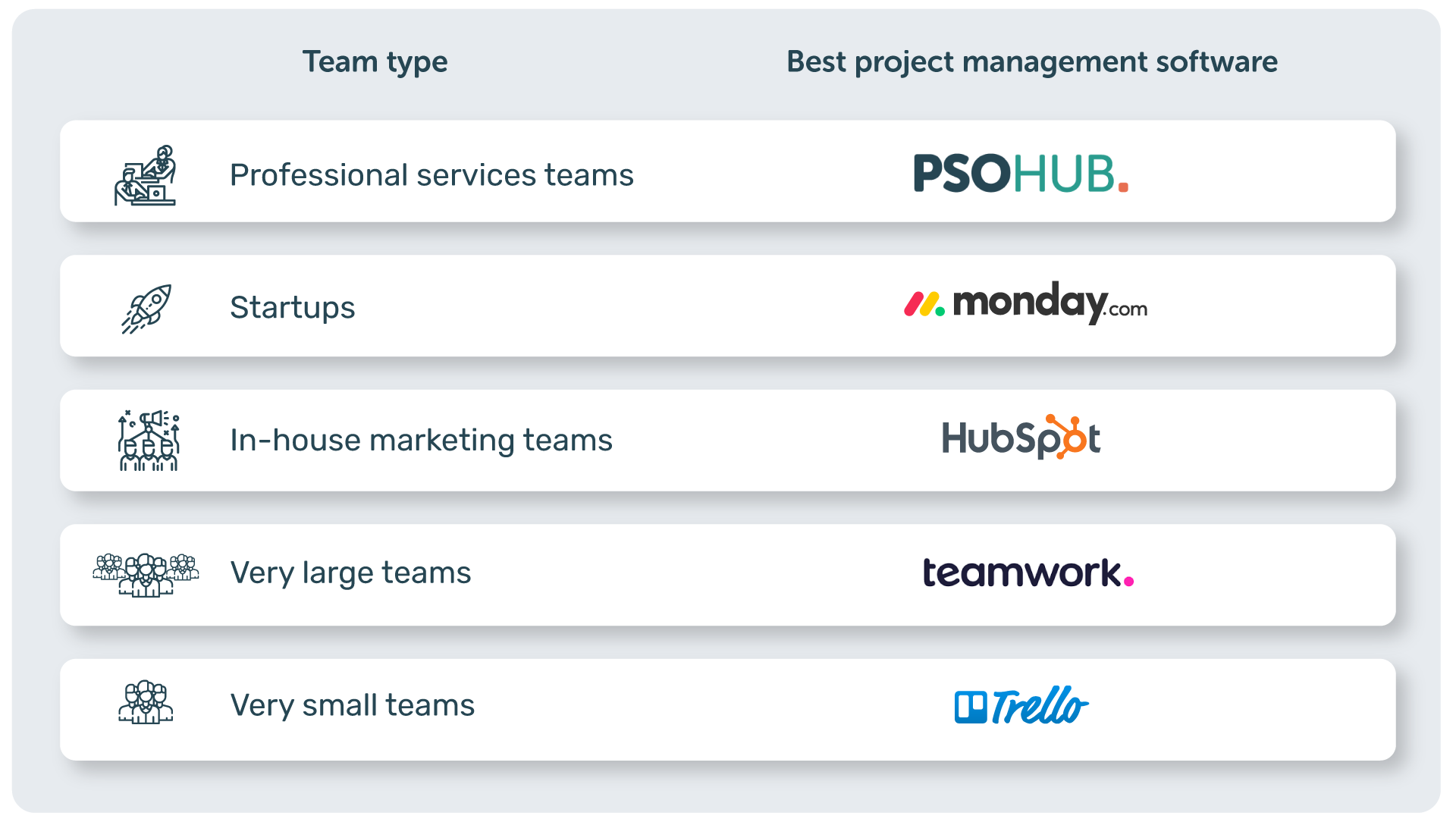 See what the hype is all about. Start using PSOhub for free. Especially for professional services teams, a tool like PSOhub is easy to use out of the box, supported with numerous popular integrations, and designed to streamline and automate administrative tasks.