What's the best FREE time tracker for Microsoft Dynamics CRM?
by Martijn van der Hoeden on October 29, 2021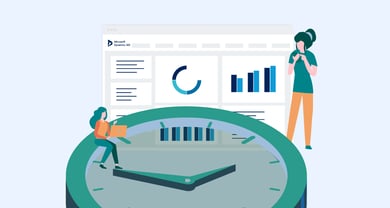 If you're using Microsoft Dynamics for your CRM, you have quite a few options when it comes to tracking time across your projects. However, many of these platforms do not even offer a free trial to get your feet wet.
Therefore, we took a look at the current FREE time tracking options for Microsoft Dynamics project management to render a short list of the best choices for small-to-medium-sized businesses.
"

Time tracking

is a historically messy process that leaves money on the table when not executed properly..."
All the CRM time tracking options on this list are either free or offer a free trial, so you can see which is the best for your business without paying upfront.
First, do I actually need time tracking software that integrates with my CRM?
In short, yes. Time tracking is a historically messy process that leaves money on the table when not executed properly. Freelancers and small businesses especially can get into trouble without a bonafide time tracking solution to hold everyone accountable. A top benefit of a time tracker that integrates with your CRM-- in this case, Microsoft Dynamics-- is that you can start tracking time on projects before they officially begin. Plus, you won't have to do any manual importing or reporting which are both big factors in timesheet errors.
What should I look for in a time tracker for Microsoft Dynamics?
What you want for your team's Microsoft Dynamics time tracking will depend on a few factors. For example, do you simply want to track time and have it reported? Then, you can choose a solution that will be cheaper with limited features. This is a good option for teams that are already using other project management software and just need to fill the void of a time tracker.
However, if your team isn't currently using an all-in-one project management solution that's integrated with your CRM, you might want to look for more features with a Microsoft Dynamics time tracker. These features that can really save you time and money include invoicing, scheduling, GPS time tracking, self-driving time tracking, predictive analytics, and more.
Not sure which way you should lean? Choose a free time tracking solution for the Microsoft Dynamics CRM. That way, you can explore and experiment before officially adding to your growth stack and committing to monthly licenses.
The top 4 FREE time trackers for Microsoft Dynamics CRM
Below we've compiled a list of the best free options for time tracking within your Dynamics CRM. The software starts out more basic and as we progress, you'll see more comprehensive options with additional project management features. So whether you want super-basic or you want to up your time tracking game exponentially, you can find something free on this list that will suit your team.
Microsoft Dynamics Time Management
A great choice that's 100% free and within the Dynamics ecosystem is the Microsoft Dynamics Time Management app. In this scenario, you'll have everyone on your team download the app to start tracking time. With Microsoft Dynamics Time Management, users can create, edit, and submit timesheets and even attribute sick/vacation time. This will link with your Payroll within Microsoft Dynamics, and you can also link it with Human Resources to account for the aforementioned sick days and paid vacation. Time submitted by team members is linked to your CRM database, and you can have this time automatically inputted into your pre-existing workflows. FYI, you have to have Microsoft Dynamics GP to use this application, and it is only offered in the English language, so perhaps not the best choice for multinational teams. However, this time tracker is free forever!
ProMX Time Tracking for Dynamics 365
ProMX is a Microsoft Gold partner and accordingly, they make apps for the Microsoft Dynamics CRM with a native integration. Accurate invoicing and accurate reporting are the overall goals of their time tracking software that's reported by users as intuitive and efficient. Team members can easily submit time and expense entries and managers get a nice visual of what time is going where with comprehensive charts and graphs. Onboarding is easy, and online reviewers assert that adding the software into the tech stack has helped them manage time on Microsoft Dynamics projects better. You can get started for free to see if you like the application. Once the free trial is over, you'll be looking at around $5 USD per user per month.
Monitask
Monitask provides software that's built upon what neuroscience tells us about productivity: the human brain is wired for monotasking, not multitasking. The company offers a Microsoft Dynamics 365 CRM Time Tracking Integration to help businesses of all sizes get a handle on where their time is going. To use, team members download the Monitask app and track time, while managers and owners can get into the platform and see what's happening in real-time on the dashboard. By way of features, Monitask is a bit more robust than the previous Microsoft Dynamics CRM time trackers on this list. For example, the software actually overlaps into task management in that it lets you assign projects and tasks to individual members. Other features include scheduling, invoicing, activity log, and more. Perhaps the best part of the platform are the reports; though they don't use predictive analysis, Monitask does a great job of giving you the details you need in an easy-to-digest format. Monitask offers a free trial for their Dynamics time tracker and then will start at around $6 USD per user per month.
PSOhub
Finally, PSOhub rounds out the list for best Microsoft Dynamics CRM time trackers and will offer the most project management features compared to the aforementioned options. With time tracking from PSOhub, you can not only track time across teams and projects, but seamlessly connect this information with absolutely anything and everything related to your project management tech stack. That said, PSOhub's time tracker itself is worth its weight in gold because it has capabilities other time tracking solutions don't offer. For one, there's self-driving time tracking where your team members literally never have to manually enter time again (if they don't want to). Another awesome feature is the GPS time tracker that will automatically input time when your location changes. Overall, you should choose PSOhub if you want more than just a time tracker, as it will give you everything you need for managing projects in Microsoft Dynamics. PSOhub offers a free trial and then starts at around $9 per user per month for all-in-one project management.