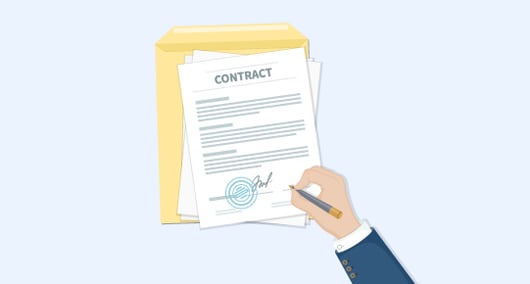 For small sales teams using HubSpot, the deal dashboard is the central hub to all sales activity. At a glance, you should be able to see which deals are in progress and which have successfully closed.
In the pipeline, this is all based on the deal stages, custom deal properties, and filters you can set up.
According to HubSpot:
"Deal pipelines can be used to predict revenue and identify roadblocks in your selling process. Deal stages are the steps in your pipeline that signify to your sales team that an opportunity is moving toward the point of closing."
A well thought-out deal pipeline that reflects your sales process can help you guarantee a smooth experience for both your leads and customers.
And for smart sales teams that want to level up, having an organized system for managing their HubSpot contracts is the next logical step.
The more automated and intelligent your contract management solution is, the better.
"By integrating contract management for HubSpot, you can create and send contracts way faster — ensuring projects are delivered on time and within budget — and have solid reporting on your closed deals."
Check out our tips for using the HubSpot deal pipeline to better manage your contracts —
specifically creating, sending, and tracking contracts within the ecosystem.
Customizing HubSpot for contract management
An easy way to optimize your contract management while keeping it within the HubSpot platform is to create what's called custom deal properties to manage contracts.
Deal properties such as "Contract Status" can be assigned the following statuses:
Doing this can help you create and send deals faster. Other properties like "Contract Start Date" and "Contract End Date" can help you always send renewal contracts on time. For more information, see this how-to on using custom properties in HubSpot and HubSpot's default deal properties.
Together with date stamp properties, you can track whether or not contracts have been sent and when they have been signed. Having this important information visible in the deal record can be leveraged when setting up automated emails or task reminders, to ensure that a deal or contract never goes unnoticed.
Integrating your contract or proposal software with HubSpot
It's all fine and good to get into a routine of creating contracts and sending them off. But if you're moving onto the next one without thinking about the contracts that you've delivered, then you're missing out on opportunities to better engage with your leads.
You're likely setting up proposals in a software solution like Pandadoc, Proposify, or PSOhub. These apps integrate with HubSpot, making it easy for you to create, send, and track contracts all within one deal's activity in HubSpot.
Read More: A HubSpot Contract Management Integration That Actually Works
Through these integrations, you're able to automatically generate proposals based on a deal property or the deal stage. And if yours is smart and self-driving like PSOhub, then it can also help you create smart templates for your contracts that also translate to smart billing and invoicing.
If you haven't yet, make your life easier with HubSpot contract management.
Good sales teams use HubSpot. Smart sales teams manage their contracts within the HubSpot platform to save them time, money, and errors.
Once you begin incorporating contract management into your CRM and internal sales process, you are on your way to better reporting! Now you'll know exactly which contracts are leading to more closed deals and higher revenue. And with a smart, automated system for HubSpot contract management, you can be sure you'll never miss a renewal.