How to make the most of the HubSpot Xero integration
by Qismat Riaz on May 3, 2022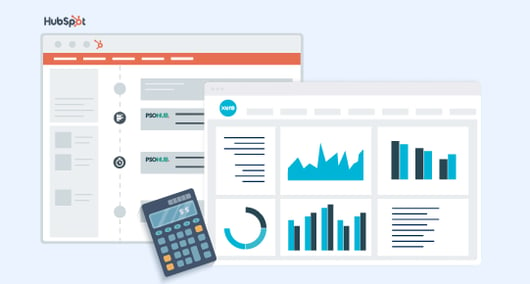 If you're a HubSpot user, integrating your financial backend should be a no-brainer: The more you can make your CRM a one-stop shop for all sales and customer information, the more it can work for you.
Xero is a popular accounting software solution among small businesses and HubSpot firms. Xero offers great automation and features to help businesses stay on top of their financials with an easy-to-use platform. It's usually ranked in the top 3 among accounting software, rivaling QuickBooks for preference among users.
Integrating your accounting software with HubSpot theoretically provides measurable benefits that will make you wish you'd done it sooner, including:
Cutting admin time
Eliminating critical errors
Making revenue easy to trace
Saving money
The HubSpot Xero integration should be an asset in that it links your financials to everything related to customers, sales, and service–
But the basic integration leaves much to be desired. Fortunately, there's an easy way to make both HubSpot and Xero work harder for your small business.
Read on to find out how to make the most of integrating HubSpot with Xero. You can easily go beyond the basic capabilities within HubSpot and help maximize efficiency for your small business.

First, what do people think about the HubSpot Xero integration?
The online reviews for this integration in the HubSpot ecosystem are less-than-stellar. That's putting it mildly. The lack of functionality is taken to task by reviewers, and that's partly why we decided to write this article. The consensus of what people have been saying in a nutshell is that the HubSpot + Xero integration just hasn't added much by way of value. In other words, people don't feel it really 'does' anything worth celebrating.
And strikingly, many reviewers are disappointed because of one missing feature they desperately wanted: HubSpot invoicing. Effective invoice management is on the top of the list for small business owners and managers trying to trim the fat and keep cash flow where it should be. But alas, you can't get that with just HubSpot and Xero alone.
Types of businesses who use the HubSpot Xero Integration
Both HubSpot and Xero are favorites of small-to-medium-sized organizations who want to streamline their sales and accounting. This includes:
Accounting firms
Software developers
Construction
Real estate
Digital marketing agencies
IT firms
And more
Particularly for those in professional services, there's a great back-door way to get the functionality you were hoping for by integrating Xero with HubSpot. Don't worry, no high-brow tech skills or coding is required.
How to make it better: Link your project management with HubSpot and Xero
The back-door way to get the HubSpot Xero integration to give you invoice management and other automated goodness is this: link your project management to both. If you have an all-in-one project management solution integrated with Xero and HubSpot, you can get those automations and keep everything together in one secure digital environment. Here are examples of a few advantages that this will provide:
Invoice management & automation
What professional services are really crying out for in both the accounting and project management spaces is INVOICING. Something easy and secure to keep track of invoices with less human action; something that can help small businesses get paid accurately and on time.
In fact, shabby invoicing collectively takes a huge toll on businesses in all sectors and sizes. Here's just a few scary invoicing stats that we're talking about:
39% of invoices in the US are paid LATE
61% of late payments are caused by invoice errors
50% of companies wait 10-25 days before an invoice is even approved
Getting an all-in-one project management solution that integrates with HubSpot and Xero can help you avoid these costly pitfalls. *We say all-in-one project management because many platforms like Asana and Trello don't have invoicing built-in.
But if you have a HubSpot project management tool with invoicing, you're home free. This can help you save money and time by automating your invoicing process. You won't ever have to manually create or send an invoice again, as it is all kept track of by your solution. The great thing is that everything will live in the same place, so your whole team can see invoice status while working in HubSpot. This will increase your visibility, transparency, and ensure you get paid on time. In short, adding invoice management that's linked to HubSpot and Xero makes billing a breeze.
Self-driving time tracking
Like invoicing, shoddy time tracking has an ugly history of sins that continue today and costs companies money. The fact is, people don't mind tracking their time and they want to do it, especially if they're getting paid hourly as a consultant. The problem is that they forget to do it. There's a million reasons and anecdotes to support this, but let's dive in with an innovative solution that comes from linking HubSpot with Xero and your project management. It's called self-driving time tracking, and it's exactly what it sounds like. Time is tracked using self-driving features, making the process automatic. Here's how it works:
Self-driving time tracking with HubSpot + Xero + Project Management
Let's say you're a consultant who bills by the hour. You have a meeting with a client scheduled in your Google calendar for today with said client. To get paid for your time spent in this meeting, this is pretty much all you have to do to track your time with self-driving time tracking. The feature connects to Xero, HubSpot, and your project management/invoicing. That means the time can be automatically allocated to the correct project and automatically entered into invoicing. Just one click for invoice approval (you can even automate this if you want) is all you need.
Track time directly in the Service Hub*
Now here's something that's a real game-changer if your team logs a lot of hours in the HubSpot Service Hub. A historical pain point in professional services who use HubSpot is unlogged and unbilled hours toward service. Up to this point, there has not been a way to track time on HubSpot service tickets. What's more, there's been no seamless way to link this time back to what's stipulated in the service agreement. So when you're over– and billable– you're missing out on billable hours to the client.
Now, you can track time in the Service Hub using all-in-one project management for HubSpot. Any time logged with just a couple clicks in the Service Hub itself is linked to applicable contract data. So anytime you are over, you'll know about it and can automatically trigger an invoice. And since your invoicing and Xero account are linked with all this, you can get paid for those hours on time without spending any of yours managing invoices and billed service hours.
*This is a relatively new feature provided exclusively by PSOhub in partnership with HubSpot, but we expect users– especially IT firms, developers, financial services, and accounting– to uncover potentially thousands annually in unclaimed billable hours.
All-in-One Project Management for HubSpot + Xero
If you're like other online reviewers who are underwhelmed with the HubSpot Xero integration, the back-door way to make the most of it is all-in-one project management that supports the two. PSOhub is one of the world's only project management solutions to provide HubSpot and Xero integrations along with smart invoicing and PSA tools. With PSOhub, you can make HubSpot and Xero work harder for you by leveraging smart invoicing, self-driving time tracking, and time tracking in Service Hub.