4 Steps to Getting More Stakeholder Buy-In on Your Projects
by René de Jong on September 4, 2020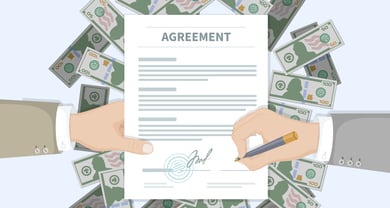 What is stakeholder buy-in?
Stakeholders are the key members of a project. Here's the semi-official definition—
"Individuals and organizations who are actively involved in the project, or whose interests may be positively or negatively affected as a result of project execution or successful project completion" (Project Management Institute (PMI®), 1996).
For example, project stakeholders include your immediate point of contact (often a manager-level or coordinator). In other cases they could be the CEO and other primary decision-makers of the organization. Stakeholders also include internal team members like developers, designers, etc. working on the project in a specific department.
"Getting stakeholders to 'buy-in' to a project means getting these people involved in the decision-making process and on board with the vision and mission."
And buy-in is more than just a thumbs up. It requires actual understanding of the project's goals and the metrics that will determine success, as well as agreement to enforce or implement whatever solution is being created.
How to get stakeholder buy-in
In other words, if you want your stakeholders to buy-in to what you're doing, you need solid processes, tools, and communication to get stakeholder support and keep it. The learning & development team at Dashe & Thompson promotes a spot-on methodology that clearly defines what we're talking about—
Head, heart, and hands.
The head? You get that from a stakeholder with targeted communications to help them intellectually understand the aim of the project.
Next is the heart, where stakeholders come to believe that the project is good both for their organization and for themselves personally.
Finally, the 'hands' must then have all the skills and competence with training and practice to complete the project. It's a pretty effective and holistic concept that illustrates the various levels of where and how you achieve buy-in.
Why is stakeholder buy-in important?
Stakeholder buy-in improves your project's success rate! When your internal stakeholders are on board, the stickiness of the project is better. And overall, the entire project management process is much smoother and often more collaborative.
Whether you're the team lead on a web development project or the main associate for a client's account at a law firm— you will inevitably interface with stakeholders and need to present information to them that keeps the team moving forward as planned.
Check out these 4 steps to improve buy-in with your internal stakeholders through transparent project management.
4 steps to improve your stakeholder buy-in
1) Identify your stakeholders.
First, know who your stakeholders are, their roles, their challenges or needs, and their goals. Consider stakeholders from each area or department that are affected by the project and how they fit into the workflow as a whole. Then, assign ownership to certain tasks. Remember that it's not all on you to complete a project successfully; that's why the stakeholders are here. At the same time, you have to make a concerted effort to identify any pain points, concerns, etc. individually to get their full support.
2) Define your communication style.
Second, define your communication style. Does the project require weekly meetings? If so, choose a platform like Zoom or Google Meet and stick with it (don't make people bounce around a million platforms). Are you using a team workspace such as Slack or Microsoft Teams? Research these platforms and even get stakeholder input as to which people prefer and which will help the particular project move forward in an organized, communicative way.
3) Use an effective project management solution.
Weekly Zoom meetings and a communication tool like Slack will only take you so far. Now you need to find an easy-to-use project management tool to stay organized. Good project management software ensures you stay on track to meet your goals or milestones, so there's no doubt about what's going on with the project. Look for high visibility and features like financial dashboards and self-driving time tracking to really make things easier and more efficient.
4) Analyze and reflect.
Last, analyze and reflect on how the project is going at perhaps the midway point and definitely after it has been delivered. This will help you confirm the project's success and improve on ways to manage more effectively in the future.

FINAL TIPS- Create more transparent project management
This is really an ode to #3 and it's critical—
"Choose a project management solution that acts like a true, integrated partner in your process!"
This is probably the best way to remain transparent with your stakeholders, thereby gaining their trust and improving buy-in.



TIP: Make sure whatever tool you're implementing is:
User friendly
Proficient by way of automation
**This is a critical point that can clog your workflow if not done properly. The best way to do it is by integrating your project management solution with your CRM.
TIP: The project timeline and budget should be visible. This allows your team to know right away if a project is going off the rails; it promotes early and constant communication that again, helps build trust.
TIP: If your project management solution has self-driving time tracking, you get a gold star. Options like this make entering time exponentially easier for people and will keep track of stakeholder time automatically, without extra time and energy.
FINAL TIP
PSOhub fulfills all the above prerequisites with self-driving features, smart automation, and integrations. It's a seamless all-in-one solution that includes: