Best Software Features for Asynchronous Work Environments
by Julie Bennett on June 14, 2022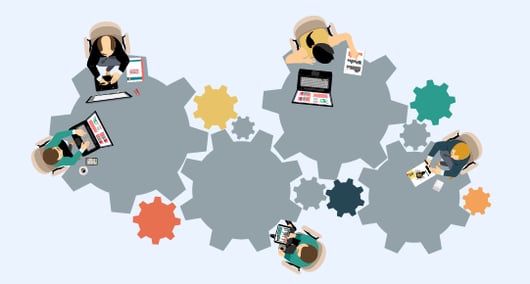 Since the COVID pandemic began in early 2020, many teams around the world have transitioned to asynchronous work environments.
Asynchronous work is more flexible than the traditional 9 to 5, with different team members working at different hours, usually according to their schedules.
For global teams especially, asynchronous work is what makes the most sense to move projects forward. It's usually good on the individual level too, as people can choose when to work as it fits their schedule.
Asynchronous work and collaborative project management function well in the digital environment, provided businesses use necessary software tools to maintain workflows and information sharing.
The SaaS market is full of software to help today's global teams get the job done. Here is a list of software features we think provide significant value for asynchronous work environments.
Gantt charts
Gantt charts have been a staple in the project management space since the early 20th century. This workload management tool is a favorite of architects and advertisers, as it breaks down all project phases and dependencies needed across a visual timeline. These days, Gantt charts are offered by software and contain cool digital upgrades like live updates. Because Gantt charts are so effective at planning and executing complex projects to begin with, putting them into a digital format that can be shared and updated by stakeholders 24/7 is a real game changer for asynchronous teams today.
Live chat
Perhaps one of the most popular software features for asynchronous teams is a live chat to communicate instantly with one another at any given time. When you have multiple people working at different hours around the world, it's understood that certain team members may not respond at certain hours. The benefit of the live chat is that you can quickly relay information when it's relevant, so nothing gets missed when your teammate clocks back in. Many project management solutions offer a live chat, like Microsoft Teams, Slack, and more. Importantly, these platforms include file sharing to help teams easily manage the information around their projects.
Automated invoicing
Proper invoice management is a non-negotiable for any business, let alone asynchronous teams who may be submitting invoices at all hours of the day and night. Sure, you can manage your company's invoices with Excel spreadsheets, but in today's fast-paced environment (not to mention if your business is growing), that system quickly becomes a nightmare. With an automated invoicing feature, you can fast-track your invoices to clients and put everything on an automatic schedule. No matter when people are working, this software feature will help you get paid accurately and on time.
Self-driving time tracking
Time tracking is the bane of consultants everywhere; that is, unless it's automated. Fortunately, like invoicing, you can also automate time tracking for your asynchronous team. A self-driving time tracking feature helps everyone on your team track their time accurately, without having to actually track it. Time blocked on a Google or Outlook calendar, online meetings, and even in-person meetings can automatically fill out timesheets. These timesheets are then conveniently formatted into an invoice by software, needing just a couple clicks for approval.
Did you know? Asynchronous teams in over 40 countries love PSOhub because it offers all the features listed above at a cheaper price than the competition. Try it today for FREE!