Benefits of Gantt Charts for Hybrid Project Management: The 411
by Julie Bennett on August 22, 2022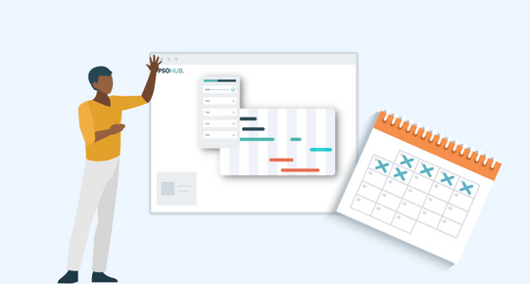 Hybrid project management brings together the best of two schools of project management methodology– the waterfall method and the agile method.
Service businesses that use hybrid project management can benefit from this blend of old and new school, especially if they use Gantt charts for project planning.
In this article, we'll talk about how Gantt charts help facilitate hybrid project management.
Compared to other project planning tools, the Gantt chart is better equipped to serve the blended environment of hybrid projects. Here's why.
What you'll learn
3. Using Gantt charts for hybrid project management
4. Benefits of Gantt charts for hybrid project management
1. What is hybrid project management?
Hybrid project management combines both the waterfall and the agile method of managing projects. While the more traditional waterfall methodology involves a linear sequence of steps, agile project management is more adaptive, with many moving parts happening at once.
Thus, hybrid project management is usually a combination of waterfall planning, agile execution, and everything in between. There are no real rules to follow to use hybrid project management, so you can essentially pick and choose which facets of each method you like the most. Mix them up, or apply each to different stages of the project.
Here's a really simple example:
Let's say you're building a hotel using the hybrid model. Because you want to get guests in the door to start generating income ASAP, you leverage the agile methodology by first building the lobby and ground-floor units. However, the pool is a time-sensitive project and must be accomplished linearly, step by step, according to the waterfall method. In this scenario, you would be using hybrid project management, since it combines the two to complete the project.
Pros:
Easy to adapt to complex projects and demanding clients
Good for complex projects with multiple phases/milestones
More holistic approach
Forces you to look at inefficiencies to get better
Good for productivity
Ability to pick and choose what works
Ability to respond to issues immediately
Cons:
Prone to change aka not good for all projects and clients
Requires experience to master
Communication problems common
2. What is a Gantt chart?
Project planning demands clear timelines and clear expectations, while project tracking needs real-time updates. Gantt charts of the SaaS world provide powerful insights into both planning and tracking of your projects.
A Gantt chart is an intelligent graph that plots your project status against time, as a way to break down complex assignments into manageable steps.
Gantt charts are popular in the project management world for their ability to clarify the scope of work, planning, and timelines for complex projects. A Gantt chart at once displays who is responsible for what tasks, timelines, dependencies, and more.
These days, a Gantt chart feature is usually offered as part of project management software. Here's an example of what a Gantt chart looks like:
https://fs.hubspotusercontent00.net/hub/6920653/hubfs/Gantt-Chart-Screenshot.png?length=580&name=Gantt-Chart-Screenshot.png
Pros:
Great for agile and hybrid project management
Organize complicated projects into phases, steps
Interpret project progress at a glance
See all timelines, deadlines, and corresponding resources
Effective across multiple industries
Cons:
Can be time-consuming to create
Superfluous for straightforward projects with limited stakeholders
3. Using Gantt charts for hybrid project management ✅
For hybrid projects, the Gantt chart checks the following boxes, making it an excellent addition to your project management toolset:
Project planning and budgeting- Use a Gantt chart at the project planning and budgeting stage, both to map out phases and tasks and to figure out how much to quote the client.
Task management- Because a Gantt chart lets you clearly see the activities needed to complete the project, you can zero in on your task management by directly assigning tasks and getting a constant view of due dates and dependencies.
Project tracking- The Gantt chart provides high value after the planning stage, helping you monitor your project progress over time and get a cohesive overview as to where the project stands.
Project status- Gantt charts will reflect your project status as it relates to your tasks and timeline instantaneously, for supreme visibility and the ability to share real-time status with stakeholders and clients.
4. Benefits of Gantt charts for hybrid project management
Powerful visual
Using Gantt charts for hybrid work helps managers and resources alike because of its overarching benefit:
The Gantt chart is a really powerful visual tool.
Just a glance, and everyone– owners, managers, stakeholders, even clients in some cases– knows where the project stands. The Gantt chart's simplicity of plotting tasks against a linear timeline together with automated features provided by software provides ultimate visibility. This applies to both project planning and project tracking. You can clearly see the relationships between different phases and tasks related to the project and how your current status compares to your planning.
And unlike other project charts, you can get as granular as you want with Gantt charts. In short, the Gantt chart condenses and organizes complicated projects into clear steps that you can see and understand instantly. Thus, it's a powerful, useful visual for hybrid project management.
Highly effective for planning hybrid-style projects
It's cliche, but a picture may really be worth 1000 words. Gantt charts give you the ability to visually plan your projects. With hybrid work, this can come in handy, especially with projects related to design and architecture. In these instances, clear vision is required at the planning stage (Waterfall) that must remain somewhat steadfast, as stakeholders know along the way things like timelines are bound to change (agile).
That's what makes the Gantt chart great for hybrid projects. With Gantt chart software, you can create a vision for your project, including timelines, milestones, etc. You can also assign tasks to your team directly from your Gantt chart.
While planning hybrid projects can be daunting at the outset, Gantt charts simplify the process by showing all the activities, milestones, dependencies, etc in one succinct overview.
Save time with task management
Task management is critical for hybrid projects that have a lot of dependencies. To save time on task management, you can just go straight from your planning to actually divvy out the work. You can assign tasks to your team directly from the Gantt Chart and get one overview of all tasks per person. No time wasted.
Gantt chart software lets you display all your tasks in task lists based on start dates and due dates. You can easily set dependencies for all your tasks to display what needs to be finished before starting the new task. It's a great way to both automate your task management during your planning and to make sure you stay in the loop as the project progresses.
Project Tracking
Old school Gantt charts were often created with sticky notes on a blackboard (no judgment toward people who still do this). Obviously, when it came time to track the project, much was left to be desired.
Now, you can use a digital Gantt chart to help you to keep track of the real-time status of your project. This will help ensure your team never misses a deadline and your customers stay happy.
Gantt charts let you use milestones to show phases, deliverables, etc. that make up the project and improve your overall progress tracking. Easily set priorities for certain tasks, while easily viewing the completion percentages. This can help managers, owners, and team members see where they may need to put in more energy or focus.
The best Gantt chart software will even let you share the powerful visual with the client. All you have to do is send them a view-only link to keep them informed and offer them transparency into the project status.
You can respond more effectively to change
One of the defining aspects of the agile project management method is preparedness for change. Agile projects expect things to pop up, for deadlines to move, and for adjustments to be made along the way. The agile way sees change as opportunities, chances to maximize profit or deliver better results to the client, for example.
While hybrid projects may contain some agile elements, they're considered hybrid for a reason: they incorporate the linear timeline and sequential nature of the waterfall method. The Gantt chart provides both this waterfall concept with the ability to respond to change via features like predictive alerts for budget overspending that can then be reflected in the visual.
Gantt charts are good for hybrid project management, specifically, because of their clear indication of timelines and deadlines. Because today's Gantt charts allow for dependencies, if there's a clog in the workflow at any given step, management and other team members understand where the project stands and how to move forward most effectively.
Final verdict
The Gantt chart has proven itself as perhaps the preeminent tool for planning projects. In reality, this tool can help with all the main project management methods, including:
Traditional (waterfall)
Agile
Hybrid
However, Gantt charts are particularly suited for hybrid project management. Today's Gantt chart software provides sufficient features to cover the different aspects of each method you're choosing to employ. It's at once linear and adaptive, sequential and holistic. In short, we highly recommend the Gantt chart for hybrid-style projects.