Why Is Professional Service Automation in Such High Demand?
by Claudette Albers-Reid on October 17, 2023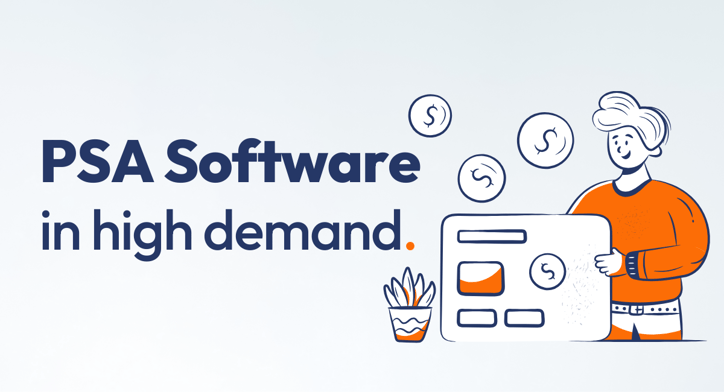 In the past, Professional Service Automation platforms– aka PSA tools or PSAs– provided the expensive but necessary software needed by service businesses for day-to-day operations. Organizations like architectural firms, for example, would have had to fork over thousands for a customized solution to facilitate their project management, invoicing, and contracts, all whilst keeping data connected and secured.
In 2023, things are much different for your average service business and the corresponding software they frequently use, due mostly to the advent of cloud computing, widespread digital transformation, and the rise of remote work.
Today, PSA SaaS solutions have a much lower cost whilst providing more functionality than ever before. We break down the reasons why Professional Service Automation is in such high demand today and the trends we see happening this year and beyond with the industry's best solutions.
An antidote to SaaS sprawl
PSAs provide a welcome remedy for SaaS sprawl, or a bloated tech stack, a costly phenomenon that plagues all types of industries, even outside professional services.
Professional Service Automation solutions are now the platform for service companies to run their businesses day in and day out. These are low-code, highly flexible solutions that are more user-friendly than ever, often making various siloed platforms obsolete.
The exception to this may be a real-time chat application like Slack. Slack's easy-to-use collaboration hub is affordable and integrates with most PSA tools anyway.
What we're now seeing post-pandemic is that some PSAs have begun to offer a Slack-like feature. This trend will probably continue as more users demand the benefit of data security they get with an all-in-one tool.
Better functionality than most project management software
Today's service businesses, MSPs in particular, have to engage with customers virtually. They also need to be able to deliver their services efficiently from a remote location and often, with remote teams that may be scattered across the world.
Clean data is important since in-person meetings are essentially a thing of the past. Everyone who needs to should have access to accurate, up-to-the-minute data on their projects and clients. This includes project planning, project status, contracts, and much more.
Here is where Professional Service Automation has become so critical. Unlike more segmented project management solutions, PSA platforms are more interconnected from a data standpoint. Their high-level functionality means there's less of a need to keep anything related to operations in siloed tools or spreadsheets.
Designed to automate
Another pivotal aspect is the automated features innate to PSA tools (hence, the 'Automation' in the moniker). While user-friendly project management software like Asana, Trello, etc. are now offering similar automations to keep up with consumer demand, these have always been within the PSA wheelhouse.
In fact, it's safe to say that project management tools are now providing more automation in part because of their PSA competitors. There are a handful of PSA tools that are now just as affordable as the Asana's of the world, so it was only a matter of time.
Better data & robust analytics
Like any business, service businesses need to leverage certain metrics to stay on top of their profitability. Tracking billable hours accurately and coming up with billable utilization figures used to be a more cut-and-dry endeavor, but in the post-pandemic world, it's more multi-faceted.
Your average project management tool even three years ago could not measure this with accuracy with out-of-the-box features.
PSA tools, on the other hand, can easily accomplish these analytics because they're designed to account for the nuances of tracking billable hours accurately with interconnected data from:
Contracts
Budget
Planning
Time tracking
Invoicing
Resource management
In short, Professional Service Automation suites not only keep all your business data together, they keep it more secure, more accessible, and easier to understand through innate reporting and analytics features.
Better customer experience
Another key benefit often overlooked of a robust Professional Service Automation solution is the boon to the customer experience.
Clients can quickly and securely review and approve quotes, invoices, and more, always knowing what to expect. In fact, the best PSA tools will offer some iteration of a client portal, wherein businesses can select what they can see or not see.
This obviously goes a long way in engendering trust and promoting transparency, both of which are critical to gaining those lucrative, lifelong customers.
Professional Service Automation is designed to provide a single source of truth, a modus operandi from which all businesses, even those outside of the PSO world, can benefit from both an operational and security standpoint. This helps reduce or eliminate common pain points that can negatively impact the customer experience, such as:
Billing errors
Errors across the board from manual entry
Breaches in fulfilling SAs from disconnected contract data
And more.
PSA tools will keep your data clean and together while aiding in delivering amazing services to clients. This way, the human beings behind the scenes can focus better on creating an experience that people love and want to come back to.
PSA's have a jump on AI, but don't remove the human element from great service
Much of AI's benefits touted for the professional services industry have already existed in the form of Professional Service Automation for some time. It just historically hasn't been called this in marketing content until recently.
At the end of the day, gathering data and learning from it– aka what artificial intelligence is meant to accomplish– is what PSAs are innately designed to do.
However, that doesn't mean that Professional Service Automation robs businesses of a human-to-human company culture. In fact, it doesn't look like AI will replace project managers anytime soon, if ever.
Furthermore, the jobs AI could effectively replace for PSOs have long been gone for most smaller, remote service firms, like office managers and accounts payable. Professional Service Automation provides seamless invoice management and contract management that does not require much human oversight.
The trend we've seen with small service firms is that many have already automated these tasks for at least the past two years. But even as businesses like creative groups, marketing agencies, and IT providers continue to automate more and more tasks, the personal aspect that makes service firms successful is likely here to stay.
A sound investment
Professional Service Automation helps organizations maintain real-time visibility and control over their projects and services. Being able to get immediate insights into important metrics like project profitability and employee utilization without any manual work makes PSA tools worth their weight in gold.
With an average price of around $12-$30 per user/per month, an investment in Professional Service Automation can help businesses become more profitable by helping to:
Prevent revenue leakage
Improve billable utilization
Reduce scope creep
PSA trends in 2024 and beyond…
The prevalence of remote work and the onslaught of digital transformation have made Professional Service Automation more in demand than ever. The affordability, features, and all-in-one environments that these solutions provide make them indispensable to the day-to-day functioning of service businesses.
In the near future, look for the Asana's of the world and other popular project management tools to continue to follow in the footsteps of PSAs with new functionality and features. And expect the bonafide PSA tools to improve their collaboration and self-learning capabilities.
Finally, because of the sheer amount of interconnected data that PSAs collect, they're bound only to get better from the perspective of how that data can be leveraged. Already, automatic alerts and predictive analysis can help reduce dreaded 'overservicing' which can quickly eat away at even more seasoned firms.
Expect even more powerful ways that Professional Service Automation can help service businesses become more efficient in 2024 and beyond.