Top 10 FREE Workload Management Tools 2022
by Juliette Lagerweij on June 22, 2022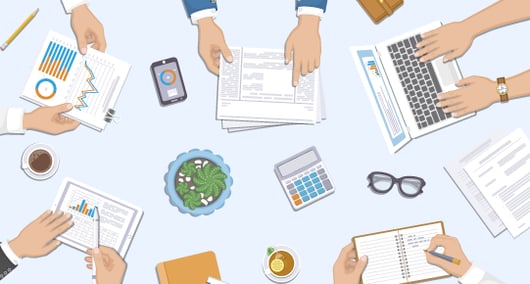 Workload management tools are what help managers and owners facilitate the flow of processes and people needed to complete tasks and workflows. In layman's terms, these are software tools that will help you plan projects, divvy up who does what and when, and clearly outline your workflows.
Workload management tools are a staple among businesses from solopreneurs to enterprise companies with thousands of employees.
For people just starting a business or starting in a new business, adopting a workload management tool is non-negotiable. Doing so can quickly get you and your team on track to complete work and get paid.
A good place to start is with a FREE workload management tool. That way, you can see if you and your team are fond of the platform and if it makes your processes flow better.
We reviewed what we consider the 10 best free workload management tools in 2022. Many of these software solutions offer forever-free versions, while the others will give you a free trial.
Either way, you can get your feet wet with these free tools that provide awesome value.
The Top 10 FREE Workload Management Tools in 2022
What you'll learn:
We'll touch briefly on what it is workload management tools actually do, along with the criteria we used to pick the best free options. With each solution we selected, we'll explain:
Why it made the list
Is there a forever-free version? What's included?
If there is a free trial, what's included?
Pros
Cons
Bottom line is based on value and verified online reviews
What does a workload management tool do?
A workload management tool will help you plan, monitor, and facilitate what's going on at the work level in your organization. That means you'll get support from software in the areas of:
Task management- What are the tasks to be completed, along with dependencies and deadlines.
Collaboration- Sharing of information around projects and tasks.
Resource management- Who is doing what and when; how much does everyone have on their plate.
Project planning- Map out the work ahead clearly with

project charts

and other tools.
We already wrote an article on this, so to learn more about workload management tools in general, get your knowledge drop here: Team Workload Management Tools 101
How did we pick the best free options?
There are many software options out there to help you manage the workloads of your teams, but the list grows more narrow when you want to get something for free. Nevertheless, we put together the best solutions that in fact will give you either a forever-free version or a worthy free trial. Here are the criteria we used:
Must have a forever-free version or free trial.
If offering a forever-free version, it must be somewhat robust.
Must offer value along with a reasonable price.
Must offer top workload management features like

Gantt charts

, task dependencies, and resource management tools.
Must be easy to use for small teams.
Online reviews for workload management features should be 90% positive.
Our Review: The Best FREE Workload Management Tools 2022
1) Asana - Most Popular for Startups & Small Teams
Asana is one of the most popular workload management tools in the world. It easily ranks at #2 because the platform is strikingly easy to use, requiring little onboarding training. Asana also has an industry-best task management feature, helping you and your team seamlessly collaborate in real-time. Asana has a forever-free version with unlimited projects and tasks that are very helpful for smaller teams new to project management.
Forever-FREE version: YES
What comes with the free version? The forever-free version of Asana comes with unlimited projects and tasks. Lists, boards, and calendar views are all included, as are some entry-level reporting tools.
Asana Pros:
Very easy to use
Industry-best collaboration features
Tons of integrations
Workflow builder with automated workflows
Affordable
Asana Cons:
Bottom line- If you're brand-new to workload management with software, Asana offers a friendly platform with the functionality you need at an affordable price. Negative reviews on Asana are minimal, and most users praise the task management features above all else. The forever-free version and low-cost basic plan are nothing to snub, making Asana a viable and affordable choice.
2) TeamGantt - Best Forever-Free Gantt Charts
TeamGantt earns the #2 spot on our list for a few reasons. One, they have a forever-free version that though may not be feasible in the long term, can help small businesses and entrepreneurs get started with project management. Based on the almighty Gantt chart, TeamGantt offers resource management, collaboration tools, project planning, and more all in one place.
Forever-FREE version: YES
What comes with the free version? The FREE version of TeamGantt's workload management suite allows 3 users, and 0 guests. You can work on 1 project at a time with a task limit of 60.
TeamGantt Pros:
Real-time Gantt charts
Easy-to-use mobile app
Great workload and team availability feature
Affordable
Intuitive interface
TeamGantt Cons:
Bottom line- TeamGantt is a great solution that provides a lot of functionality at a great price. The most glowing reviews center around their real-time Gantt charts for project management. When it comes to the forever-free version, this probably won't be something you can use long-term, as it's limited to just one project. However, it's an excellent way for entrepreneurs and small businesses who want to get their feet wet with project management.
3) PSOhub - Best Value Overall
PSOhub does not offer a forever-free version but gives a 30-day free trial to let potential users try out their software. PSOhub may not be free, but it's one of the most affordable workload management solutions out there, in that it can replace almost all your other tools. PSOhub combines PSA (Professional Services Automation) functionality with project management to help businesses get more done in one place.
Forever-FREE version: No, 30-day free trial only.
What comes with the free version? You can get the 30-day free trial from PSOhub on any of their pricing plans, including Base, Starter, Rise, and even Growth, at their enterprise level.
PSOhub Pros:
Most affordable for all project management needs
Invoicing included
Industry-best automation and self-driving features
Best analytics
Capacity planning feature
PSOhub Cons:
Bottom line- PSOhub is only really a free workload tool for 30 days. But in the long-term, it's the most affordable platform on this list because of the number of bases it covers. PSOhub users usually praise invoice management and powerful analytics in online reviews. For workload management, PSOhub offers in-depth capacity planning that rivals much-more-expensive platforms.
4) GanttPRO - Best Gantt Chart Functionality
GanttPRO has nearly a million users worldwide and is a favorite of project managers who are Gantt chart purists. GanttPRO comes in at #4 because it offers perhaps the best Gantt chart functionality in the business. So if you and your team are obsessed with this way to plan projects, GanttPRO is right up your alley. The solution also offers key features to manage your workloads, including task management and resource management.
Forever-FREE version: No, 14-day free trial only.
What comes with the free version? You can try out the Basic, PRO, and Business packages from GanttPRO free for 14 days. After that, pricing starts at $7.99 pu/pm.
GanttPRO Pros:
Best Gantt charts
Affordable
Resource management
Planning and collaboration tools
High-rated customer service
GanttPRO Cons:
Time tracking only in the Business package
No mobile app
Bottom line- GanttPRO's greatest strength is in its Gantt charts, and online users rave about the ease of use. GanttPRO offers a lot of features to support workload management and project management as a whole. However, many of these features only come in the higher-priced packages FYI.
5) Wrike - Best for Marketing Firms
Wrike is a favorite of marketers and other creative-oriented businesses for its highly customizable features that aren't hard to sort through. Creating, assigning, and collaborating around tasks is extremely easy with Wrike. The platform's progress monitoring helps managers keep track of workflows. Wrike's email marketing automation along with plenty of integrations make launching and keeping track of campaigns a seamless experience.
Forever-FREE version: YES
What comes with the free version? The forever-free version of Wrike includes its web, desktop, and mobile apps. Task management with subtasks is included but interactive Gantt charts are not.
Wrike Pros:
Easy to use
Robust Gantt chart feature
One of the best forever-free versions
Mobile and desktop apps
Affordable
Wrike Cons:
Bottom line- Besides Asana, Wrike offers perhaps one of the best forever-free versions and is widely praised in online reviews by marketing firms. However, Wrike's best-reviewed features for more comprehensive workload management and project management are only available in the paid packages.
6) Nifty - Best Customer Support
Nifty offers a great forever-free option for task management to manage your workloads. The higher you go on the Nifty pricing tier– and all options are highly affordable– the more functionality you get. The Business and Unlimited levels offer more of a full-blown project management suite, with time tracking included. You also have to get one of these tiers to get the automated workflows Nifty is famous for. Overall, Nifty is a lower-priced alternative to many bigger-name platforms for workload management.
Forever-FREE version: YES
What comes with the free version? The free version of Nifty includes unlimited team members and up to 2 active projects. All the task management features are included, but time tracking and automated workflows are not.
Nifty Pros:
Automated workflows
In-depth task management
Highly affordable
Glowing reviews for customer support
Functional Gantt charts
Nifty Cons:
Best workload features are in the 2 most expensive packages
No invoicing
Bottom line- Like Wrike, Nifty is a favorite of those in the marketing/content world. Their free version offers unlimited team members, a rare sighting among the competitors. Online users usually praise Nifty for its task management features and superb customer service.
7) Smartsheet - Best for IT firms
Smartsheet is a collaboration and project management platform with powerful workload automation that are a favorite of marketing agencies and IT firms. Smartsheet helps its customers build no-code solutions fast and offers comprehensive resource management for complex projects. Like PSOhub, Smartsheet includes billing and invoicing, a rarity among the other workload management tools.
Forever-FREE version: No
What comes with the free version? You can try Smartsheet Pro or Business packages free for 30 days to experience all the features it has to offer.
Smartsheet Pros:
Workflow automation
Comprehensive resource management
Billing and invoicing
High-rated collaboration tools
Mobile app
Smartsheet Cons:
Bottom line- It's hard to find negative reviews for Smartsheet, as the platform delivers on its value proposition and is known to regularly update and improve the solution. IT service providers are known to flock to Smartsheet for its flexibility. Smartsheet is a bit more expensive than other workload management tools on this, at $25 per user/per month for comparable functionality.
8) ClickUp - Best for Type-A Personalities
ClickUp may very well be the ruler of detailed task management, especially when it comes to free software. With ClickUp, you can get as granular as you want with your tasks and lay it all out for your team easily. Kanban boards, Gantt charts, and other popular project planning tools are available in the forever-free version, which is quite robust compared to the competition. Time tracking is included with ClickUp, so you can easily manage time with your workloads this way.
Forever-FREE version: YES
What comes with the free version? The forever-free version of ClickUp comes with unlimited tasks, unlimited team members, kanban boards, and real-time chat. You also get up to 100MB storage along with time tracking.
ClickUp Pros:
Robust forever-free version
Affordable
Highly customizable task management
Time tracking included
Gantt charts
ClickUp Cons:
Workload automation only at Business pricing plan or higher
No invoicing
Bottom line- ClickUp is a favorite among type-A personalities for its highly customizable environment. The free version of ClickUp is glowingly reviewed by solopreneurs and startups, but their best workload tools are only available at the costlier pricing tiers.
9) Todoist - Best for Freelancers and Solopreneurs
Todoist describes themselves as 'delightfully simple and deceptively powerful'. The platform is a glorified task management suite that's popular in virtually every industry, especially with individuals like freelancers and solopreneurs trying to be more efficient with their time. Todoist's more individualistic features make it the perfect workload management tool for the self-employed.
Forever-Free version: YES
What comes with the free version? The forever-free level of Todoist includes 5 active projects with up to 5 collaborators per project. You get 5MB of file space as well as a 1-week activity dashboard.
Todoist Pros:
Extremely easy to use
Cheap
Popular templates for efficiency
Billing
Simplified task management
Todoist Cons:
Not ideal for teams of more than 5
No Gantt charts
Bottom line- Todoist's forever-free version isn't feasible for the long-term (the 1-week activity history is limiting), but it could be an asset to getting freelancers and solopreneurs organized. Todoist is really a bonafide task management solution, and for that functionality specifically, verified reviews are overwhelmingly positive.
10) Airtable - Best for Content Production
Airtable is the happy answer to workload management with a forever-free version and affordable price point thereafter. Airtable is popular in content production, as its task management features like kanban boards and real-time messaging come in handy when it's time to publish online. However, Airtable is also used by other professional services for workload management and project management with its wide array of features. Airtable offers a client portal, time tracking, and powerful reporting to help managers and owners get a handle on all the facets of their projects.
Forever-Free version: YES
What comes with the free version? The forever-free version of Airtable comes with unlimited bases, with 1 app per base and up to 5 collaborators. You are allotted 2GB worth of attachments per base and 1,200 records per base.
Airtable Pros:
Colorful, friendly interface
Affordable
Great for small teams
Integrates with popular tools like Slack
High-rated mobile app
Airtable Cons:
Gantt charts only in Pro version
No invoicing
Bottom line- Airtable is fairly easy to use and offers low pricing, but the better features for project planning and workload management like Gantt charts are only in the Pro version or higher. Online reviews for Airtable make it clear the platform isn't for everyone, as those in content production seem to love the UI, while others can get frustrated with it.
In sum
In sum, our list of the 10 best FREE workload management tools represents the most viable, low-cost options. You can get started with these free versions and free trials to see which platform fits best with your business.