Time Tracking Hacks for Managed Service & IT Service Providers
by René de Jong on April 15, 2020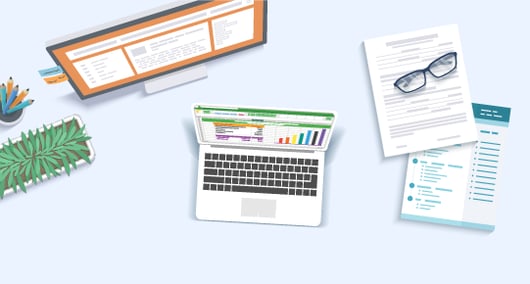 Businesses that rely on time tracking know all too well the difficulty that comes with logging time accurately, sometimes even getting employees to log time at all.
It becomes especially difficult for managers who are having difficulty implementing a clear time tracking process or SOP for getting their team members to log time.
"For Managed Service Providers (MSPs) and IT Service Providers, time tracking is vital to accurate billing and comes with its own set of challenges and moving parts."
So much so, MSP time tracking becomes its own technical skill that requires a clear process, skillset, and toolkit for completing successfully! And without a really good solution, it can mean being late to growth opportunities because of poor time and project management.
We outline the process of choosing, implementing and (hopefully) loving, the right time tracking solution.
The best time tracking solutions/process should always be:
Easy
Automated
Results driven ($)
Since owners and managers are asking about this topic a lot, we're providing steps toward implementing effective time tracking successfully, particularly for MSPs and IT providers that innately need a comprehensive plan.
4 steps toward better MSP time tracking
Step 1: Time tracking process
Having a clear process or understanding of when or how to log time is the first step toward improving time tracking at your organization. This means defining what is billable or non-billable time, and setting certain standards and rules i.e. for rounding time (such as to the nearest 15 or 30 minutes, etc.).
To track team efficiency, this also means setting reasonable capacity for billable time, understanding that time can get lost between tasks. Among scientists and professionals who study multitasking, this is known as the 'switch cost'. The switch cost is burdened by time and mental energy, so the less multitasking, the better.
The answer is to make things easier.
"Find a time tracking solution that can make things easy with automated tools and other features like Calendar integration or GPS tracking to make sure your team spends less time tracking time."
Remember that with your new time tracking process, you shouldn't be working to track time. Your process should do the work for you!
Step 2: Make it part of your team culture.
The thing is, efficient people love time tracking.
And people who want to have maximum output from their time are better employees who can get more done in less time. If your team culture already values personal time and freedom, time tracking is a great tool to help them prioritize those things.
Make sure team members aren't looking at it as a big brother, micro-managing thing, but rather a way to make sure everybody gets paid more (this is directly related to billing) and maximizes their time. It's a win-win for every team member that has a good time tracking solution in place. Period.
Time logging is a key component to projects whether time-based or flat fee. Knowing time logs on flat fee projects helps to more accurately scope projects in the future, to prevent overworking team members and overservicing projects.
For managers, always err on the side of transparency! It's easy for team members to think time logging is all about tracking their every move. It's not about micromanaging or "gaming a system" - it truly is about scaling and growing the business more efficiently, and this is best accomplished together as a team.
And in the end, look for ways to incorporate time tracking required steps into training and SOPs that team members can easily reference. One easy example for technicians at your MSP: before you close a ticket, log your time!
Step 3: Upgrade your tools.
Say goodbye to manual spreadsheet logs or basic browser extensions to track and log time forever.
In order to actually improve time tracking, you need to seriously consider implementing the right tools that can enable such features as real-time tracking or automated time tracking.
Tools designed specifically to solve time tracking for service-based professionals aim to improve the accuracy of your team's time logs and streamline the process of logging time all the way to billing time.
There are a number of tools out there now, but be sure to specifically look for ones that fit into your current workflow. Even better, look for tools that integrate all-in-one and automate the logging between all systems. The last thing you want to spend time on is tracking in multiple places.
Are your techies joining calls with employees? Automated and self-driving time tracking solutions can learn to log time for you based on calendar events and even based on your location.
Step 4: Time reporting
Make sure your time tracking solution provides visibility and reports that are user-friendly. Having clear logs of all time being billed to tickets and clients allows you to see full circle areas of improvement or profitability. For example, if your techs are putting a lot of time toward admin, then it can signal a need to look into why or what's not working for them. You make adjustments, etc.
Visibility is KEY in time reporting, so look for something that lets you keep everything under one roof, so you can see what's happening as it's happening.
What's the best MSP time tracking solution?
While you can go the route of getting a third-party time tracking tool like Harvest or a smartphone app, MSPs are more likely to benefit from a more comprehensive, totally integrated solution because of all their moving parts that require visibility and organization.
That's why the best solutions for MSPs and IT Service Providers typically come in the form of professional service automation (PSA) software. These environments give them more intelligent features to maximize their time and organize their projects. You can read more about the features and benefits of PSA software here.
To keep more of your admin and project management solutions under one roof, PSA software platforms help your business manage:
Projects
Budget tracking
And more.
A good PSA environment should provide you with a great time tracking solution that's easy for everyone to get on board with. If it doesn't, keep looking.