The Best Monday.com Alternatives for Project Management
by Qismat Riaz on August 15, 2023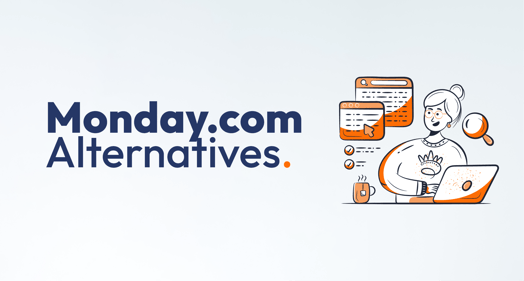 Monday.com is one of the biggest names in project management software today. The intuitive platform is used by small businesses and enterprise organizations alike, known for its friendly interface and affordable price.
We agree that Monday.com offers a lot of advantages for project management, including a full-blown CRM which customers can use at a discount versus adopting an outside solution. This makes it attractive for digital agencies, IT services, and other businesses that use their CRM for sales and service.
However, we discovered a few solutions that rival Monday.com when it comes to features, price, and functionality.
Here are the top 3 software platforms we think give Monday.com a run for its money. Our selection is based on value, customer satisfaction, and how comprehensive each solution is at delivering an all-in-one project management experience.
1. PSOhub
Pros:
Designed for service businesses
All-in-one project management
Automated invoicing
Best for: HubSpot users, professional services
Pricing: Starts at $12.50 pu/pm
Free version: No
Why PSOhub rivals Monday.com:
One of the reasons why Monday.com is so popular is because of its holistic environment that includes a CRM. With PSOhub, you get the same thing if you're a HubSpot user, as it was created specifically with HubSpot users in mind. PSOhub also offers AI-driven features that Monday.com doesn't, like self-driving time tracking. All in all, because PSOhub doubles as PSA software, it offers a more automated experience.
2. Wrike
Pros:
Highly rated Gantt chart feature
Can handle enterprise-level functionality
Best analytics & dashboards
Best for: Marketing agencies, larger organizations
Pricing: Starts at $9.80 pu/pm
Free version: Yes
Why Wrike rivals Monday.com:
With the exception of CRM functionality, Wrike actually offers users more of a holistic project management environment than Monday.com. Wrike, like PSOhub, enables you to manage your time and expense, resources, planning, and contracts all in one place. Wrike is also a top choice in the project planning department, with real-time Gantt charts and other features to help teams zero in on efficiency and budget tracking.
3

.
Smartsheet
Pros:
Highly affordable
Well-reviewed collaboration tools
Known for awesome templates
Best for IT, manufacturing, construction
Pricing: Starts at $7 pu/pm
Free version: No
Why Smarsheet rivals Monday.com:
Smartsheet is essentially a system of glorified spreadsheets that keep all your workflows, tasks, and other categories of project management in one space. Like Monday.com, Smartsheet is popular for businesses of all sizes and provides value across a variety of industries. Smartsheet gives you resource management, customization, and collaboration tools that are just as robust as Monday.com. Their templates are also praised by users who save tons of time by leveraging this feature.
Why go for a Monday.com alternative?
A lot of times, choosing which new project management software to onboard is a highly subjective experience.
What looks and feels best often wins out, especially if the platform provides everything you need in one solution.
Monday.com provides great value with its all-in-one environment that includes a CRM (if you choose), but it's not for everyone. If you're looking for an alternative, here's the breakdown of the top 3 solutions on our list:
PSOhub - For more automation and better integration for HubSpot users.
Wrike - For more project planning tools and better analytics.'
Smartsheet - For more affordability and more industries apart from professional services.