Top 3 Wrike Alternatives for Project Planning with Gantt Charts
by Juliette Lagerweij on June 28, 2023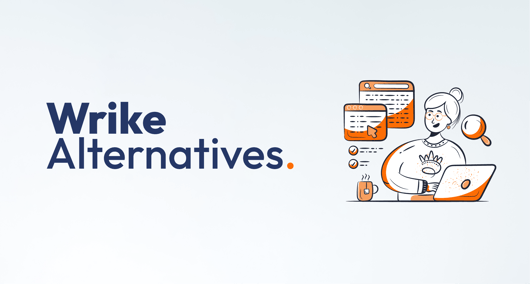 More and more small services businesses are taking advantage of automation and similar tools to nail their project planning and relieve admin tasks from overloaded employees.
Now, one of the most old-school project planning tools has been digitized and gaining popularity among all kinds of teams: We're talking of course about the Gantt chart.
Once a favorite of software developers and architects, creative agencies and even solopreneurs are using Gantt charts on a regular basis to plan and track their projects.
Accordingly, big names in the project management software space now include a Gantt chart feature to answer the rising demand for this digitized, automated version.
Wrike is one such tool, and it's consistently rated in the top 5 Gantt chart solutions by pretty much every list you'll find online.
Ultimately, the platform deserves these rankings for a lot of reasons. For example, Wrike gets you started with out-of-the-box Gantt chart templates that easily fit most if not all, projects for service businesses. The Gantt charts themselves are updated in real-time with your project data from time tracking, task management, etc. You can also create customizable views and read-only options that come in handy for larger organizations, especially.
Wrike is great for managing projects with the help of Gantt charts, but they're not the only game in town.
While Wrike boasts a lot of benefits, there are some basic elements that tend to turn certain users off. Many people have reported that Wrike is not super-intuitive; it's overwhelming and can feel like it will take you forever to get comfortable with the software. Words like 'clunky' and 'busy' are thrown around a lot.
If Wrike's platform isn't for you, luckily there are a few other competitive options that will let you plan your projects with Gantt charts while enjoying all the all-in-one functionality Wrike offers.
We selected the top 3 alternatives to Wrike using specific requirements that speak to what we're looking for in Gantt chart software.
Requirements
All-in-one project management - Wrike is considered one of the all-in-one project management tools because it provides functionality to cover everything the discipline requires. Therefore, for Wrike alternatives, we only considered software that has all-in-one functionality for managing projects. That includes:
Contract management
Project planning
Resource management
Task management
Time & expense
Invoicing
Price is equal to or less than Wrike - Wrike has a free version, but it doesn't include Gantt charts. To get Gantt chart planning with Wrike, you have to go with Team at $9.80 pu/pm. Therefore, we only selected Wrike competitors that offer Gantt charts in a package that costs $9.80 or less.
Equally awesome Gantt charts - Wrike's standout Gantt charts software features like real-time updates, automatic sync with time tracking data, and more are offered in our list of most viable competitors.
Equally awesome reviews - Wrike has grown in popularity by leaps and bounds in the past 5 years and is well-reviewed by small and enterprise businesses alike. Although there are distinct complaints– like the busy interface we've already mentioned– Wrike overall has a good reputation among users. When searching for the best alternatives, we only went with platforms that had the same amount of customer satisfaction. To do this, we combed through reviews on popular third-party sites, taking special notice of what verified users have to say about the Gantt chart feature.
The Best Alternatives to Wrike for Project Management with Gantt Charts
1. Monday.com
Seamless Task Management - Monday.com provides a 'Gantt view' you can see with just a click on your task board.
Best for: Startups, global teams
Favorite feature: CRM
Pricing: $10 pu/pm with Standard for Gantt charts
Why Monday.com rivals Wrike: Monday.com is a great choice for startups, since it offers its own CRM. That means businesses can get started with everything related to sales, operations, and project management in one place. Monday.com's Gantt chart feature comes with their Standard Plan, coming in at just $0.20 more than Wrike per month. And unlike Wrike, Monday.com is known to be very intuitive and easy to get started with. In fact, many freelancers use Monday.com as well as personal assistants. This solution has a clean, friendly interface and software-wise, delivers virtually everything you need to run a service business.
2. PSOhub
Efficient Project Planning - With PSOhub, you can create and assign tasks directly from your Gantt chart.
Best for: Professional services
Favorite feature: Automated invoicing
Pricing: $8.50 pu/pm for Base package w/Gantt chart planning
Why PSOhub rivals Wrike: Like Wrike, PSOhub provides all-in-one functionality for project management, but at a bit cheaper price tag. You get all the bells and whistles of Wrike, without the busy interface and involved onboarding. In addition to the integrated, real-time Gantt charts, PSOhub provides cool features other platforms don't, like automatic quoting and native HubSpot time tracking. Perhaps the best thing about PSOhub is their automated invoicing that's easy to set up and even easier to use. This can make it so time is automatically tracked to the right project and billed to the right client. No outside spreadsheets are required.
3. Smartsheet
Save Time & Energy - Get started with Smartsheet's Gantt chart templates and immediately plan your projects with intuitive drag-and-drop editing.
Best for: Creative agencies, enterprise
Favorite feature: Task dependencies based on the utilization rate
Pricing: Starts at $7 PRO version for Gantt charts + project management
Why Smartsheet rivals Wrike: For starters, Smartsheet is cheaper than Wrike, and its highly rated mobile app is a favorite among enterprise businesses. Smartsheet looks and feels strikingly simple, and it's one of the easiest Gantt chart solutions to get started with for project management. Like PSOhub, Smartsheet's Gantt charts draw on data from all areas of your projects. And where it really rocks is resource management, letting you automate assigning dependencies based on employee utilization rate. These kinds of easy automation make managing larger, more globalized teams much easier on the scheduling/task management front.
Which Gantt chart software is NOT a good alternative to Wrike?
Some of the most popular project management software did not make our list, meaning these options do NOT provide a competitive-enough alternative to Wrike. Here's a list of major platforms that did not make the cut and why:
Airtable - Airtable is an approachable, easy-to-use platform that creatives and marketing agencies love. However, to get the Gantt chart feature, you'll need to start paying about $20 pu/pm, making it around double the cost of Wrike and our list of alternatives.
Jira - Jira's functionality is unparalleled for project management in the IT services sector. But again, the Gantt chart feature starts around $20 pu/pm.
Asana - Asana is one of the world's most popular choices for project planning, but it didn't make the list for a couple of reasons. Unlike Wrike, there is no native invoicing, and you have to create your own Gantt charts that don't offer comparable features.
TeamGantt - TeamGantt specializes in awesome Gantt charts, which they deliver on. But TeamGantt does not offer an all-in-one environment for project management, with no invoicing, for example.
Instagantt - Like TeamGantt, Instagantt is not well-rounded enough for all-in-one project management, as it is more geared toward workflows and task management, specifically.
Takeaway: Wrike offers a lot of value. Only 3 solutions offer a truly viable alternative.
Wrike offers affordable project management, including highly-rated project planning with Gantt charts. The top 3 Wrike alternatives include Monday.com, PSOhub, and Smartsheet. Currently, other popular platforms do not offer reasonable prices, customer satisfaction, and/or all-in-one functionality to truly compete with Wrike.