Using Projects by Pipedrive for Project Management: Pros & Cons
by Juliette Lagerweij on October 4, 2023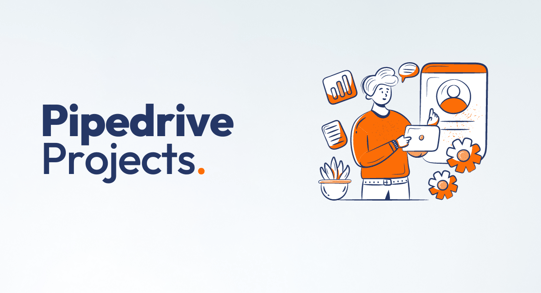 Pipedrive is a popular CRM and task-oriented project management tool. Historically, Pipedrive has been most commonly used by individuals and teams primarily to keep track of deals.
But now, Pipedrive is following in the footsteps of other SaaS platforms that are evolving into more all-in-one environments.
The once-glorified CRM now has more features and capabilities that can help teams manage projects after the deal is won. These features come in the form of Projects by Pipedrive.
In this article, we talk about the pros & cons of using Projects by Pipedrive for project management.
What is Projects by Pipedrive?
Projects by Pipedrive is described by the brand as an all-in-one project management tool, with additional functionality for task management, team collaboration, and project tracking.
Projects help you flow from sales to project management after the deal is won without adding to your tech stack. Simply stay within the Pipedrive tool to move forward and get started on the project delivery phase.
What it costs:
Projects come with the Power and Enterprise plans, which go for $59.90 and $74.90 per user per month, respectively.
You can also purchase Projects as an add-on with the other packages for an additional $8 per user per month.
What it does:
While Projects is marketed as an all-in-one project management tool, what it really falls under is what we'd call a workload management tool or task management suite.
Essentially, Projects will take care of these elements while you keep all your data related to sales and projects in the Pipedrive environment.
You'll also have invoicing taken care of, which is a feature usually only offered by more elite project management tools. A definite plus that users love.
With the task management provided by Projects, you can organize your workflows and do all the things your team needs to get the job done, like assigning tasks, due dates, etc.
As with any good task management tool, Projects gives you collaboration features that help you easily share information about projects. You can easily message collaborators and get everyone communicating across the appropriate channels.
Like the Pipedrive CRM, Projects offers a healthy amount of customizations to help you gain next-level visibility into the status and the health of your projects. There's also a high-rated project scheduler that can help you automate workflows with more complex projects.
Pros:
Email sync feature - Perhaps the feature users love most from Projects by Pipedrive is the email sync that carries over from the CRM. It's so easy to find any information you need on a client quickly.
Less outside tools - For Pipedrive users, you won't have to leave your CRM environment. That means using fewer tools and that you can keep all your data together aka more secure, more organized, and more discoverable.
Seamless sales-to-service - Forget hiccups and miscommunications in the

sales-to-project management handoff

. All the data from both sides lives together, so sales and project teams know exactly what's happening.
Time-saving project templates - Project templates are an earmark of any good project management tool because they let you quickly set up your project without reinventing the wheel.
Kanban boards & automated workflows - Everyone loves friendly Kanban boards that keep everyone on the team in the loop. Use these task boards and the automation in Projects to keep your workflows organized.
Invoicing - Invoicing is easy with Projects since you're able to carry over your invoicing to the project side with Quickbooks and Xero integration.
Project tracking - Projects provide high visibility into all facets of the project lifecycle. Managers and owners can easily gain quick insights into the health of their projects at any time.
Cons:
No resource management - If you need to do capacity planning and dial in your resource management, you'll need to get an outside tool.
Lack of native contract management - Projects do not provide enough for robust contract management with Pipedrive, so most users connect to another tool like Pandadoc.
No native time tracking - Most project management tools these days provide a native time tracker. At present, this isn't available with Projects by Pipedrive, so again, you'll have to connect an outside tool.
No Gantt chart software - Gantt charts are the preferred method of countless marketers and designers to plan and track their projects. Unfortunately, Projects by Pipedrive doesn't offer this feature.
No native quoting software - Certain tools will help you

automate the quoting process on the project side

, which can be a real-time saver when you want to get in your quote ASAP. Projects do not have this functionality at the time of this review.
Alternatives:
Projects by Pipedrive provides a base functionality that many teams will be OK with for their task management. However, here are the top alternatives we found that offer equal or more value:
Monday.com - Monday.com offers the same double-benefit of a connected CRM-project management suite, and the pricing is about the same. Monday.com also has way more functionality by way of project invoicing, time tracking, and more, making it the best alternative in our opinion.
PSOhub - PSOhub can still be used with your Pipedrive CRM and offers a truly all-in-one project management suite. It's priced just slightly above Projects by Pipedrive and includes way more automated features.
Asana - Asana is one of the world's most popular management tools, and it's frankly easier to use than Projects by Pipedrive. There's also

a native integration

, so you can easily connect it to the Pipedrive CRM.
Trello- Like Asana and PSOhub, Trello has a native integration with Pipedrive. Trello is highly affordable and a great choice for small teams and startups.
In Sum: Who Projects by Pipedrive Is Good For
Overall, Projects by Pipedrive is a great choice for businesses that already use CRM and need a good task management/workflow management tool. It's recommended for startups, marketers, and recruiters, who are the most represented among online users that we could find.
The major selling points are that you can keep all your data together with your CRM, use fewer tools, and transition from sales to project management more smoothly.
Where Projects currently fall short (they may add more features later) is in its lack of true all-in-one project management. Contracts, resource management, and time tracking will have to be outsourced to other tools. Growing businesses who want these features built-in may want to look to the top alternatives– Monday.com, PSOhub, Asana, or Trello.