How PSOhub Integrates with Project Execution and Collaboration Tools
by Martijn van der Hoeden on May 31, 2020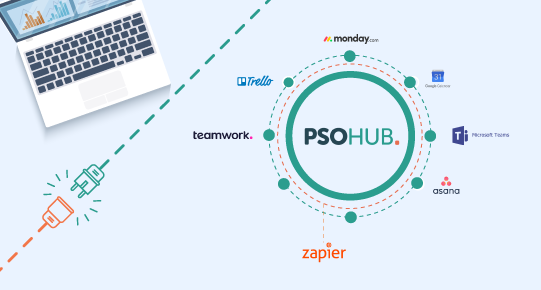 PSOhub is one of those platforms whose function is innately clear in its namesake —
It's smart, self-driving software for professional services organizations (hence, the PSO part) whose true lifeblood is to be the actual 'hub' that connects any and all platforms you need to:
Transition your deals into projects.

Manage those projects and contracts.

Break down your projects in smaller tasks and activities.

Constantly communicate with your financial solution a la Quickbooks, Moneybird etc.

Leverage your project execution solution.
This way, more of your processes are kept under one smart, digital roof to save time, skyrocket efficiency, and get paid faster with features like smart invoicing and more.
Until this point, an actual 'hub' as described above for the professional services industry has been largely missing, forcing organizations to jump between platforms. Too many are eating up precious time and undermining solid organization and communication between solutions that can frankly, make everything better.
Part of the magic — aka ingenuity — behind PSOhub is its ability to communicate in two-way integrations with some of the solutions you're already using.

HubSpot users in particular strike gold, since PSOhub's ecosystem natively integrates with the popular platform as well as Quickbooks and various other Accounting Software solutions. (That's not to say you need to be a HubSpot user to benefit from our PSA software).
But it's not just PSOhub's native integrations that change the game.
"Through Zapier, PSOhub can connect to your preferred project execution and collaboration tools you are already using, like Teamworks, Asana, Microsoft Teams, and more, making PSOhub a true 'hub'."
A common solution for the entire professional services industry.
We'll discuss the project execution phase and how PSOhub can connect all stages of your projects, from funnel to cash.
Project execution for professional services
Professional Services Organizations (PSOs), regardless of what industry they serve, have two critical things in common:
They need to manage their knowledge.

They need to manage their employees' time.
Both in one way or another act as their 'goods' that are then sold to 'customers' aka clients. To succeed on these two fronts, top performers turn to software solutions to automate their project management as much as possible.
PSOhub empowers PSOs by managing their projects in the following areas:
In general, this is the functionality that any professional services organization needs to function efficiently and stay on top of their contracts, projects, and budgets.
How PSOhub integrates with Project Management Software
However, tools needed in the project execution phase differ by micro vertical.
In each micro vertical, there's a different need for different execution tools. For example, an architect needs different solutions to execute their project versus a consultancy firm or digital marketing agency. IT firms and software developers will be using scrums and sprints. And the software solutions that fit these verticals will also be different, whether the answer for project execution is Microsoft Teams, Slack, Asana or something else.
The problem
Until now, a seamless connection between project execution, collaboration and contract/project management for the professional services hasn't existed. Platforms like Teamwork, though popular to execute projects, offer no alignment with financials and contracts.
Another thing, time tracking in Asana or Teams is no option and neither of these platforms integrate with your backend time entry solution.
The result is that organizations miss out their bread and butter - billable time- and end up exporting everything to Excel while contract management then has to go in and make sense of it all.
"To solve this problem, PSOhub offers an API that can integrate with any project execution tool your organization wants."
In PSOhub, your time will flow in automatically from your project execution tools, and project managers can get high-level visibility into budgets and contracts as they relate to the entire project.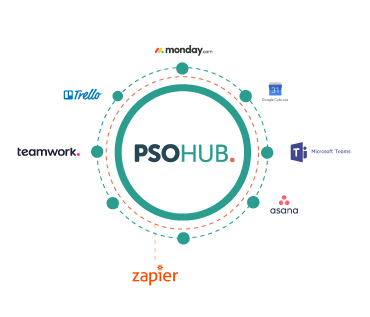 As a professional services company, you would theoretically be light-years-more efficient if you could integrate your task management (aka your project execution) with your projects, contracts, and backend financial solution. With our connection with Zapier, now you can!
Integrate any project execution tool with PSOhub
PSOhub can integrate with any project execution tool and/or platform of your choice!
Instead of building more native integrations that would force our users to pick and choose between project execution platforms, we connect you through Zapier. There are several Zapier templates out-of-the-box to easily set up the integration with solutions like Microsoft Teams, Asana, Trello, and more!
Let's go through a little example by giving you a snapshot of what it looks like for our clients that choose to integrate Teamwork into the PSOhub ecosystem. Check it out.
PSOhub integration example: Teamwork
Here's how PSOhub connects our HubSpot users who use Teamwork for task management and time logging. Using our native integrations with HubSpot and Quickbooks plus the two-way integrations and automations provided by the PSOhub API with Zapier, we help businesses to create a seamless flow from funnel to cash. Here's how it works.

PSOhub integrations in this scenario: HubSpot, Teamwork, Quickbooks
First, create your deal in HubSpot and click create project.

Your project is then auto-created in HubSpot (no work for you).

Set up your project, contract and team with rates within your own parameters or use a template in PSOhub.

Your project is then automatically created in Teamwork.

In Teamwork, log time and manage tasks.

In PSOhub, logged time is automatically posted.

Manage project and budget in PSOhub.

Generate invoice in PSOhub.

PSOhub stays connected with QuickBooks to manage your financials.
In PSOhub, you'll be able to manage projects, budgets, and contracts with awesome, intelligent dashboards designed to give you a quick visual representation of what's happening without having to dig through data.

You'll create your contract lines in Teamwork, add tasks, and add time, and these will automatically be generated into timesheets in PSOhub. Then it gets invoiced. Then you get paid!
Generating your invoices in PSOhub is ridiculously easy. It's meant to be that way; we leverage smart invoicing, so you can automate this step (if you want to) and never wonder where you stand payment-wise with a client again.
How PSOhub integrates with Teamwork
The ultimate visibility
Ultimate visibility into the ecosystem that is your projects (including the execution phase), budgets, and contracts is what PSOhub is aiming for. By empowering businesses with easy-to-access information that clearly states the status of projects, contracts, budgets, and time logs, they can stick to what they do best —
Creating and delivering amazing results for their clients.
Without the admin time-suck, organizations are able to increase their efficiency, delegate their time to more lucrative pursuits (like the project itself), and multitask less by keeping more of their processes under one roof.
Save money and time with PSOhub's Zapier connection
You can save your organization serious time, money, and energy with self-driving Professional Services Automation that integrates seamlessly with the project execution solutions you're already using (like HubSpot, QuickBooks, Teamwork, Asana, and more).
Try it out for yourself to see how PSOhub gives you the easy-to-implement tools that will help skyrocket your efficiency and visibility.